Client: Clevertouch Marketing Office Refit in Ropley, Hampshire
Clevertouch Marketing, a thriving company in Hampshire, approached us with a unique challenge when they relocated from their cramped Alresford office to a more spacious location in Ropley, Hampshire. Their new premises, a former kitchen showroom, required a comprehensive transformation from showroom to functional office space.
One of the primary concerns was the large south-facing windows, directly overlooking the bustling A31 Winchester Road. Clevertouch needed commercial blinds that could effectively minimize glare on computer screens, reduce heat from the sun, and maintain a bright, airy work environment. Furthermore, since they frequently hosted clients, the blinds needed to offer a professional and aesthetically pleasing exterior appearance.
As seasoned professionals in the commercial blinds industry, we offered Clevertouch expert guidance on their options.
Selecting the Perfect Solution: Wood Venetian Commercial Blinds
In the realm of commercial blinds, our go-to recommendations include roller blinds, vertical blinds, and venetian blinds due to their durability and suitability for larger windows subjected to more wear and tear. After careful consideration, Clevertouch opted for wood venetian commercial blinds. They appreciated the sleek and polished appearance of these blinds compared to roller or vertical alternatives. The adjustable louvres on the wood venetian blinds provided precise light control, allowing natural light to create a comfortable workspace while minimizing glare on computer screens.
A Unified Look: Wood Venetian Commercial Blinds in Ropley
Clevertouch's office spanned two floors, and they desired a uniform and professional appearance throughout the building. The wood venetian commercial blinds proved ideal, achieving a welcoming and tranquil work environment. These blinds, with their streamlined wooden slats, exuded sophistication both inside and outside the building in Ropley, Hampshire.
Efficiency and Elegance: Commercial Blinds Installation
From ordering to delivery, the entire process of obtaining commercial blinds typically takes 4-6 weeks. For Clevertouch in Ropley, Hampshire, we allocated 5 hours for the installation of all 15 blinds. The wood venetian commercial blinds not only delivered a cohesive look for the office refurbishment but also struck the perfect balance between light control and privacy from the bustling A31 Winchester Road.
Clevertouch was delighted with the final outcome, eagerly welcoming their staff and clients into their newly refurbished offices.
Client Testimonial
"Thank you to Dean and the team. Dean provided invaluable advice on the best blinds for our office and needs. He promptly installed the blinds and cleaned up afterwards. We are thrilled with our blinds."

Clevertouch, Ropley May 2020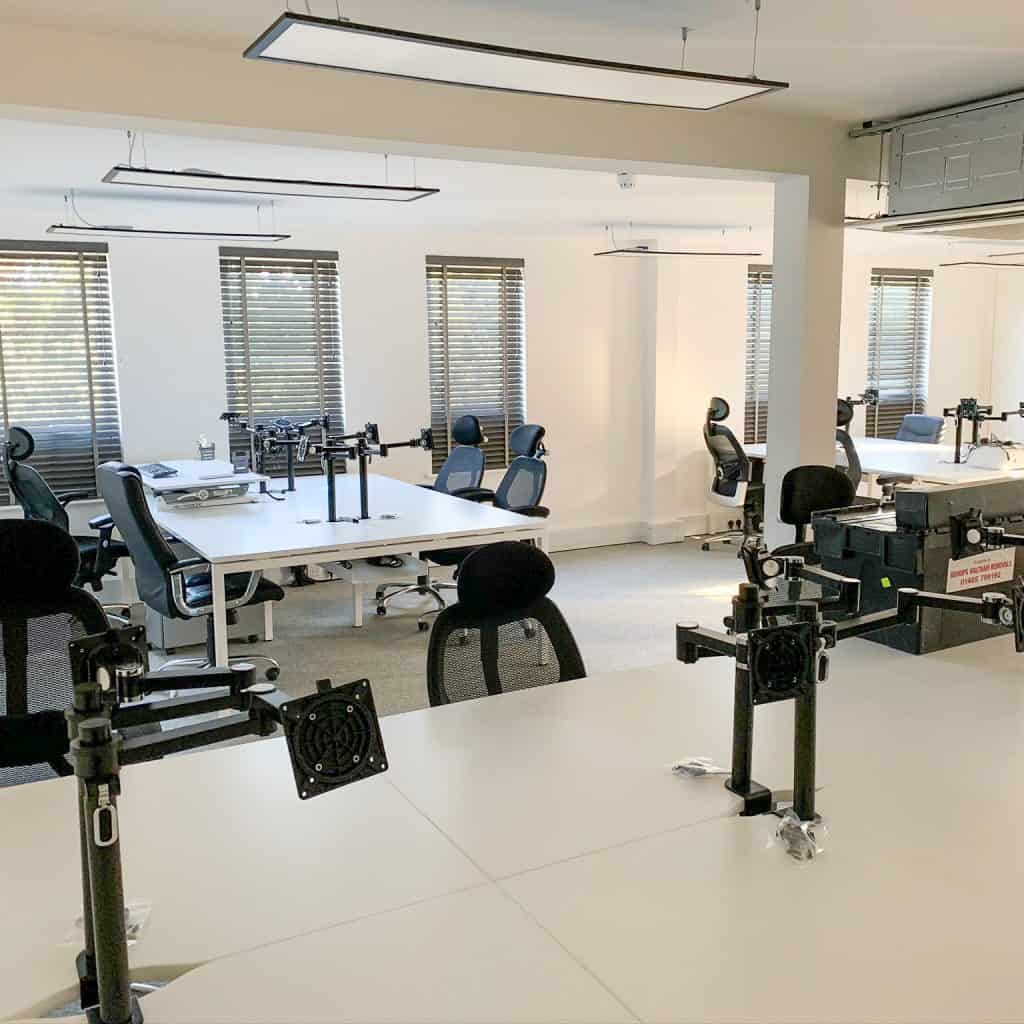 At Winchester Blinds and Shutters, we are a family-run, independent business with over 28 years of experience in supplying Shutters, Blinds, and Awnings. We take pride in offering only the highest quality, bespoke, made-to-measure products at competitive prices without compromising on quality. As a local, independent business, we provide a personalized and individualized approach to every project.
We have successfully supplied commercial blinds and awnings to offices and shops across Hampshire, Dorset, Surrey, London, Sussex, and Kent. Our commercial blinds and awnings are a valuable addition to any commercial space, offering top-quality materials and components backed by a 5-year guarantee and affordable servicing options.
For more information and a free, no-obligation quotation, please contact us at hello@winchesterblinds.com or call us at 01962 736836. Explore our main commercial blinds and awnings page for further details or click the links below to discover our other services.