Unleash the Beauty of Your Home
Seamless Style For Your Windows
Perfect Fit blinds have steadily gained popularity in recent years. This innovative system offers a practical and stylish solution for windows and doors in need of coverings, transforming the look of your space while providing several benefits.
Perfect Fit blinds are known for their versatility, as they can easily be installed on your window frame without the need for drilling or screws. The no-fuss installation means they are suitable for a wide range of window types, including PVC windows, doors, and conservatories. The blinds easily snap into place, creating a snug fit that ensures light control and privacy are maximised. Their unique installation method also means they are an excellent option for rental properties, as they can be removed without leaving any damage.
In addition to their easy installation and versatility, Perfect Fit blinds offer enhanced light control. The frame stops light from coming around the side of your blinds, effectively reducing the halo effect often experienced with other blind styles. With this improved light control, you can create the ideal atmosphere in your home, whether it's for relaxation, work, or entertainment.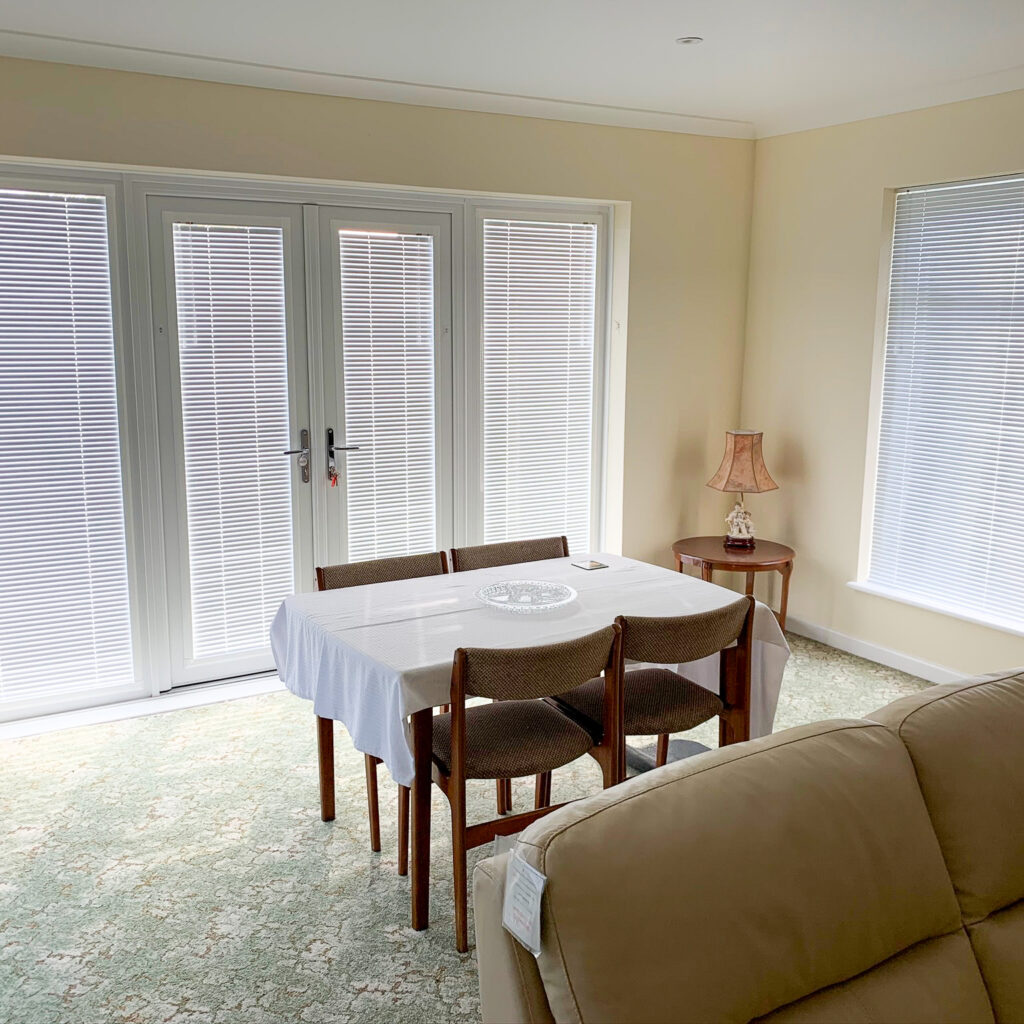 The Basics of Perfect Fit Blinds
When it comes to selecting the right blinds for your home, our Perfect Fit blinds offer numerous benefits. As the name suggests, these blinds are designed to fit directly into the frame of your window, rather than in or outside the window recess. This unique fitting method provides a sleek and neat appearance, as well as increased functionality.
Our Perfect Fit blinds are available in a wide variety of styles, including venetian, roller, and pleated blinds. This offers you the flexibility to choose the design that best suits your home's decor and your personal preferences. In addition, these blinds are easy to maintain and use, making them an excellent choice for any room in your house.
One key advantage of Perfect Fit blinds is that they attach to your window frame using pressure fit fixing brackets, which eliminates the need for drilling holes or sinking screws. This non-intrusive installation method protects your UPVC windows and doors, ensuring that your warranty remains valid. It also allows for a quick and hassle-free fitting process.
Another notable benefit of Perfect Fit blinds is their enhanced child safety features. Since the blinds are encased in their own frame and self-contained, there are no cords or chains to worry about. This makes them an ideal option for homes with young children or pets.
By choosing our Perfect Fit blinds for your home, you not only get a visually appealing and versatile window dressing but also enjoy a user-friendly, durable, and safe solution for your windows. With their innovative design and wide range of styles, Perfect Fit blinds are a fantastic choice for any home.
Rosie Wyatt
28. September, 2023
Delighted with new blinds in bedrooms, bathrooms and kitchen. Dean has great attention to detail and is very knowledgeable. Very happy with the service, time keeping and budget. Happy to recommend.
Catherine Brill
22. September, 2023
Excellent service . Very knowledgeable and a very good choice of shutters . Very happy !
James Crook
19. September, 2023
Dean is great. From the first appointment he understood our needs, ordered and installed the products extremely fast. Looking forward to using him again next year
Excellent service from Dean very professional lots of samples and quick installation time plus very good pricing. We are so pleased with finished products the blind run smoothly and all the workings fixed safely with young children in mind.
Angela Matwasa
14. September, 2023
WoW thoroughly recommend Dean, really happy with the quality of his blinds and fittings. They look more expensive than we paid, thank you.
Rachael
13. September, 2023
Great experience getting shutters fitted - good price and great service
Kathreen Pyrke
12. September, 2023
Would highly recommend, good quality blinds with lots of variety and choices of style. Quick from quote to installation. Lovely friendly service.
Janie Horlock
5. September, 2023
Dean was a pleasure to deal with from the initial measuring up and quote. Through to communication about fitting the shutters. Steve was the fitter that came to us and did a great job, quietly, efficiently and tidily. The shutters are a great quality and I'm pleased with the result.
Emma Kinch
30. August, 2023
I thoroughly recommend Dean ! From the first telephone call through to fitted blinds was great. Dean was happy to advise me of my options. The fitting of all 8 blinds is perfect. Everything was done in a timely manner. I couldn't be happier!
Kuldeep Dhanda
29. August, 2023
Had the blinds fitted yesterday, great blinds and fitted perfectly. Dean came over and provided all the info and options available, Steve fitted. Both very very professional and I am so happy with everything. I would definitely recommend them.
Why Choose Perfect Fit Blinds
Convenience and Easy Installation
One of the main advantages of Perfect Fit blinds is their simplicity and ease of installation. You don't need to worry about drilling or making holes in your walls, as these blinds can be fitted using clips that attach directly to your window frame. This allows for quick and hassle-free installation, ensuring a perfect fit for your windows without any complications.
Variety of Styles and Materials
Our Perfect Fit blinds come in a wide range of styles, materials and colours, allowing you to find the perfect match for your home. You can choose from roller blinds, Venetian blinds, pleated blinds and even wooden blinds to suit your taste and complement your interiors. The blinds are available in various fabrics, colours and slats, giving you the freedom to explore a unique and diverse range of styles. Additionally, our blinds are made to measure, ensuring a flawless fit for your windows, no matter the shape or size.
Child Safety and Energy Efficiency
Aside from their aesthetic appeal, our Perfect Fit blinds also offer excellent safety features for your home. With no dangling cords or chains, these blinds eliminate any potential hazards for young children or pets. This provides you with both peace of mind and a safer home environment. Furthermore, these blinds offer excellent thermal performance, ensuring your home stays warm in the winter and cool in the summer, improving overall comfort.
Maintenance and Durability
Perfect Fit blinds are designed to be easy to maintain, with materials that can be effortlessly cleaned and kept in pristine condition for longer. With regular dusting as part of your regular cleaning routine or a gentle wipe with a damp cloth to tackle spot marks, your Perfect Fit blinds will remain in great condition for many years to come. The robust and high-quality construction of these blinds ensures durability and longevity, making them a sound investment for your home. With little effort required to keep them looking their best, our Perfect Fit blinds are a practical and stylish choice for your windows.
Room-Specific Benefits of Perfect Fit Blinds
Perfect Fit Blinds for Conservatories
Perfect Fit blinds are an excellent choice for conservatories, providing both light and heat control with a stylish look. With their simple clip-on design, you can easily install them on your conservatory windows without causing any damage to your frames. Our wide range of colours lets you choose the perfect shade to complement your conservatory decor. While our choice of many materials such as cellular honeycomb, helps to give thermal control to help keep the heat out during the summer and retain heat during the winter months. See our Conservatory Blinds page for more information.
Perfect Fit Blinds for Bathrooms
Bathrooms require a good balance of privacy and light control. Perfect Fit blinds are ideal for this purpose, fitting directly into the window frame, giving you the desired level of privacy without compromising on style or functionality. We provide an array of easy-to-clean fabrics and designs which makes them suitable for high-moisture environments, keeping your bathroom looking clean and fresh.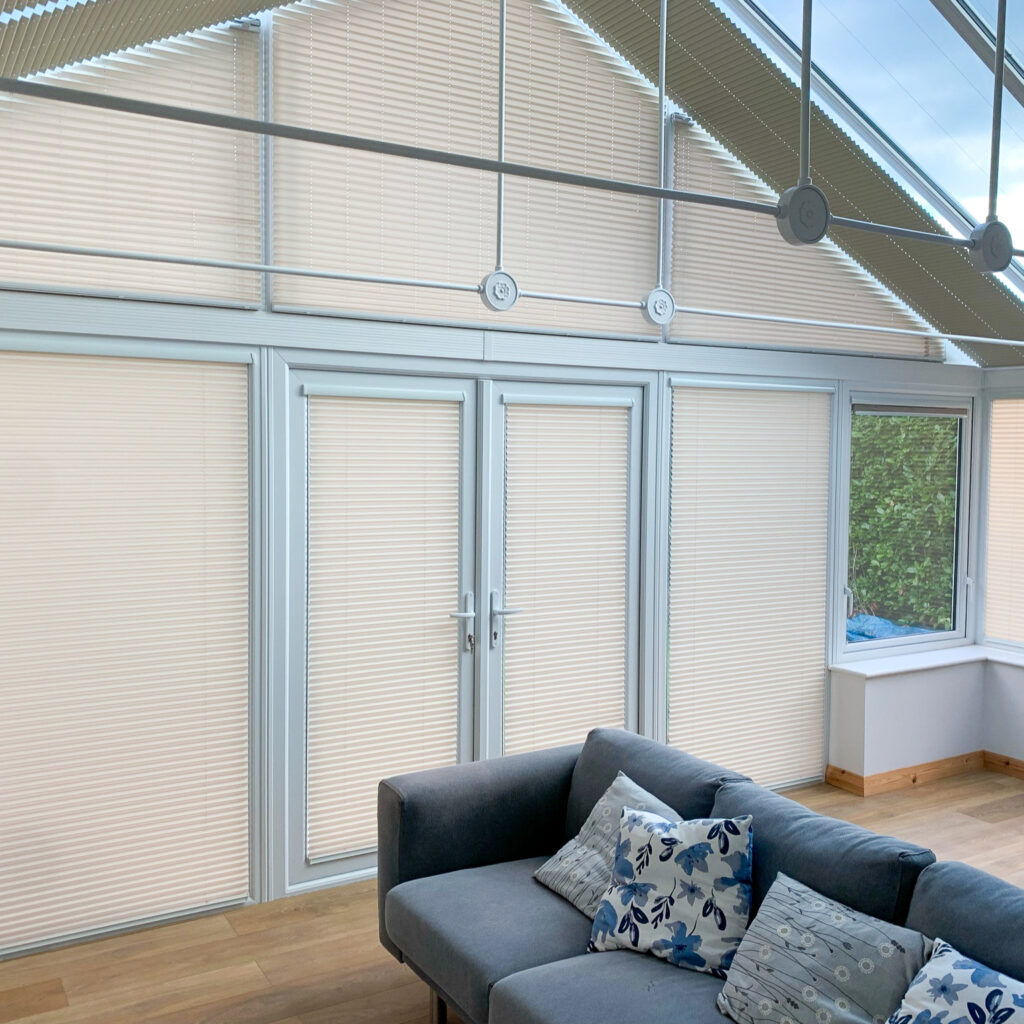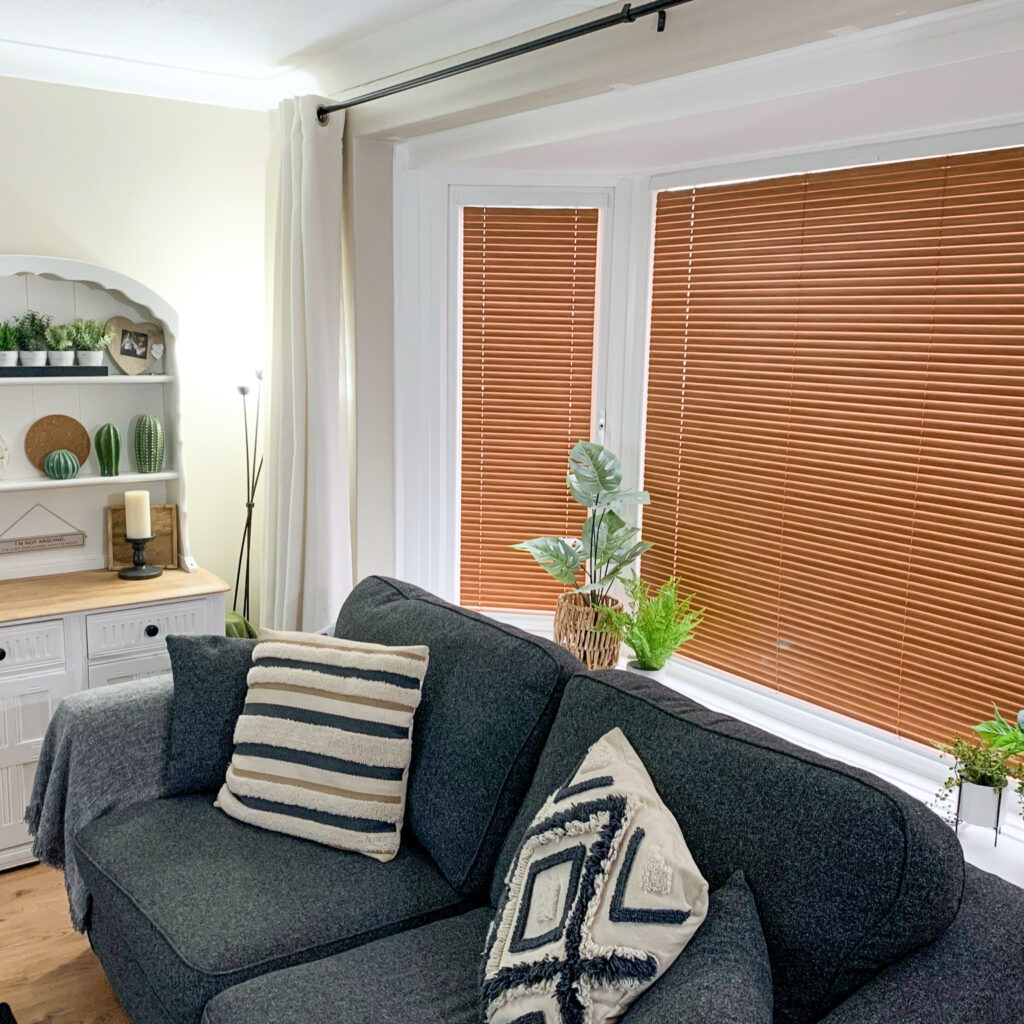 Perfect Fit Blinds in Kitchens
In kitchens, you need a window treatment that is both practical and stylish. Perfect Fit blinds offer an impressive functionality, helping you control the light and maintain a comfortable ambiance while cooking or dining. They are also easy to clean and maintain, so you don't have to worry about grease or food stains ruining your blinds. Choose from a variety of styles like Venetian, roller, and pleated blinds to match your kitchen decor.
Perfect Fit Blinds for Living Rooms
When selecting Perfect Fit blinds for your living room, consider factors like the level of light control, room decor, and the desired level of privacy. These blinds offer improved light control with their frame design, stopping light from coming around the side of the blinds. To achieve even better light control, you can opt for a blackout lining in many available styles. The diverse range of colours and styles ensures that you can find the perfect blinds to complement your living room's aesthetic.
Perfect Fit Blinds for Bedrooms
Our Perfect Fit Blinds are a great solution for bedrooms. With their seamless, tight fit to your window frame, you create optimal light control. Team these blinds with a blackout fabric and you will achieve the best solution to ensuring minimal light entering your bedroom. This is ideal for children's bedrooms and nursery's or any light sleepers. Furthermore, with their unique cordless function, you can ensure maximum child safety.
Perfect Fit Blinds for French Doors & Patio Doors
Perfect Fit blinds are ideal French and patio doors due them being fitted into the uPVC frame rather than the window recess. Great for privacy and light control without obstructions when opening and closing your doors. Being self-contained in their own frame means that when you have your doors open your Perfect Fit blinds will not flap around and become damaged from any breeze or windier weather. Although an excellent solution for French and patio doors, we tend to not recommend Perfect Fit blinds for bifold doors. Due to the slight protrusion of the frames that the blinds fit into, this can have an impact on the concertina effect of your bifolds when open. Our Intu blinds provide a very similar effect of Perfect Fit blinds but without the frame surrounds which work perfectly for Bifold doors. Read further for more information on our Intu Blinds or view our Bifold Door blinds page here for more information.
Perfect Fit Blinds for Tilt and Turn Windows
Perfect Fit blinds are an excellent option for tilt and turn windows. Their unique design allows them to remain attached to the window frame even when the window is tilted or turned, providing privacy and light control without obstructing the window's functionality. Available in pleated, roller and venetian blind options, with many different fabrics and colours to choose from, you have many options to suit your home décor and style.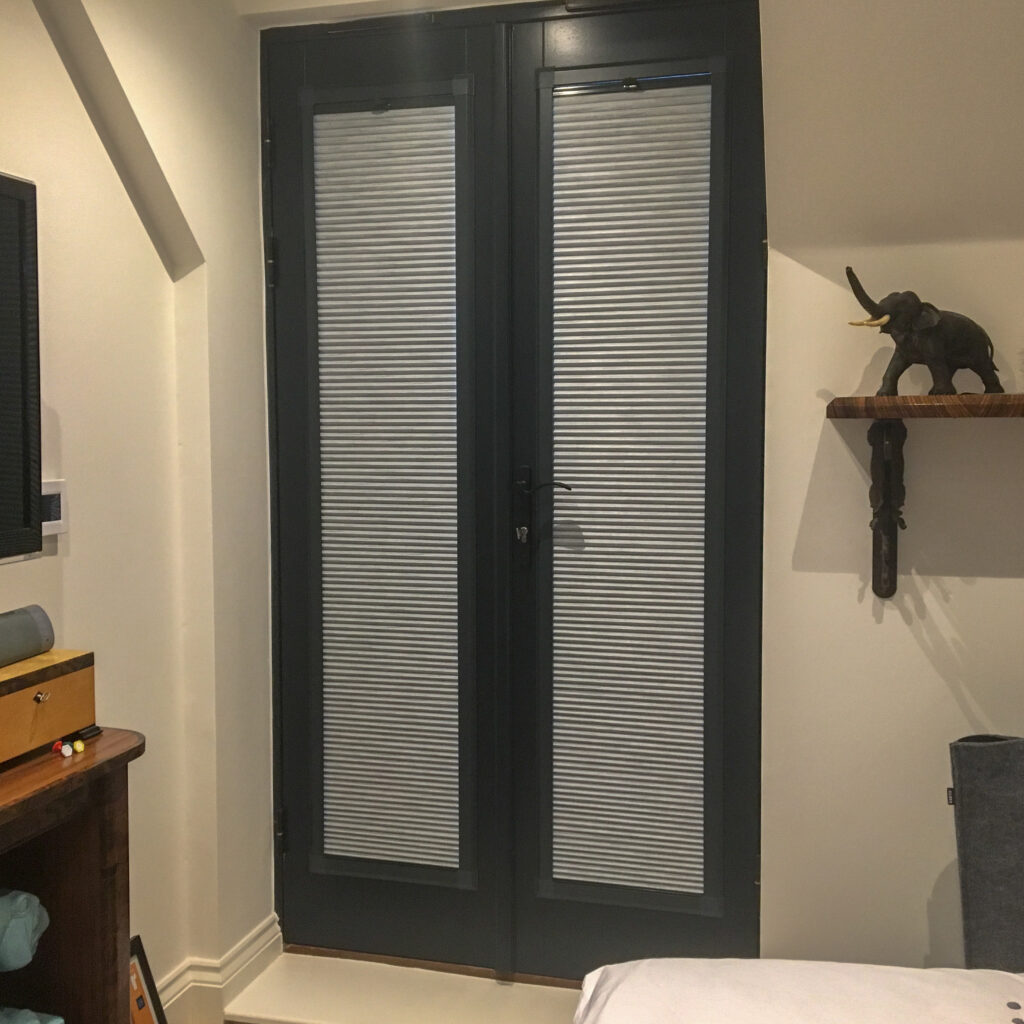 For a free no obligation quotation email or call us on…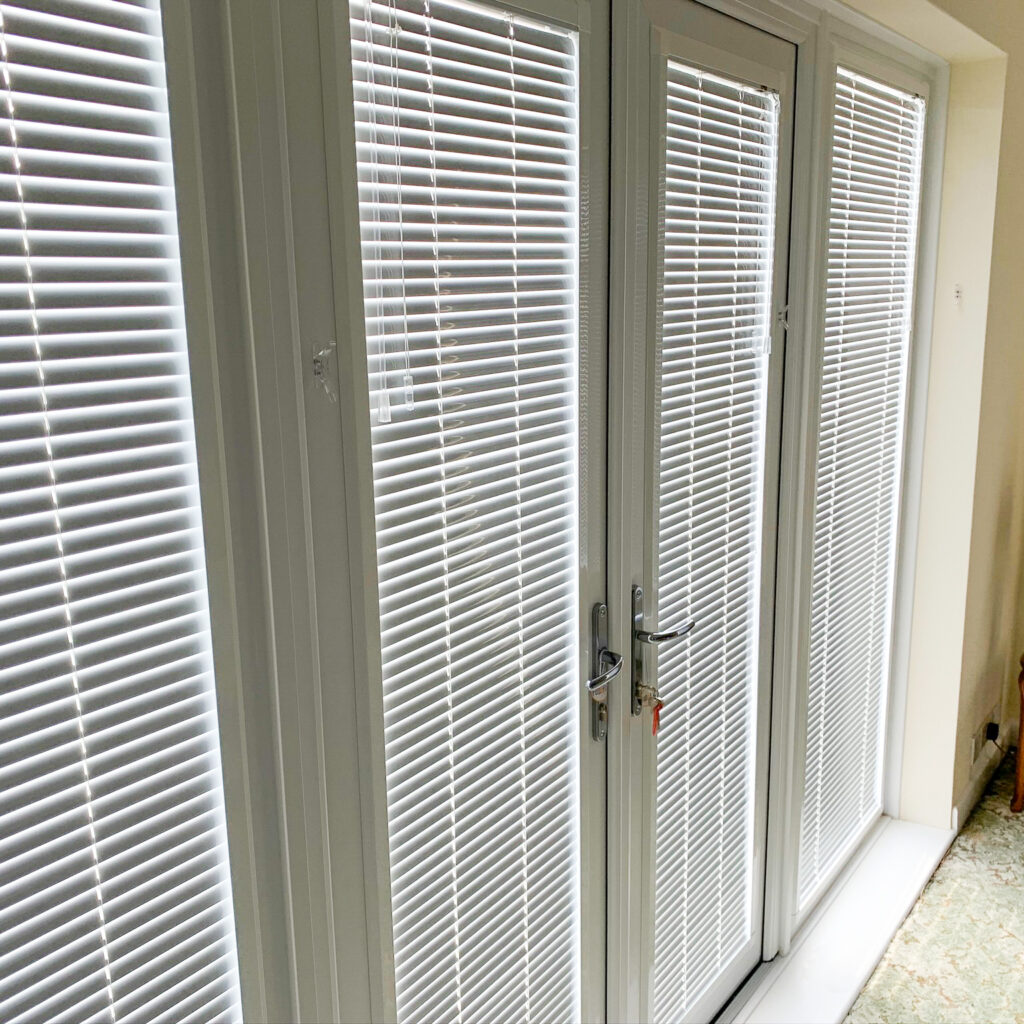 Types of Perfect Fit Blinds
Perfect Fit Aluminium Venetian Blinds
Our Perfect Fit aluminium Venetian Blinds offer a sleek and modern look for your home. These blinds are fitted within a frame system, allowing them to be installed without drilling or screwing holes into your window or door frames. The adjustable horizontal slats provide you with excellent control over light and privacy levels, as well as a touch of sophistication and style. Perfect for rooms with moisture and humidity such as bathrooms and kitchens due to the aluminium slates being more durable and moisture resistant.
Perfect Fit Roller Blinds
Perfect Fit Roller Blinds are a versatile and functional choice for your windows and doors. These blinds are attached to a click-in frame that fits between the glazing and window beading, ensuring a seamless finish. The roller blind design allows you to choose from a wide range of colours, patterns, and materials to match your home décor. Their smooth operation and clean lines make them an ideal choice for a minimalist and modern look. Particularly practical for bedrooms and kid's rooms where you to stop light filtering into the room for a comfortable night's sleep. Choose blackout fabrics for maximum light and insulation control.
Perfect Fit Pleated Blinds
Pleated blinds are known for their gentle and elegant appearance. Out Perfect Fit Pleated Blinds are a great option for many rooms in your home, such as Conservatories, Bifold doors and bedrooms. These blinds offer improved thermal efficiency, with the pleated fabric trapping air and insulating your home. The wide selection of colours and patterns ensures you'll find the perfect pleated blind to complement your home interior. Also available in blackout fabrics for further heat and light control.
Perfect Fit Wood Venetian Blinds
Add warmth and natural beauty to your home with Perfect Fit Wood Venetian Blinds. These blinds are constructed from high-quality wood, ensuring durability and a timeless appeal. The customisable slat sizes and colours allow you to achieve the desired level of light and privacy control. Fitting seamlessly into your window frame, these wooden blinds give a touch of luxury and sophistication to your home.
Perfect Fit Day and Night Blinds
Perfect Fit Day and Night Blinds combine style and functionality. These blinds feature alternating strips of transparent and opaque fabric, allowing you to control the light and privacy levels in your home. The innovative design lets you switch between complete privacy and softened daylight effortlessly. The day and night blinds provide a smart and contemporary addition to your home, meeting your needs for both style and practicality.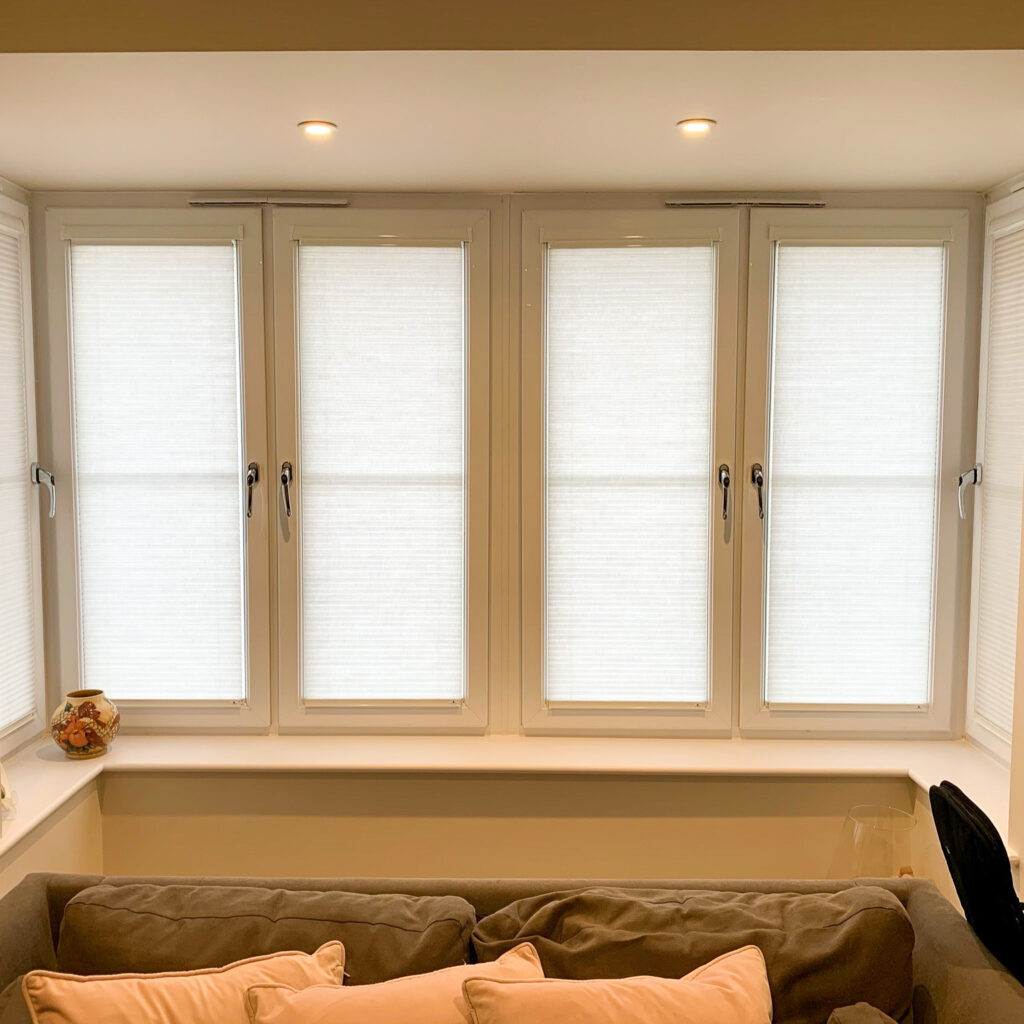 One of the many benefits of choosing Perfect Fit blinds for your home is the wide range of customisation options available to you. This includes frame colours, a wide range of styles, and various finishes to suit your needs and preferences.
When it comes to frame colours, we have ample choices to match the frames with your existing window frames, ensuring a seamless integration into your home decor. Perfect Fit blinds come in a variety of colours such as white, cream, silver, and even anthracite grey. This gives you the flexibility to create a consistent and aesthetically pleasing look throughout your space.
Not only do we have an extensive range of styles to choose from, but you may also select from various finishes to enhance the appearance of your Perfect Fit blinds. Textured, patterned, and even metallic finishes are available, offering you an opportunity to add a unique touch to your window furnishings. The combination of frame colours, styles, fabrics and finishes means that you can create the perfect blinds to suit your home's character and your personal taste.
The installation process of Perfect Fit blinds is simple and hassle-free. Firstly, there are no screws or drills required, as these blinds are designed to fit directly onto your uPVC window frames. This ensures a clean and professional look without any damage to your window frames.
To begin the installation, we start by attaching the brackets. These brackets are designed to slide between your window pane and the rubber window seal. To ensure proper placement, we line up the brackets with the hole positions on the Perfect Fit frame.
Next, we assemble the Perfect Fit frame, making sure each part is securely connected to the correct location. After the frame is complete, it's time to insert the blind into this specially designed frame.
We then attach the completed frame with the blind to your uPVC window frame. We will align the brackets on the frame with the corresponding window brackets, and simply click the frame into place. Our expert fitters ensure that your Perfect Fit blinds fit snugly and securely onto your window frames.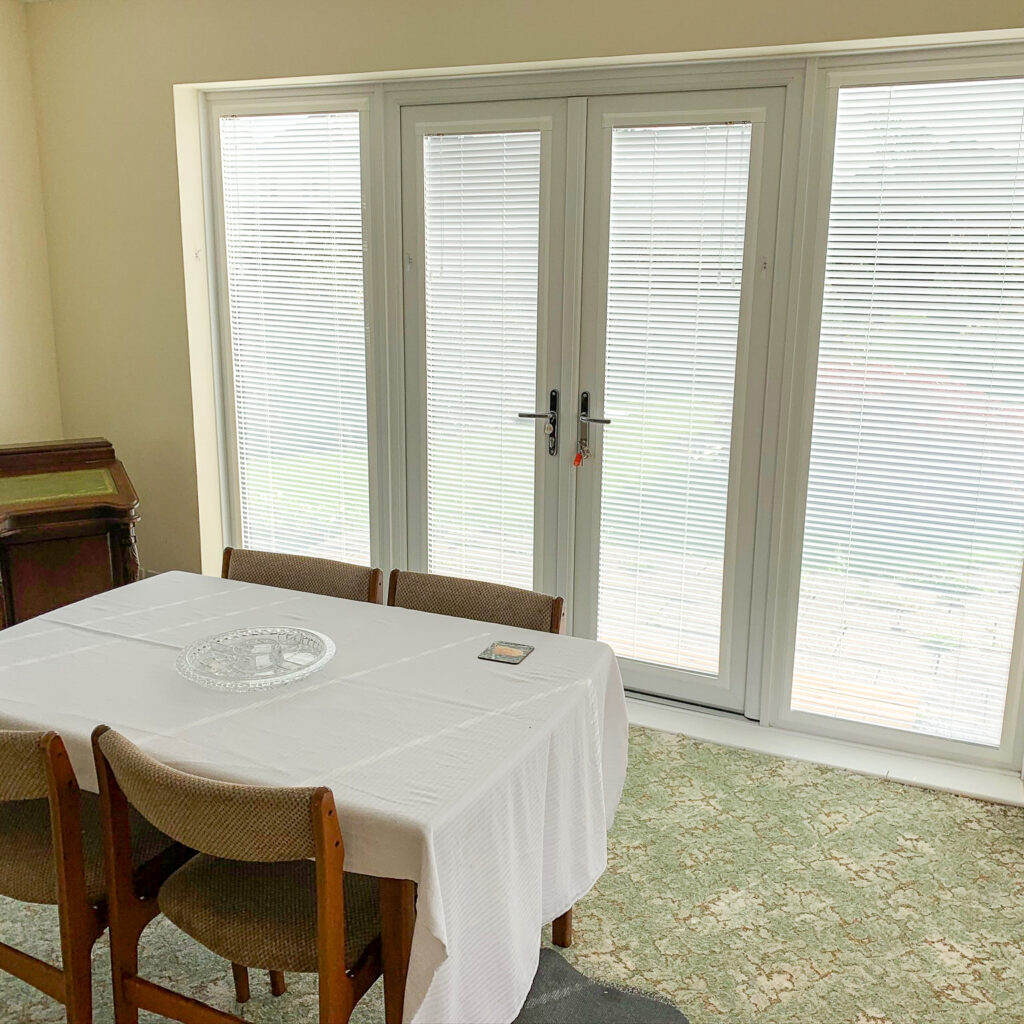 Perfect Fit Blinds for Different Window Types
Perfect Fit Blinds for Patio Doors
Patio doors often present challenges when it comes to window treatments. Perfect Fit blinds are an ideal solution for these doors due to their slim profile and easy installation. Their streamlined design means they won't obstruct your view or access to the outdoors while offering full control over light and privacy. Furthermore, the available choices in colours, patterns, and materials make them a stylish addition to any home.
Perfect Fit Blinds for PVC Windows
PVC windows are commonly found in modern homes. Finding the right window covering can be difficult, especially if you don't want to compromise the window's appearance or functionality. Perfect Fit blinds attach directly to the uPVC window framework without the need for additional hardware, preserving your windows' aesthetics. The blinds are compatible with various styles, including Venetian, roller, and pleated blinds, and provide a sleek, attractive finish that complements your PVC windows.
Intu blinds are very similar to Perfect Fit blinds in terms of using tensioned wires to keep blinds tight against your windows. However, rather than having a frame that fits inside the window frame, Intu blinds have a headrail at the top of the window with 2 discrete side channels that run down the length of the window and keep the blinds under tension. Both Perfect Fit and Intu blinds are installed without the need for drilling or screws and both are available with a variety of blind design styles such as pleated, Venetian and roller blinds. Yet we do recommend Intu blinds for bifold doors over Perfect Fit due to Intu's unique frameless design. Without frames, Intu blinds sit more flush with your bifold door window and frame, allowing your bifold doors to fully concertina together when open.
If perfect-fit blinds are not what you are looking for then take a look at our blinds page to see what other types of blinds we provide, such as vertical blinds, Roman blinds, motorised blinds and many more.
We supply many blinds, shutters and awnings to customers all over Hampshire and the home counties including towns and villages such as Alresford, Winchester, Romsey, Hook and Stockbridge.
We offer a fully comprehensive package for homes throughout Hampshire, Dorset, Surrey, Sussex, Kent and London.
Contact us here for a free no obligation quotation.
Discover all about our awnings and canopies by visiting our sister site winchesterawnings.com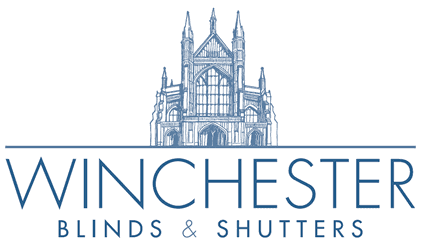 A family business, with a friendly, personal service
We are passionate about our business and pride ourselves on the upstanding reputation we have built. You can have complete trust in that from your initial enquiry through to fitting, we will provide you with a friendly, personalised and professional service.
We only use the highest quality materials and components to ensure that you receive the finest quality blinds and shutters in your home.
Ready to Transform Your Windows?
Request a Free Quote Today and Experience the Winchester Blinds and Shutters Difference!
Our team of experts is eager to provide you with personalised solutions tailored to your unique style and needs. Don't miss out on the opportunity to elevate your space with our top-quality blinds, shutters, and awnings.
Take the first step towards enhancing your home or business by requesting a callback.
Let us bring beauty and functionality to your windows with our unmatched craftsmanship and exceptional service!"