Unleash the Beauty of Your Home
Choosing conservatory blinds for your home can significantly enhance your living space by providing a perfect balance of aesthetics, privacy, and temperature control.
A conservatory is a versatile addition to your home that bridges the gap between the indoors and the outdoors, allowing you to enjoy your garden all year round.
By installing the right type of blinds, you can transform this bright and airy space into a comfortable and stylish area for relaxation or entertaining.
One of the main benefits of conservatory blinds is their ability to control sunlight. While the purpose of a conservatory is to let in natural light and create a seamless connection to the outdoors, you may not always want harsh sunlight streaming in.
Quality blinds can shield the indoors from direct sunlight while still allowing plenty of light to enter, creating a pleasant ambience in your conservatory.
In addition to sunlight control, conservatory blinds also help regulate the temperature within the space.
The heat that conservatories generate and lose during the summer and winter months can make them unbearable and unusable. By adding blinds to the roof and windows of your conservatory, you can create a comfortable environment in both cold winter months and hot summer days.
The insulation provided by the blinds will keep the temperature balanced, reducing the need for additional heating or cooling systems. Furthermore, conservatory blinds can add an extra layer of privacy to your space, making it a cosy and inviting retreat for you and your family.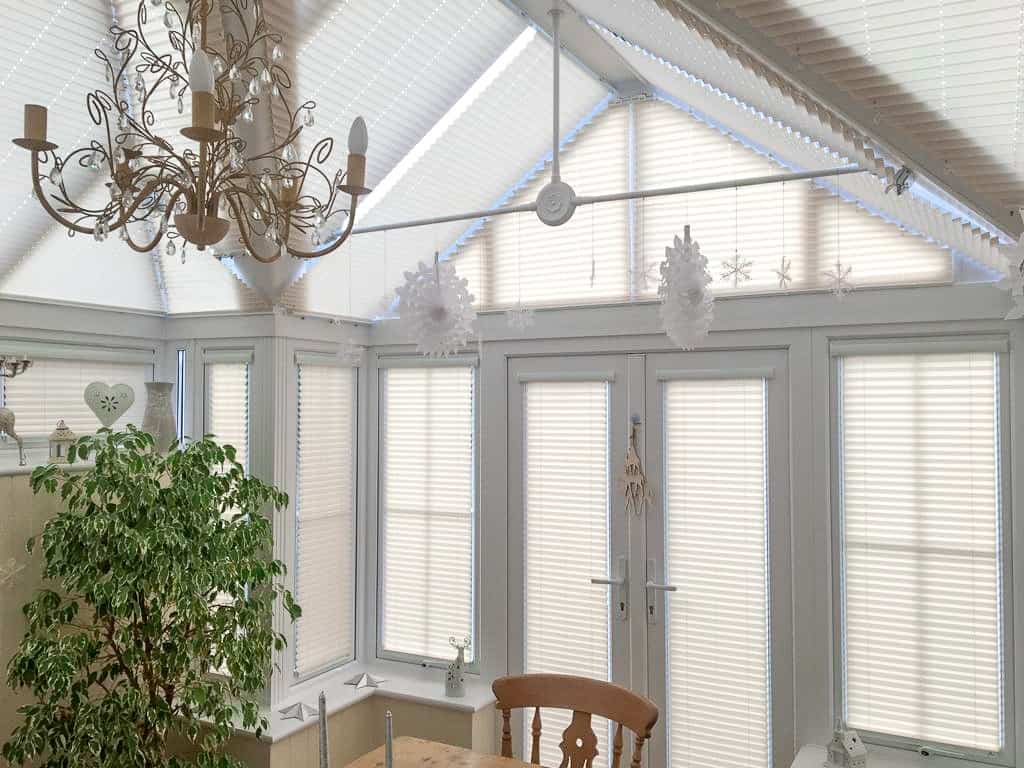 Rosie Wyatt
28. September, 2023
Delighted with new blinds in bedrooms, bathrooms and kitchen. Dean has great attention to detail and is very knowledgeable. Very happy with the service, time keeping and budget. Happy to recommend.
Catherine Brill
22. September, 2023
Excellent service . Very knowledgeable and a very good choice of shutters . Very happy !
James Crook
19. September, 2023
Dean is great. From the first appointment he understood our needs, ordered and installed the products extremely fast. Looking forward to using him again next year
Excellent service from Dean very professional lots of samples and quick installation time plus very good pricing. We are so pleased with finished products the blind run smoothly and all the workings fixed safely with young children in mind.
Angela Matwasa
14. September, 2023
WoW thoroughly recommend Dean, really happy with the quality of his blinds and fittings. They look more expensive than we paid, thank you.
Rachael
13. September, 2023
Great experience getting shutters fitted - good price and great service
Kathreen Pyrke
12. September, 2023
Would highly recommend, good quality blinds with lots of variety and choices of style. Quick from quote to installation. Lovely friendly service.
Janie Horlock
5. September, 2023
Dean was a pleasure to deal with from the initial measuring up and quote. Through to communication about fitting the shutters. Steve was the fitter that came to us and did a great job, quietly, efficiently and tidily. The shutters are a great quality and I'm pleased with the result.
Emma Kinch
30. August, 2023
I thoroughly recommend Dean ! From the first telephone call through to fitted blinds was great. Dean was happy to advise me of my options. The fitting of all 8 blinds is perfect. Everything was done in a timely manner. I couldn't be happier!
Kuldeep Dhanda
29. August, 2023
Had the blinds fitted yesterday, great blinds and fitted perfectly. Dean came over and provided all the info and options available, Steve fitted. Both very very professional and I am so happy with everything. I would definitely recommend them.
For a free no obligation quotation email or call us on…
Types of Conservatory Blinds Simple and versatile, roller blinds are made of a single piece of fabric and can be rolled up or down to control light and privacy.
They are available in a wide range of colours and patterns, and can even be blackout or thermal-lined to provide additional insulation. These blinds consist of pleated fabric, which folds neatly when raised. 
Pleated Blinds are particularly good for conservatory roofs due to their corded function that stays tort against the slanted roof. Featuring vertical slats that can be tilted and drawn open to control light and privacy.
These blinds are ideal for large windows or sliding doors. Made up of horizontal slats, Venetian blinds offer full control over light and privacy.
Choose from various materials like aluminium, real wood, or faux wood. Known for their elegance, Roman blinds are made of fabric that folds neatly when raised.
Similar to pleated blinds, but with a more traditional aesthetic. Also known as honeycomb blinds, these blinds have a unique structure that traps air between layers of fabric, providing insulation and temperature control. Available in both real wood and faux wood options, wooden blinds add a natural appearance and warmth to your conservatory while still offering light control. For a timeless, elegant, classic look, plantation shutters provide privacy, light and heat control in abundance.
Available in faux wood and hardwood they are a great solution for conservatories. Specifically designed for conservatory roofs, these blinds can be either pleated, cellular, or roller-style and are crucial for maintaining a comfortable temperature. Featuring a made-to-measure frame, perfect fit blinds provide a seamless and easy-to-install solution for your conservatory windows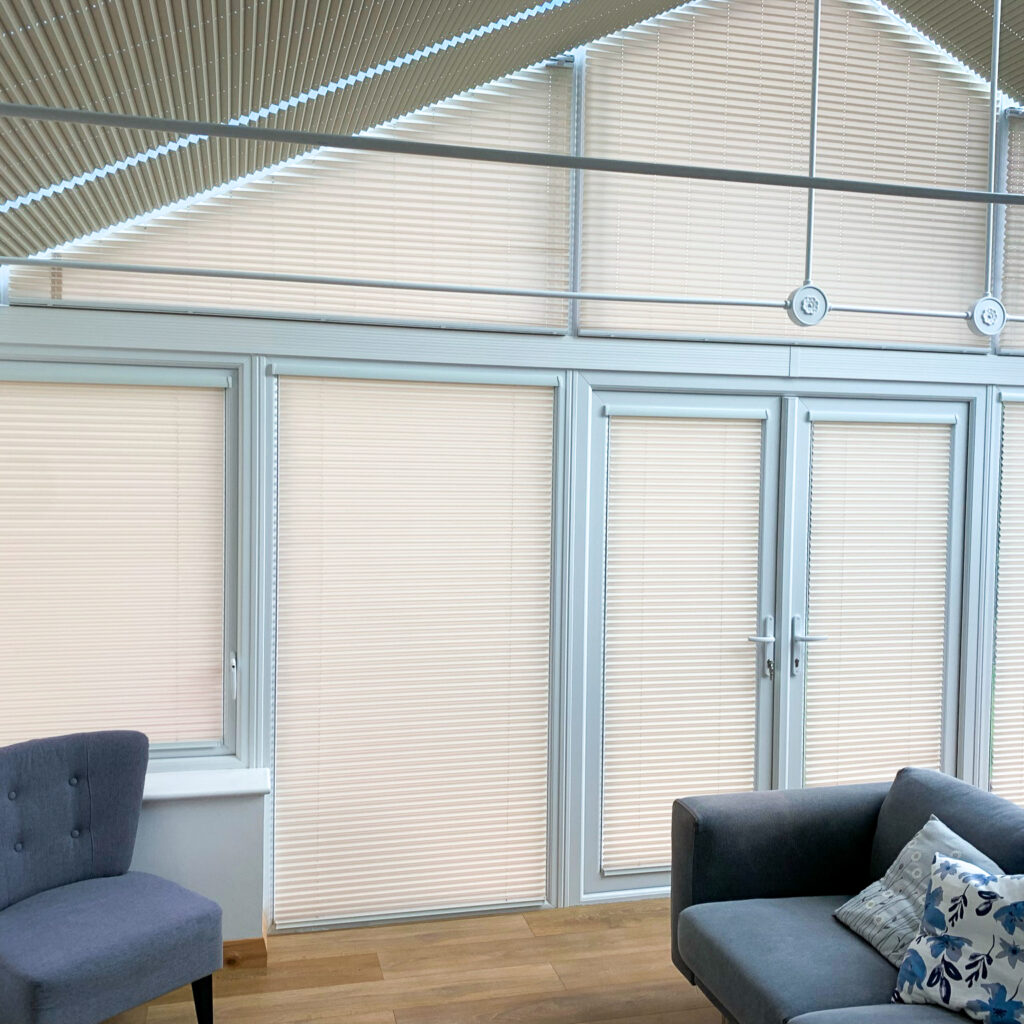 Functionality of Conservatory Blinds
A conservatory is a fantastic addition to any home, offering a seamless connection between your indoor living space and the outdoors. However, to make the most of this versatile space, it's essential to install the right kind of blinds. Conservatory blinds not only enhance the aesthetic appeal of your living space but also contribute to a comfortable and functional environment. In this section, we'll discuss the key benefits of conservatory blinds, including temperature regulation, light control, and privacy.
Conservatory blinds play a crucial role in maintaining a comfortable temperature within your living space. In the summer months, direct sunlight can cause your conservatory to become unbearably hot. By installing blinds, you can effectively control the amount of heat entering your conservatory, making it a much more usable living space during the summer months.
Similarly, during the winter months, conservatory blinds act as an insulating layer, trapping in heat and ensuring that your space remains warm and cosy. This not only enhances your overall comfort but also reduces heat loss through your windows, contributing to a more energy-efficient home.
For a free no obligation quotation email or call us on…
Another essential function of conservatory blinds is the ability to control the amount of natural light entering your space. By using adjustable blinds, you can easily manage the level of sunlight, allowing you to create the perfect balance between shade and natural light. This control can help eliminate sun glare, making it easier to watch TV, use your computer, or read without any discomfort.
Additionally, conservatory blinds can help protect your furniture, flooring and other valuable items from the harmful effects of prolonged sunlight exposure, such as fading or discolouration.
Conservatories often have large glass windows and doors, which means they can sometimes feel a little exposed to the outside world. Installing blinds in your conservatory provides you with the privacy you need, without sacrificing the view of your garden or the influx of natural light.
By choosing the appropriate blinds for your space, you can strike the perfect balance between privacy and openness, making your conservatory a comfortable and welcoming space to enjoy throughout the year.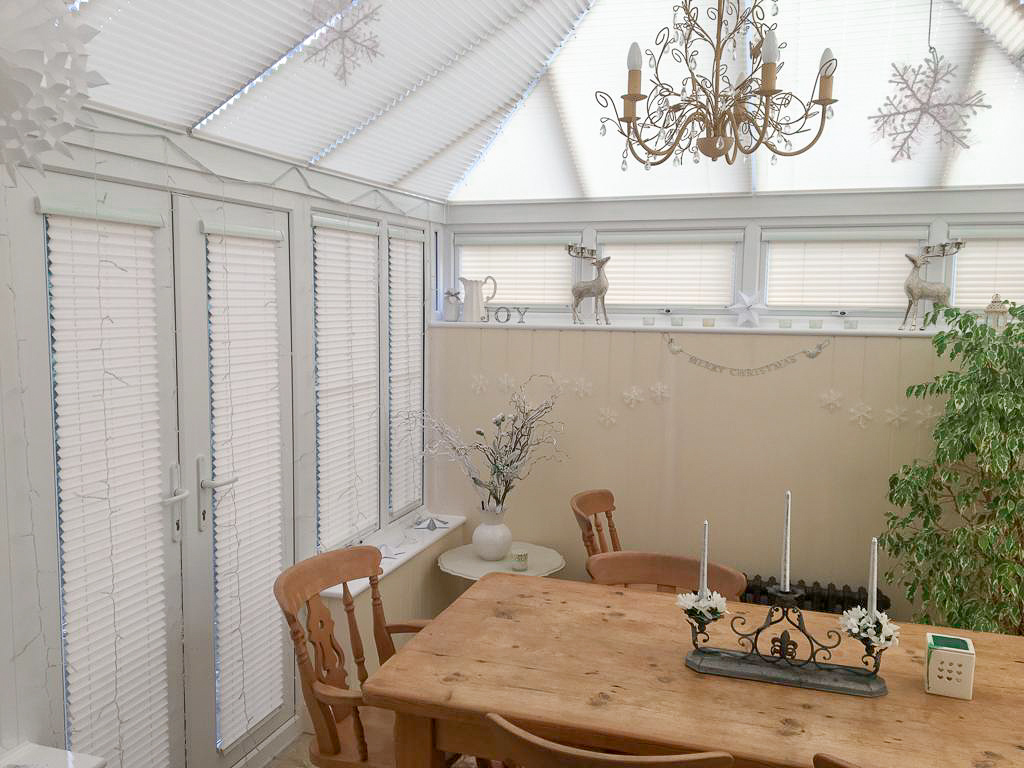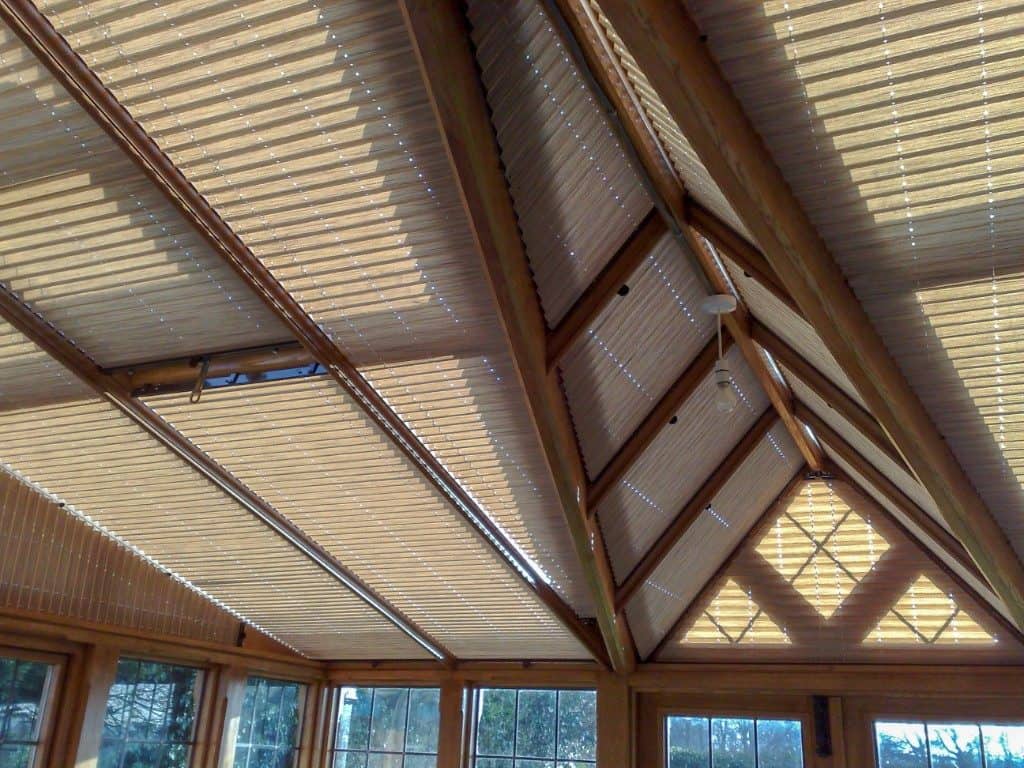 Material Choices for Conservatory Blinds
Fabric blinds are a popular choice for conservatories due to their versatility and wide range of colours, patterns, and textures. Honeycomb and pleated blinds are generally the most popular option due to their adaptability to conservatory roofs and their insulating properties.
They can also help you create a warm, inviting atmosphere in your conservatory. Additional fabric blinds, such as Roman blinds with a thicker fabric, can also offer good insulation during the colder months, while reflective or blackout fabrics can help reduce heat and control light in the summer. Keep in mind, though, that lighter colours will generally keep the room cooler.
Wood, Faux Wood Blinds and Plantation Shutters
Wood and faux wood blinds and plantation shutters offer a classic, sophisticated look for your conservatory. Real wood blinds and shutters are made from natural materials and provide excellent insulation, while faux wood blinds and shutters are made from durable synthetic materials that mimic the appearance of real wood.
Faux wood blinds and shutters might be a better option for conservatories with higher humidity, as they are more resistant to warping and moisture. Both options come in a variety of colours and finishes to suit your personal style.
PVC and UPVC blinds provide a robust and cost-effective option for conservatories. These blinds are often used for UPVC conservatories and UPVC windows, as they are designed to withstand harsh weather conditions and require minimal maintenance.
PVC and UPVC blinds are available in a range of designs, such as vertical and Venetian style, allowing you to choose the amount of sunlight and solar heat entering your conservatory throughout the day.
Aluminium Venetian blinds are a sleek, modern option for conservatory blinds. They are lightweight, durable, and easy to clean, making them perfect for the busy homeowner.
Aluminium blinds come in a range of colours and finishes, allowing you to match them with your conservatory decor and create the desired level of shade and privacy.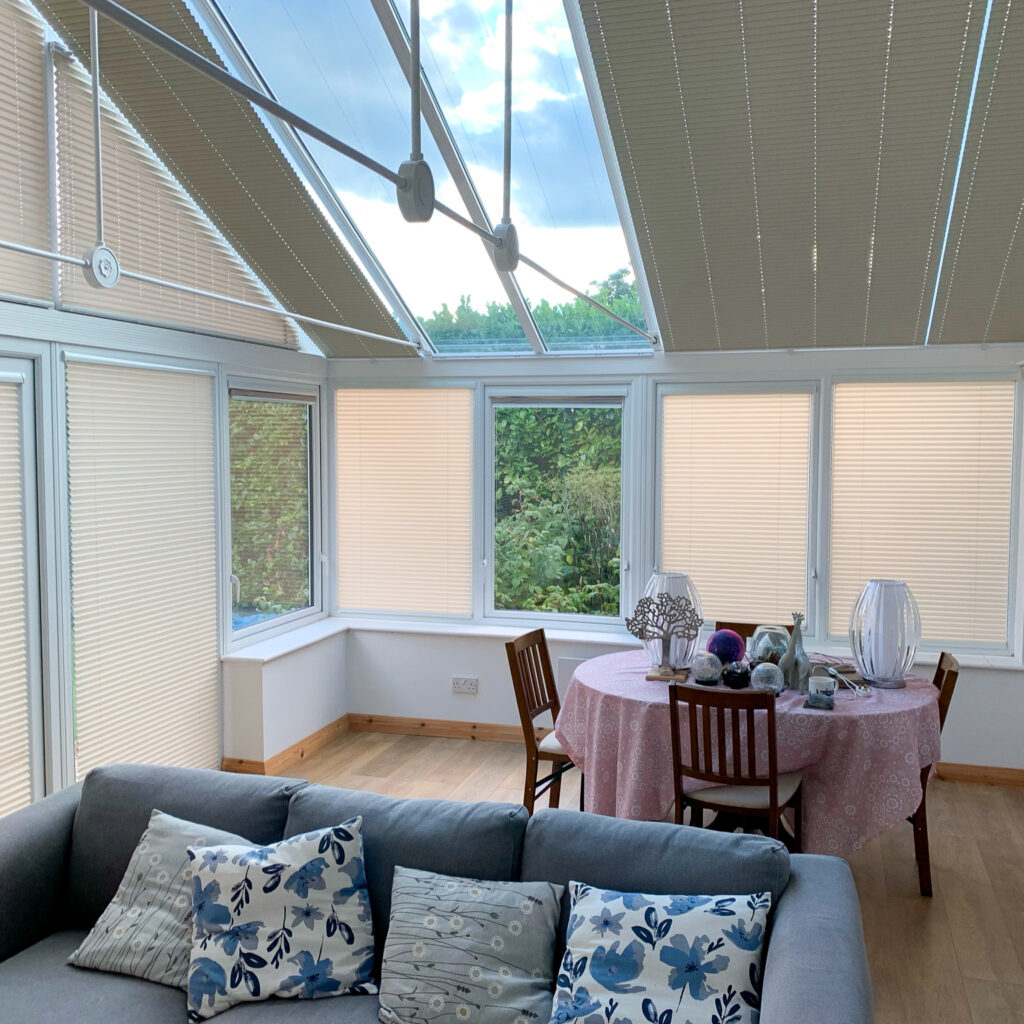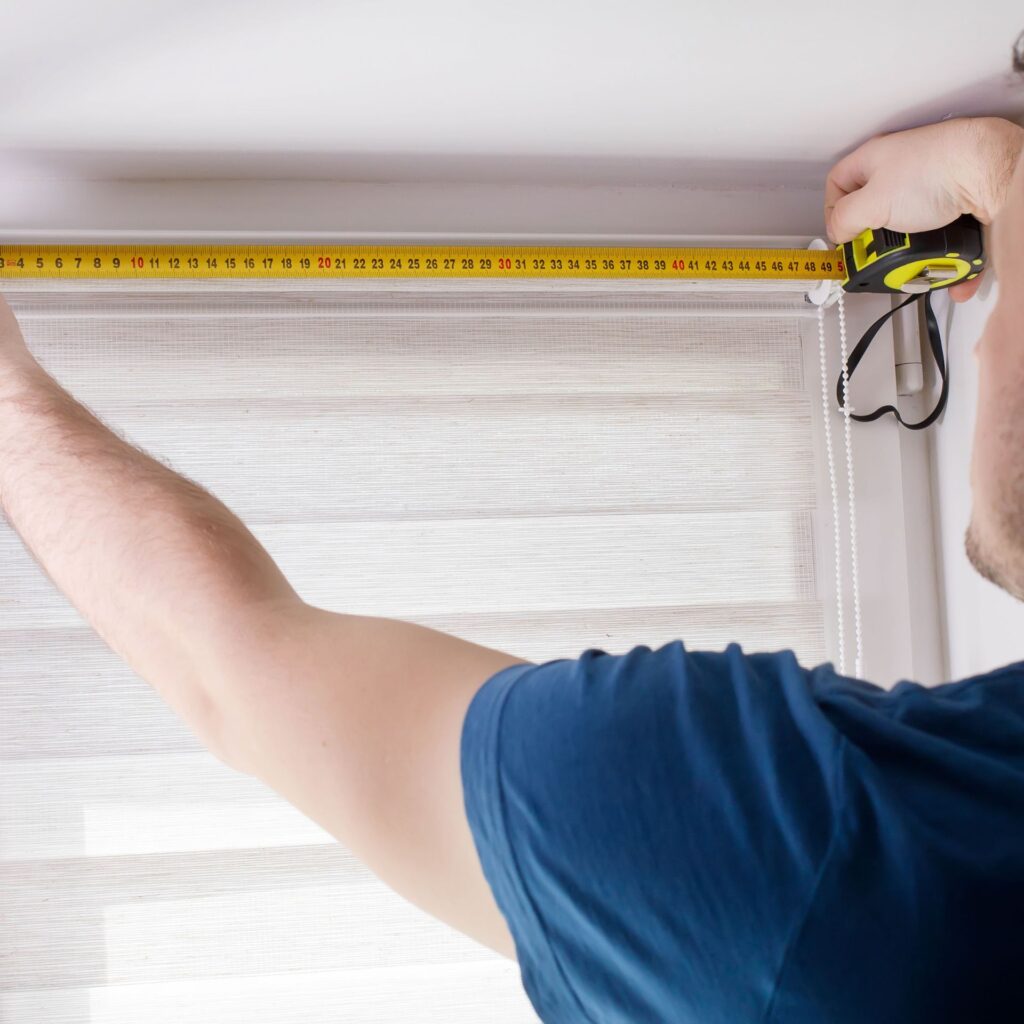 Installation of Conservatory Blinds
Measuring for Conservatory Blinds
When it comes to installing conservatory blinds in your home, taking accurate measurements is of utmost importance. Properly fitting blinds not only enhance the appearance of your conservatory but also ensure optimal functionality, allowing you to control the light and temperature for maximum comfort.
Our made-to-measure conservatory blinds will be customised based on our specific measurements, ensuring a perfect fit every time. The made-to-measure approach leaves you with a flawless finish, enhancing the aesthetics and functionality of your conservatory.
During the installation process, we take the utmost care of your conservatory and furnishings. The duration of the fitting of your conservatory blinds all depends on the size of conservatory but generally fitting can take 1-2 hours. We pride ourselves of tidy workmanship and we will always leave your home as clean as we found it.
Proper installation of conservatory blinds adds a touch of elegance to your space while giving you control over the lighting, privacy, and temperature. With accurate measurements and attention to detail, you can transform your conservatory into a comfortable and stylish haven, perfect for enjoying your garden all year round.
Convenience Features of Conservatory Blinds
Motorised Conservatory Blinds
Your conservatory blinds can also be made fully motorised. Our motorised blinds offer the utmost convenience for your conservatory. With just a touch of a button, you can control the opening and closing of your blinds, allowing you to easily adjust the lighting and privacy in your space.
Additionally, motorised blinds can be programmed to open and close at specific times, helping you maintain a consistent temperature inside the conservatory throughout the day. See our motorised blinds page for more information on the motorised blinds we can offer.
Insulating Conservatory Blinds
Insulating blinds are designed to help maintain a comfortable temperature in your conservatory by trapping heat in the winter and reflecting sunlight in the summer. These blinds are available in a range of materials, including fabrics with thermal properties, which ensure optimum temperature control.
By reducing heat loss and solar glare, insulating blinds not only enhance your comfort but also contribute to energy efficiency in your home.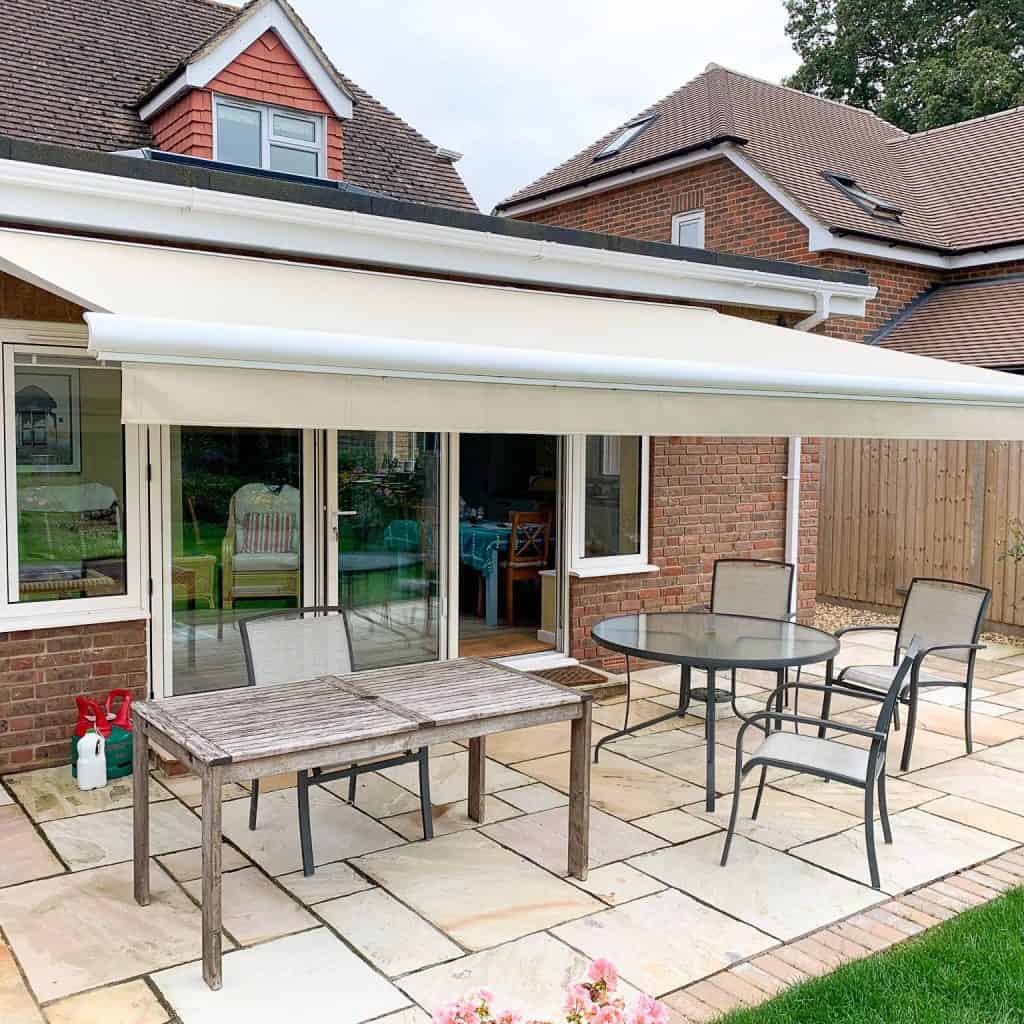 We also specialise in awnings. Awnings provide an additional layer of protection and comfort to your conservatory, as they can be extended over the exterior and prevent direct sunlight from entering. This helps control the temperature inside the conservatory, keeping it cool during hot summer days.
Awnings also offer a flexible shading solution, as they can be retracted when not needed, ensuring your conservatory remains a bright and inviting space. See our dedicated awnings site for more information.
Maintaining Your Conservatory Blinds
Keeping your conservatory blinds looking fresh and functioning properly is important for preserving the appeal of your indoor-outdoor space. Regular maintenance can ensure your blinds stay vibrant and serve their purpose for years to come.
Your blinds will need occasional cleaning to keep them looking and operating at their best. Dust or dirt can accumulate on the surfaces, so it's important to give them a gentle clean. For most types of blinds, you can use a soft cloth or a vacuum cleaner with a brush attachment to remove any debris. Be cautious not to use excessive force or water, as this can damage the blind's material and will subsequently not be covered under our warranty.
When it comes to the blinds' hardware and mechanisms, periodic checks and adjustments can help maintain their functionality. Ensure that the cords, tracks, and other moving parts are free from any obstructions and are well lubricated. If you notice any damaged or worn components, it's best to replace them promptly to prevent further issues. We provide a conservatory blinds maintenance service that is available at an additional cost at your request.
Ultimately, by dedicating time to your conservatory blinds' upkeep, you can prolong their life and maintain the optimal performance for controlling sunlight, insulation, and providing privacy in your conservatory.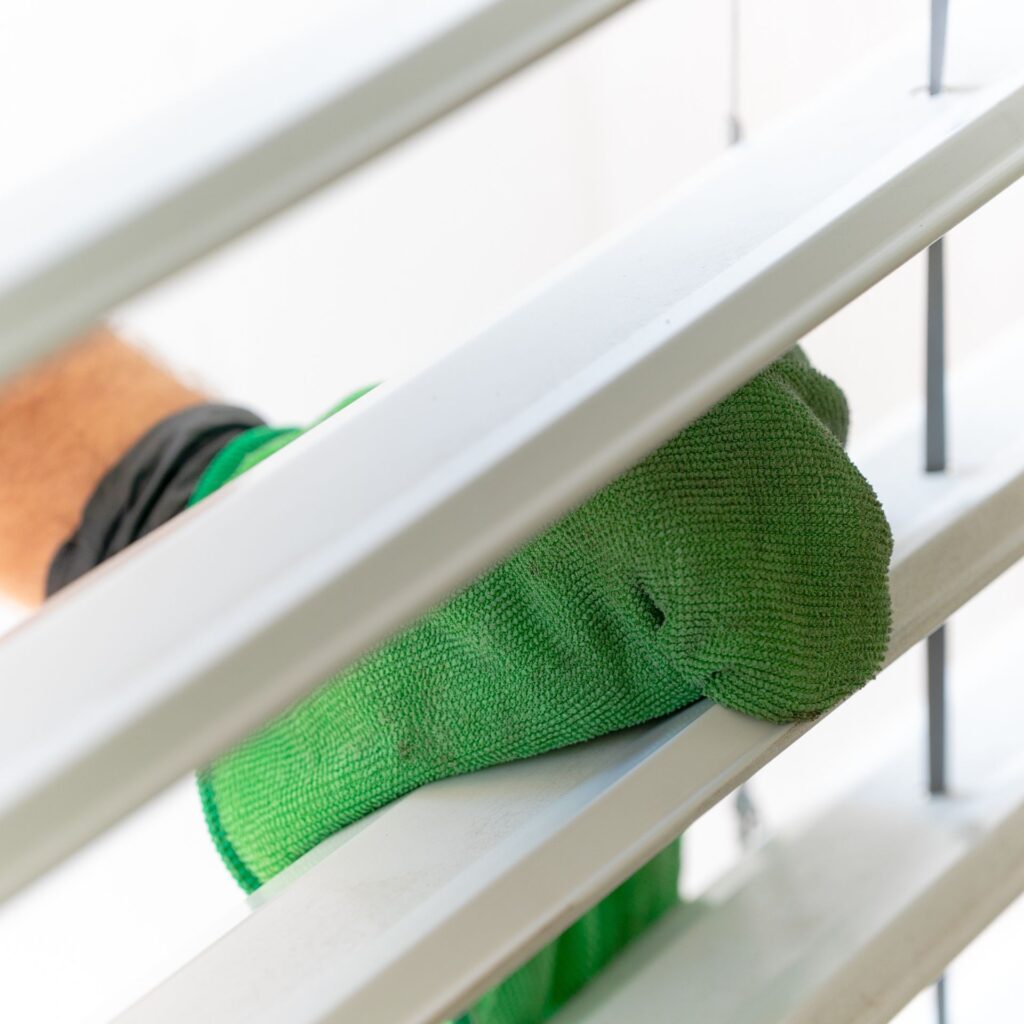 Choosing the Right Type of Conservatory Blinds
When selecting the best conservatory blinds for your home, it's crucial to consider factors such as functionality, style, and insulation. These can make a significant difference in the overall comfort and aesthetic of your conservatory space.
Firstly, think about the main purpose of your conservatory blinds. You might want to regulate the amount of sunlight, reduce heat, or have more control over privacy. Cellular and pleated blinds are popular options as they efficiently manage light levels and provide insulation most effectively.
Next, consider the style and design of your conservatory. The chosen blinds should complement the existing decoration and create a cohesive look. For instance, if your conservatory has a UPVC or aluminium structure, you may want to opt for blinds that fit well with the modern and minimalist design. Conversely, timber conservatories may look better with a more natural style of blind, such as wood venetian blinds or plantation shutters to enhance the warm and inviting atmosphere.
In addition to style, the material of your conservatory blinds plays an essential role in functionality. Choose materials that can withstand fluctuating temperatures and humidity levels, whilst providing optimal insulation.
Having expertly measured and fitted conservatory blinds is crucial to achieving the desired look and performance of your blinds. Properly fitted blinds can also improve soundproofing and energy efficiency within the space. You can trust in us to get your conservatory blinds right for you. We have the essential knowledge, expertise, and industry insights to guide you in choosing the perfect conservatory blinds for your home.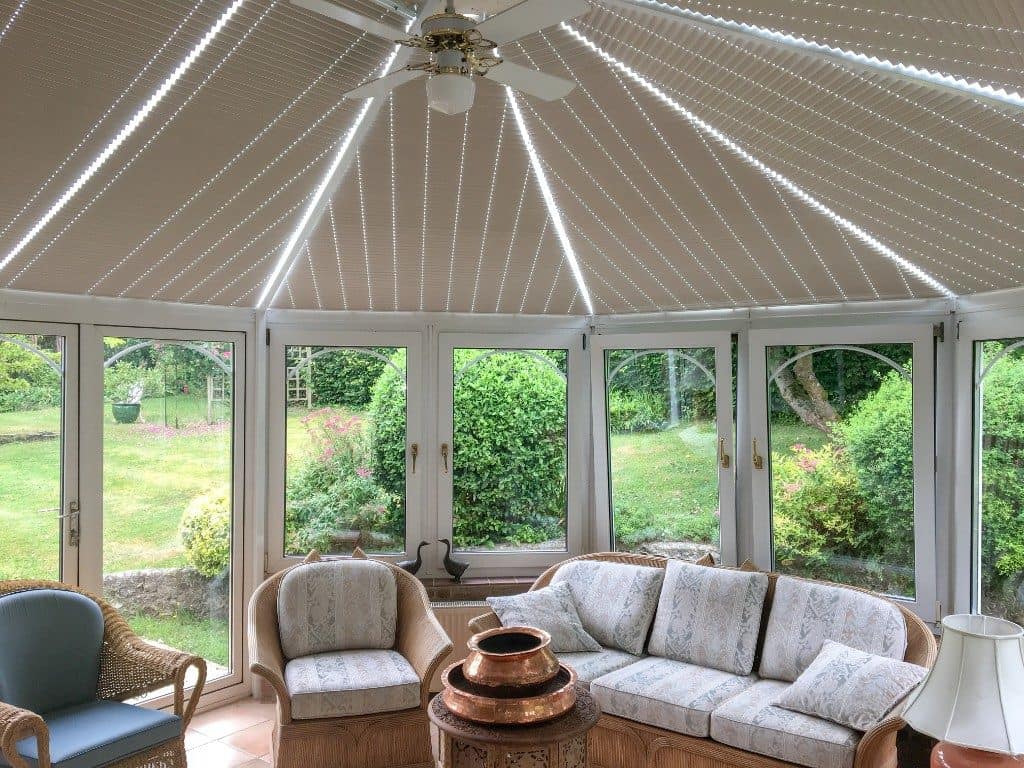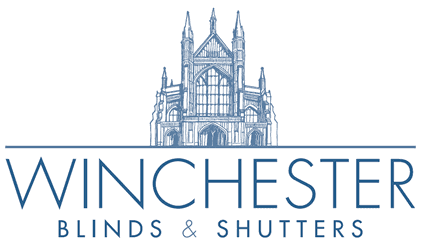 A family business, with a friendly, personal service
We are passionate about our business and pride ourselves on the upstanding reputation we have built. You can have complete trust in that from your initial enquiry through to fitting, we will provide you with a friendly, personalised and professional service.
We only use the highest quality materials and components to ensure that you receive the finest quality blinds and shutters in your home.
Ready to Transform Your Conservatory?
Request a Free Quote Today and Experience the Winchester Blinds and Shutters Difference!
Our team of experts is eager to provide you with personalised solutions tailored to your unique style and needs. Don't miss out on the opportunity to elevate your space with our top-quality blinds, shutters, and awnings.
Take the first step towards enhancing your home or business by requesting a callback.
Let us bring beauty and functionality to your windows with our unmatched craftsmanship and exceptional service!"