Unleash the Beauty of Your Home
Our Wood Venetian blinds are a popular choice for many home owners, due to their timeless elegance and affordability. They perfectly complement a wide range of interior styles and are known for their versatility and practicality. These blinds offer excellent light control and privacy, making them suitable for various rooms in your home.
Our Wood Venetian blinds bring warmth to your home, creating a cosy and welcoming atmosphere. The natural beauty of wood adds a touch of elegance and sophistication to your interior design.
Whether you choose a classic walnut or pine finish, the distinctive character of each type of wood offers a timeless appeal to your home. They truly suit all traditional and contemporary interior styles, which makes them a versatile choice for your window coverings.
Variety of Colours and Finishes
One of the great aspects of wooden Venetian blinds is the vast selection of colours and finishes available.
We provide an extensive array of colour options from light to dark, enabling you to easily find the perfect match for your room's colour scheme and ambience.
If you prefer a more natural look, opt for wood blinds with a visible grain pattern to showcase the material's organic texture. Alternatively, you can choose a painted or stained finish to complement your furniture pieces and other interior elements.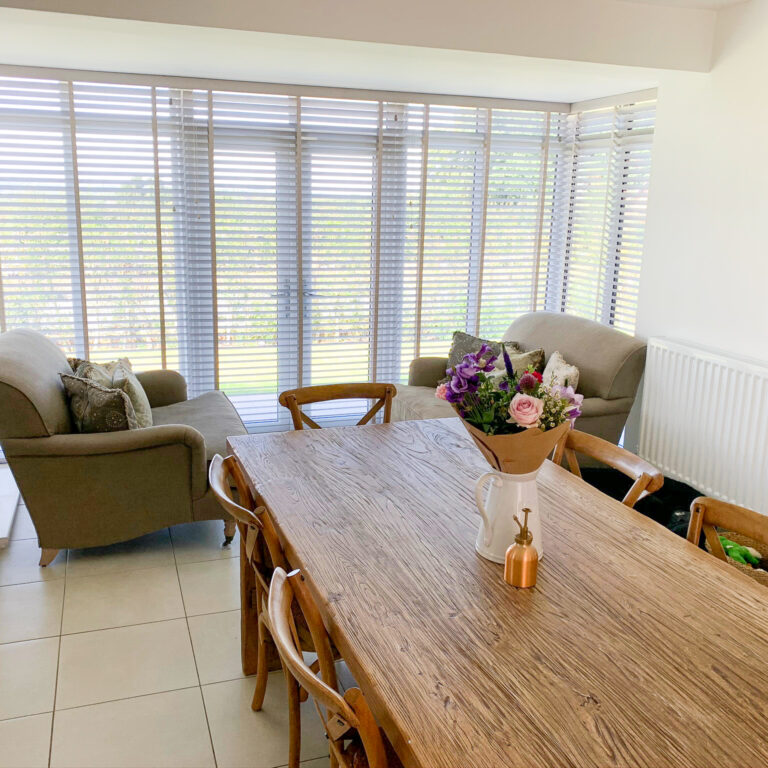 Light Control and Privacy Our wood Venetian blinds provide excellent light control, allowing you to easily adjust the slats for the perfect balance of natural light and privacy. Like other Venetian blinds, you have the ability to control the light flow by simply opening up the slats using a tilt control wand or closing them when you want to block the light. This helps you maintain a comfortable and pleasant environment in your living spaces.
Additionally, wood venetian blinds offer a level of privacy that some other window dressings may not provide. Their design ensures that, when closed, people outside cannot easily see into your home, giving you and your family a sense of security and privacy.
Insulation & Energy Saving Wooden Venetian blinds can also offer insulation benefits, as the natural wood material helps to keep your home warmer in the winter and cooler in the summer.
They can help to regulate the temperature more efficiently, and potentially save on energy bills by reducing the need for heating your home as much during the winter months.
Rosie Wyatt
28. September, 2023
Delighted with new blinds in bedrooms, bathrooms and kitchen. Dean has great attention to detail and is very knowledgeable. Very happy with the service, time keeping and budget. Happy to recommend.
Catherine Brill
22. September, 2023
Excellent service . Very knowledgeable and a very good choice of shutters . Very happy !
James Crook
19. September, 2023
Dean is great. From the first appointment he understood our needs, ordered and installed the products extremely fast. Looking forward to using him again next year
Excellent service from Dean very professional lots of samples and quick installation time plus very good pricing. We are so pleased with finished products the blind run smoothly and all the workings fixed safely with young children in mind.
Angela Matwasa
14. September, 2023
WoW thoroughly recommend Dean, really happy with the quality of his blinds and fittings. They look more expensive than we paid, thank you.
Rachael
13. September, 2023
Great experience getting shutters fitted - good price and great service
Kathreen Pyrke
12. September, 2023
Would highly recommend, good quality blinds with lots of variety and choices of style. Quick from quote to installation. Lovely friendly service.
Janie Horlock
5. September, 2023
Dean was a pleasure to deal with from the initial measuring up and quote. Through to communication about fitting the shutters. Steve was the fitter that came to us and did a great job, quietly, efficiently and tidily. The shutters are a great quality and I'm pleased with the result.
Emma Kinch
30. August, 2023
I thoroughly recommend Dean ! From the first telephone call through to fitted blinds was great. Dean was happy to advise me of my options. The fitting of all 8 blinds is perfect. Everything was done in a timely manner. I couldn't be happier!
Kuldeep Dhanda
29. August, 2023
Had the blinds fitted yesterday, great blinds and fitted perfectly. Dean came over and provided all the info and options available, Steve fitted. Both very very professional and I am so happy with everything. I would definitely recommend them.
For a free no obligation quotation email or call us on…
"I would highly recommend this company for blinds. I am so happy with the whole service from beginning to end. They look great and the team are great to deal with. Dean and the team were 10/10 for professionalism and they left my home immaculate."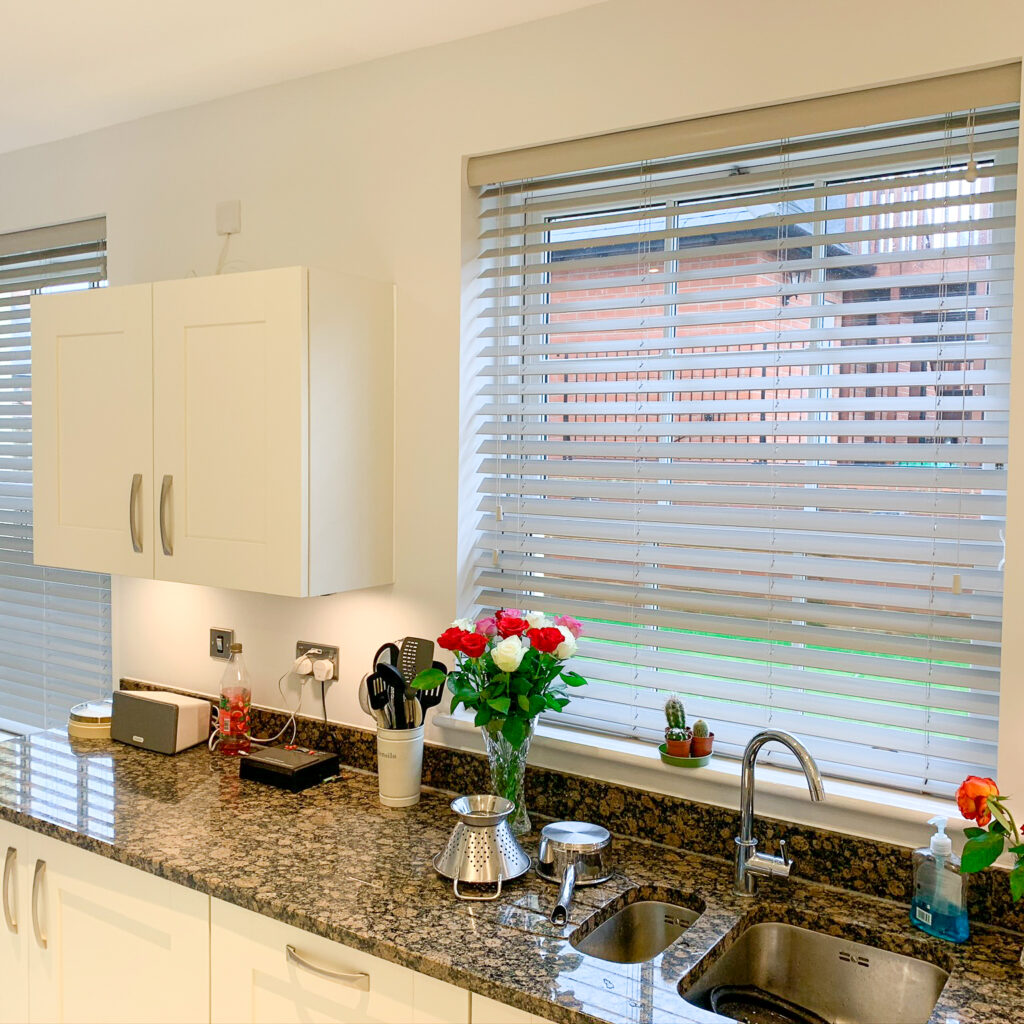 Our wood venetian blinds are available in either hardwood or faux wood. Real hardwood venetians are known for their classic beauty and durability. They come in a variety of natural shades, tones are can also be stained or painted to match your home décor. Additionally, their strength and long-lasting nature are also another benefit to choosing real wood venetians.
Or if you are looking for a harder-wearing, waterproof venetian blind, then faux wood blinds can be a more affordable alternative. Made from a composite material that simulates the appearance of real wood, they are less susceptible to warping due to moisture. This makes them a great choice for kitchens and bathrooms in comparison to real wood blinds. Additionally, faux wood venetian blinds can be more budget-friendly than real wood without sacrificing aesthetic appeal.
For a free no obligation quotation email or call us on…
Low Maintenance Requirements
Wooden Venetian blinds are a great choice for your home due to their low maintenance requirements. Their durability and ability to withstand wear and tear means they're less likely to warp or be damaged by regular use. 
Wood blinds are also remarkably lightweight compared to other materials, making them easier to manage and operate on a daily basis. A simple wipe with a damp cloth or duster is all that is required to keep them looking fresh and like new for years to come.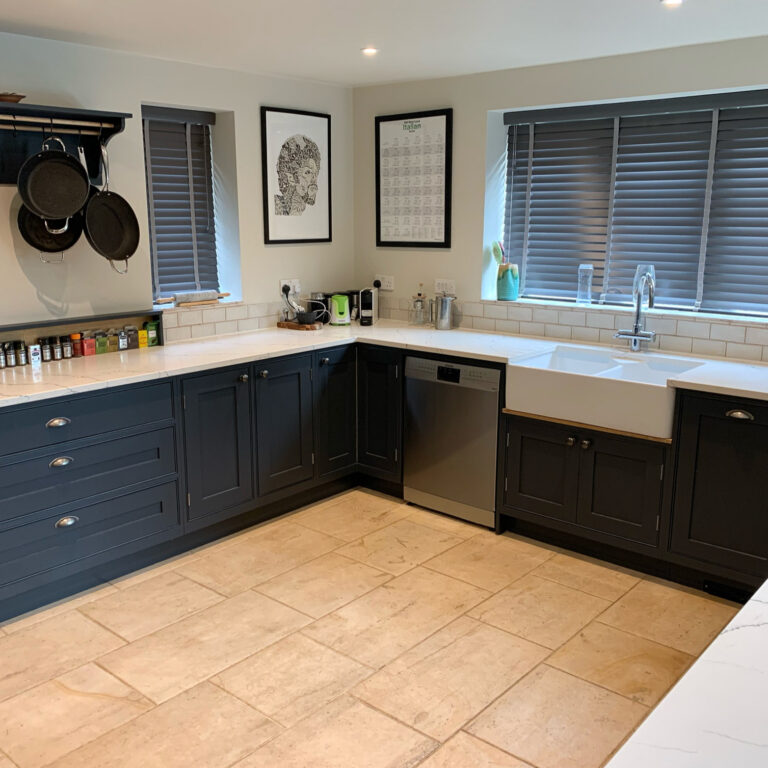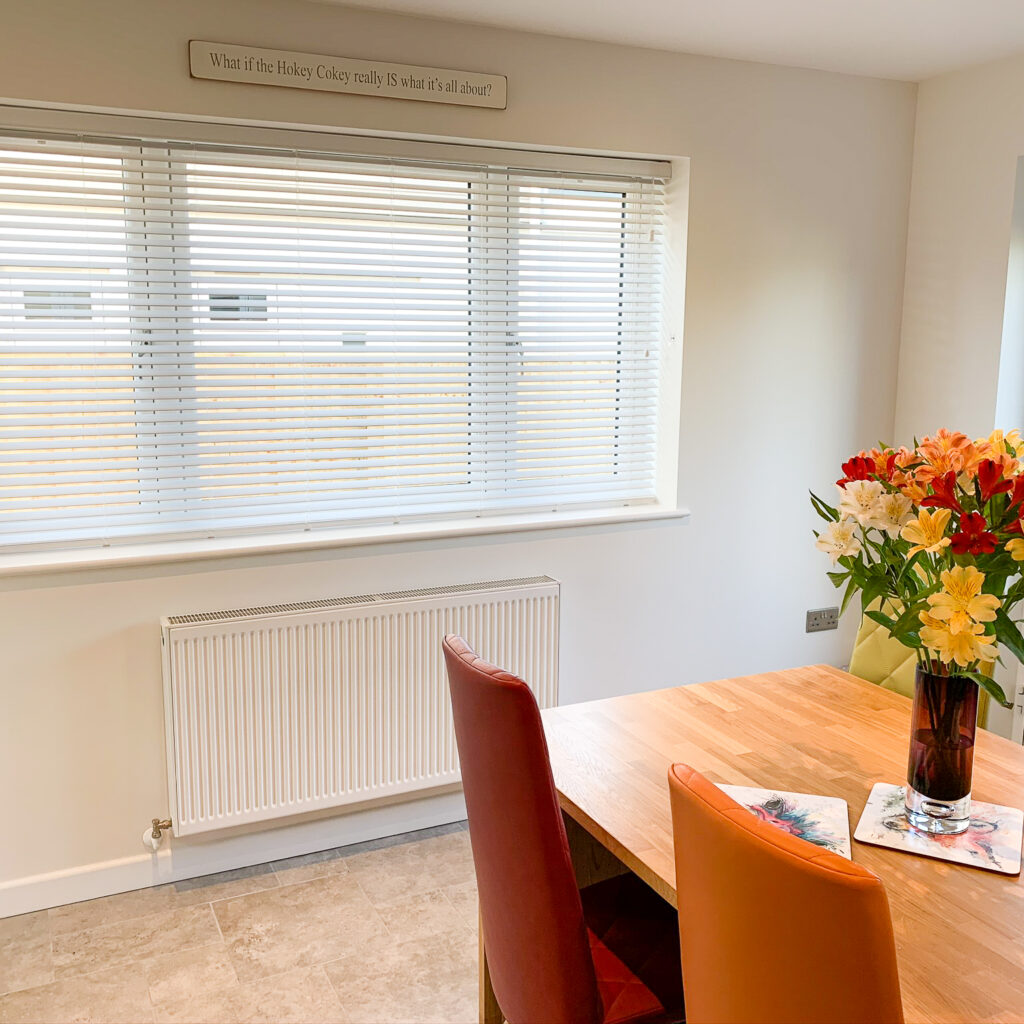 Wooden Venetian blinds offer an excellent balance of affordability and quality when compared to other types of window treatments. Our shutter ranges offer elegance and long term durability, however, they are more costly than wood venetian blinds. 
Our wood venetian blinds are an exceptional alternative and do not disappoint when wanting aesthetically enhancing blinds for your home. While real wood blinds might be more expensive than faux wood options, they are still more affordable than some other premium window dressing alternatives. 
Faux wood blinds can be just as beautiful and durable at a lower price, making them a popular choice for many homeowners, especially in areas with moisture, such as bathrooms.
Made-to-Measure and Bespoke
All of our blinds are bespoke, made to measure for your home. We have been in the blinds industry for 30 years and have the knowledge, skills and expertise to help you find the blinds that will suit your home and fit your requirements.
Whether you desire a contemporary, modern look or prefer a more traditional style, Wood Venetian blinds cater to all preferences. Popular colour choices include neutral tones like grey, cream, or white, which effortlessly blend in with most décors, while more bold contrasts are also available to make a statement.
For a free no obligation quotation email or call us on…
Motorised Wood Venetian Blinds
We supply many types of motorised blinds and wood venetian blinds are a great blind to motorise. Motorised wood venetian blinds are a popular and stylish choice for modern homes. They bring several benefits and can brilliantly enhance your home's aesthetic and functionality.
When you choose electric wood venetian blinds, you can enjoy the luxury of automated operation. These blinds can be controlled using a remote, or even integrated into your smart home system. This allows you to effortlessly adjust the blinds without the need to physically reach them, providing improved convenience and accessibility.
In addition to their convenience, motorised blinds can also contribute to your home's security. You can program them to open and close at set times when you're away, giving the impression of an occupied house and an excellent deterrent to unwanted visitors.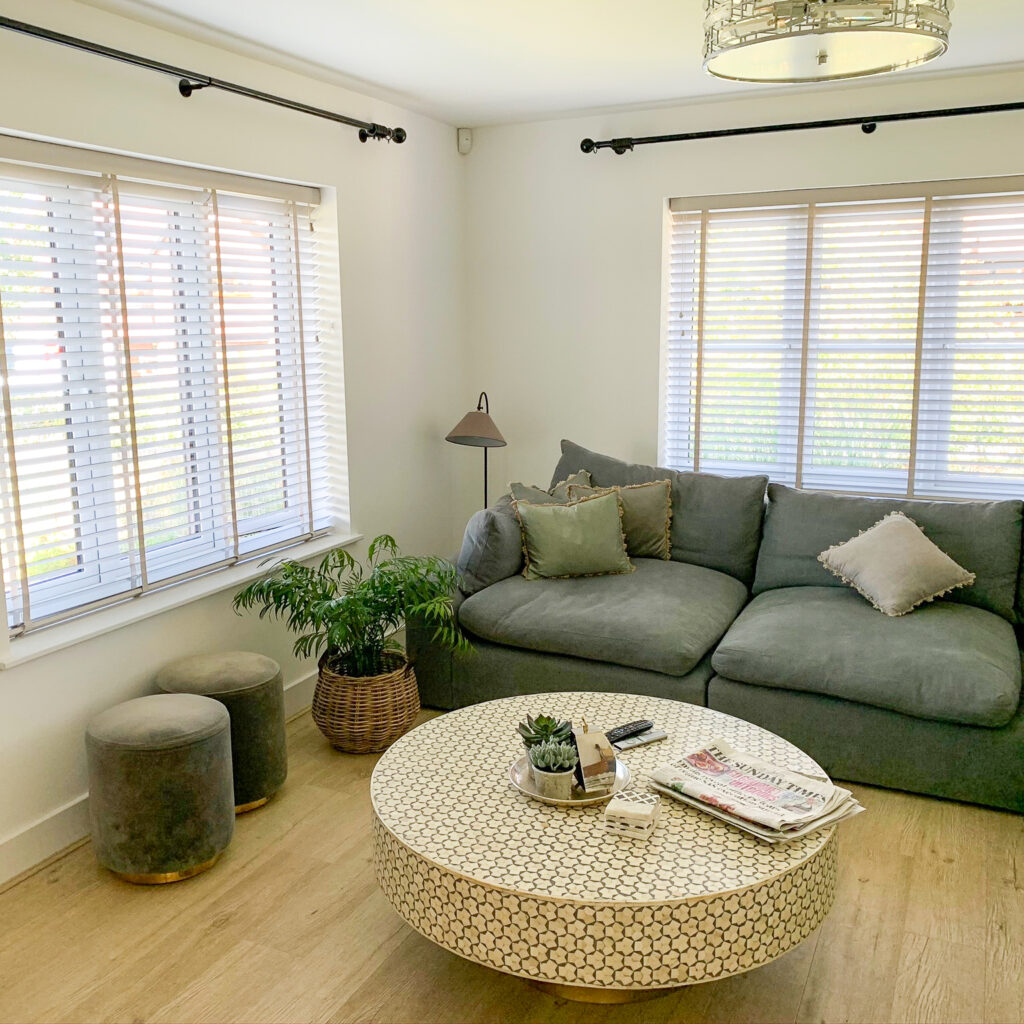 Suitability for Different Rooms
When considering wood Venetian blinds for your home, it's important to evaluate the suitability for various rooms. Each space has its own requirements when it comes to light control, privacy and overall aesthetics. Wood Venetian blinds can be a stylish addition to kitchens. However, it's important to keep in mind that kitchens are prone to moisture and steam, which could damage and warp wooden slats over time. Opting for faux wood venetian blinds are a sensible choice in kitchens. It is recommended that faux wood venetian blinds are used in bathrooms. The humidity and moisture in this environment will make real wood slats prone to warping. Faux wood venetians look just as good as real wood, just more durable for damp areas. Wood Venetian blinds are an excellent choice for living rooms and bedrooms. They offer a natural and luxury feel that can suit both traditional and contemporary design styles, whilst providing optimal light and privacy control. They provide a sophisticated look while allowing you to control the light effectively, promoting focus and productivity. We also supply wood Venetian blinds to offices and commercial business. Visit our commercial blinds page here.
Wood Venetian Blinds FAQs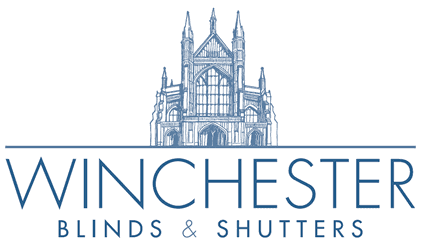 A family business, with a friendly, personal service
We are passionate about our business and pride ourselves on the upstanding reputation we have built. You can have complete trust in that from your initial enquiry through to fitting, we will provide you with a friendly, personalised and professional service.
We only use the highest quality materials and components to ensure that you receive the finest quality blinds and shutters in your home.
Ready to Transform Your Windows?
Request a Free Quote Today and Experience the Winchester Blinds and Shutters Difference!
Our team of experts is eager to provide you with personalised solutions tailored to your unique style and needs. Don't miss out on the opportunity to elevate your space with our top-quality blinds, shutters, and awnings.
Take the first step towards enhancing your home or business by requesting a callback.
Let us bring beauty and functionality to your windows with our unmatched craftsmanship and exceptional service!"