Unleash the Beauty of Your Home
Are you looking for blinds that exude elegance, opulence with a warm, cosy feel? Or wanting the feel of curtains but with all the practicalities of blinds?
Our Roman blinds are be a timeless classic and popular choice that offer many advantages when it comes to window dressing.
Their versatility and elegance make them suitable for all rooms and interior design styles.
Roman blinds are made from fabric which can be tailored to suit your specific interior design style. They come in an array of materials, colours, patterns, and textures, giving you ample opportunity to complement your existing décor or make a statement with a new design. Moreover, they provide excellent light control, privacy, and insulation, which are key for maintaining a comfortable home environment.
By opting for Roman blinds, you can achieve an aesthetically pleasing and practical solution for your windows. The sleek, folded appearance of these blinds gives the warmth and depth of curtains, yet, adds a touch of sophistication to any space while offering more control over natural light and privacy levels. As a result, these blinds can enhance the overall atmosphere of your home while serving their primary function effectively.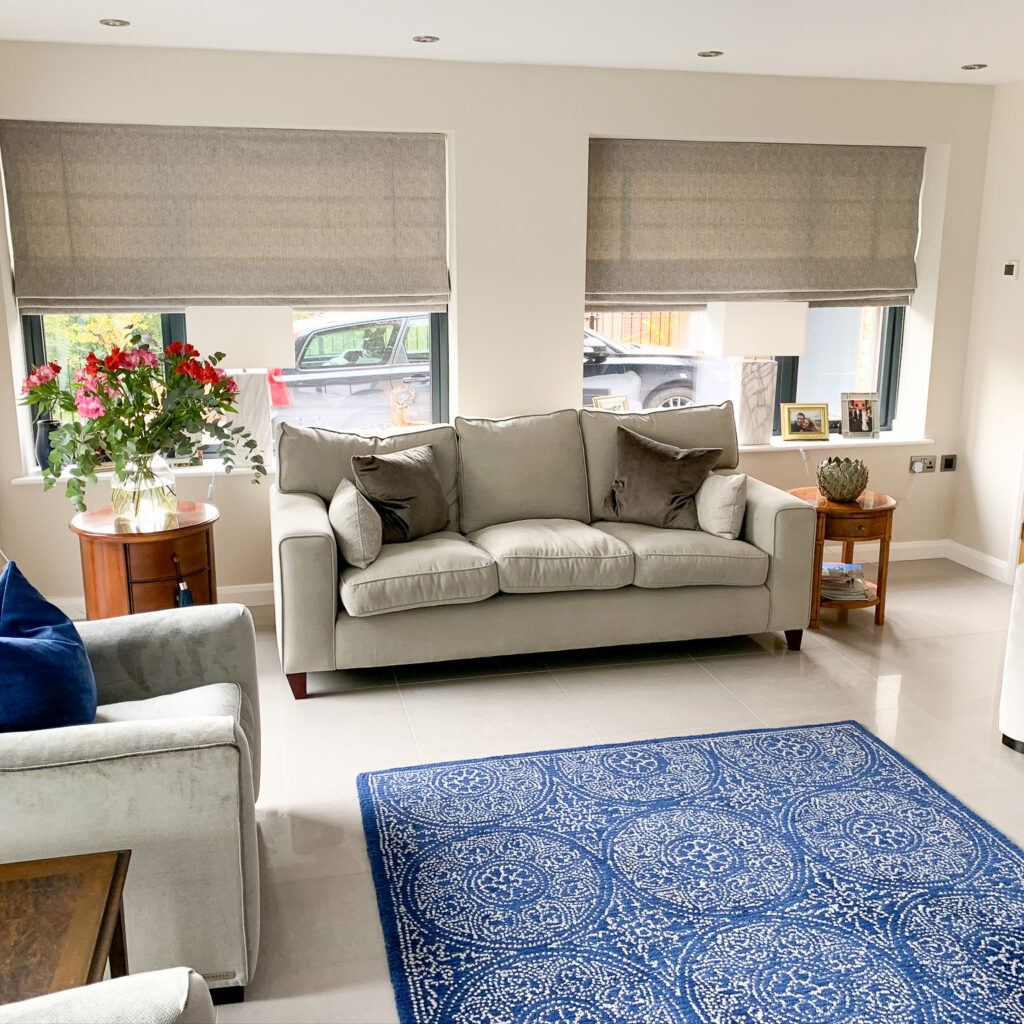 The Elegance of Roman Blinds
Roman blinds bring an exceptional sense of style and sophistication to your home. Their timeless design has been around for centuries and continues to be a popular choice in both traditional and modern settings. With their classic look, you can be confident that Roman blinds will never go out of trend.
One of the key elements that contribute to the elegance of Roman blinds is their ability to create clean, soft folds when raised. This feature instantly adds a luxurious touch to your windows, setting the tone for the rest of your interior design.
Elegant Fabrics and Patterns
The choice of fabric plays a significant role in determining the overall appearance and feel of your Roman blinds. Opting for high-quality materials will not only enhance the elegance of your blinds but also improve their durability and functionality. You can select from our vast array of fabrics, such as silk, linen, or cotton blends, to achieve the desired level of richness and texture.
Patterns also play a crucial part in the overall elegance of Roman blinds. Classic choices like stripes and checks can effortlessly blend with your existing décor, while bolder options like florals or bright shades add a touch of personality and colour. With endless styles and design choices available, it becomes easier than ever to find an option that will perfectly complement your current decor and enhance your home's elegance.
Functionality of Roman Blinds
Roman blinds are incredibly versatile and can be used in various rooms in your home, such as the living room, bedroom, or kitchen. They offer a timeless and flexible design that works perfectly with both traditional and modern interiors. Furthermore, their classic style has been around for centuries and is unlikely to fall out of trend. Unlike bulky and heavy curtains that can take up room in your home, our Roman blinds have all the luxurious and aesthetic properties that curtains have but with the amazing practicalities that blinds provide.
One of the significant advantages of Roman blinds is their ability to control the amount of light entering a room. Unlike curtains, which often either let in too much or too little light, Roman blinds offer the perfect balance. You can adjust them to your desired level of coverage, allowing you to keep out sunlight entirely or just enough to let natural light filter into your room for a comfortable and welcoming atmosphere.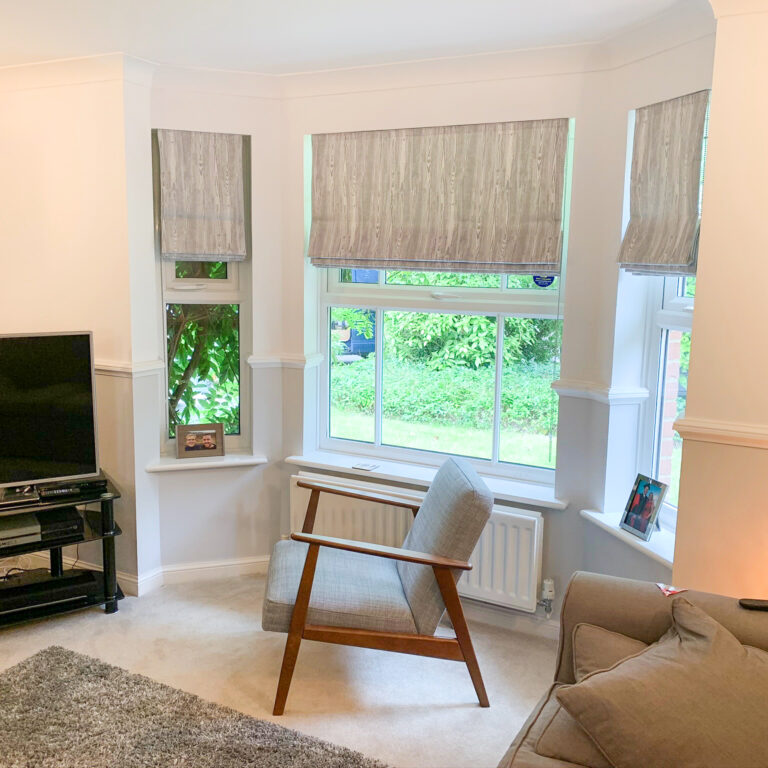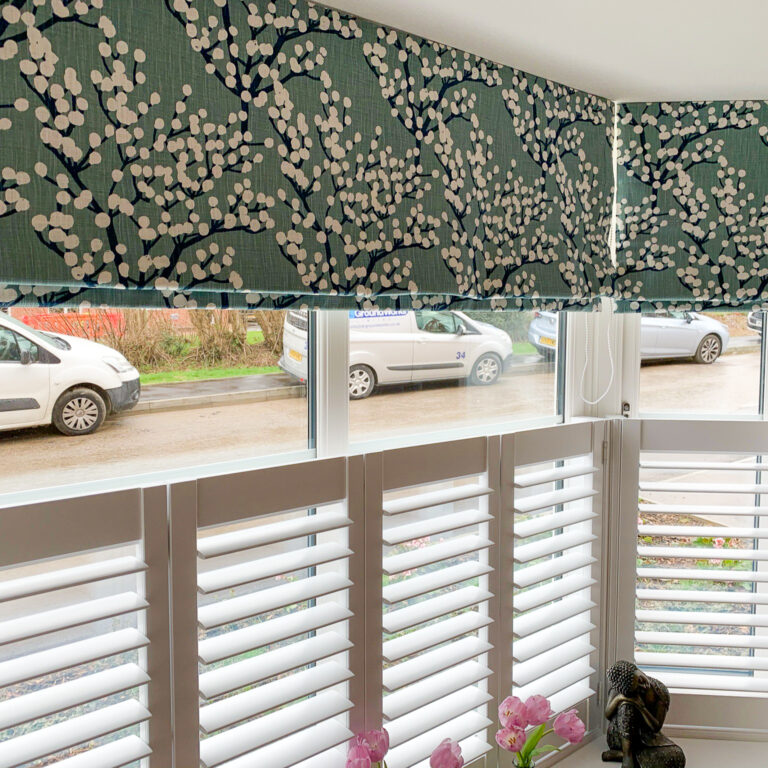 Insulating & Energy Efficient
Roman blinds provide excellent insulation for your home, helping to maintain consistent room temperatures throughout the year. During the colder months, the thick layers of fabric used in Roman blinds can help to keep the warmth in, ensuring your home stays cosy. Conversely, they can also block out the sun's heat in the summer, keeping your living space cool and comfortable. Additionally, this insulation can help to reduce energy consumption by limiting the need for excessive heating or cooling, ultimately potentially saving you money on your energy bills.
When positioned correctly, Roman blinds can effectively maximise the efficiency of your home's heating system. By closing the blinds at night or during colder weather, you create a barrier between the windows and the room, preventing drafts and heat loss. This will enable your radiators or other heating sources to work more efficiently, requiring less energy to achieve the same level of warmth. Conversely, when the sun is shining, raising the blinds will allow natural warmth to enter your home, reducing the need for artificial heating sources.
Rosie Wyatt
28. September, 2023
Delighted with new blinds in bedrooms, bathrooms and kitchen. Dean has great attention to detail and is very knowledgeable. Very happy with the service, time keeping and budget. Happy to recommend.
Catherine Brill
22. September, 2023
Excellent service . Very knowledgeable and a very good choice of shutters . Very happy !
James Crook
19. September, 2023
Dean is great. From the first appointment he understood our needs, ordered and installed the products extremely fast. Looking forward to using him again next year
Excellent service from Dean very professional lots of samples and quick installation time plus very good pricing. We are so pleased with finished products the blind run smoothly and all the workings fixed safely with young children in mind.
Angela Matwasa
14. September, 2023
WoW thoroughly recommend Dean, really happy with the quality of his blinds and fittings. They look more expensive than we paid, thank you.
Rachael
13. September, 2023
Great experience getting shutters fitted - good price and great service
Kathreen Pyrke
12. September, 2023
Would highly recommend, good quality blinds with lots of variety and choices of style. Quick from quote to installation. Lovely friendly service.
Janie Horlock
5. September, 2023
Dean was a pleasure to deal with from the initial measuring up and quote. Through to communication about fitting the shutters. Steve was the fitter that came to us and did a great job, quietly, efficiently and tidily. The shutters are a great quality and I'm pleased with the result.
Emma Kinch
30. August, 2023
I thoroughly recommend Dean ! From the first telephone call through to fitted blinds was great. Dean was happy to advise me of my options. The fitting of all 8 blinds is perfect. Everything was done in a timely manner. I couldn't be happier!
Kuldeep Dhanda
29. August, 2023
Had the blinds fitted yesterday, great blinds and fitted perfectly. Dean came over and provided all the info and options available, Steve fitted. Both very very professional and I am so happy with everything. I would definitely recommend them.
We have a vast array of Roman Blind fabrics for you to choose from to suit your home's interior. From neutral tones like grey and beige to vibrant hues such as blues, greens, and reds, you'll have no trouble finding the perfect colours for you.
As well as colours, we have a wide range of fabric styles to choose from. Roman blinds can cater to different design and décor preferences. Some popular materials include:
Voile: This lightweight, translucent fabric is a great choice for rooms where you'd like to maintain natural light while still providing privacy.
Linen: An eco-friendly option made from natural fibres, linen offers excellent insulation and a casual yet elegant look.
Silk: For a touch of luxury, silk Roman blinds provide a lustrous and sophisticated aesthetic.
One of the advantages of Roman blinds is their high degree of customisation, allowing you to tailor your window blinds to your specific requirements. Whether you're looking to add colour, warmth, depth to your interior design. A textured appearance or blackout lining for improved light control, you'll be able to find the perfect solution for your home.
Furthermore, why not pair your Roman blinds with a set of café style shutters. For that added luxury, café shutters work beautifully with Roman blinds. They really add an extra touch of opulence and sophistication to any window and home. See more about our Shutter ranges here.
For a free no obligation quotation email or call us on…
Personalisation of Roman Blinds
Roman blinds offer a high level of personalisation for your home, allowing you to match them perfectly with your existing decor and design preferences.
One way to personalise your roman blinds is by choosing made-to-measure blinds. This ensures that your blinds fit your windows perfectly, while also providing you with the exact fabric, pattern, and colour you desire.
All of our Roman blinds are bespoke, made-to-measure. They are custom-tailored to your exact window specifications, ensuring a perfect, unified fit. Unlike ready-made roman blinds that may not fit your windows properly, made-to-measure blinds are created specifically for your individual needs.
When choosing our made-to-measure roman blinds, you have complete control over the fabric, pattern and colour, allowing you to create a personalised look that complements your existing decor. Additionally, made-to-measure blinds can offer better insulation and light control due to their precise fit, helping to improve the overall comfort and functionality of your space.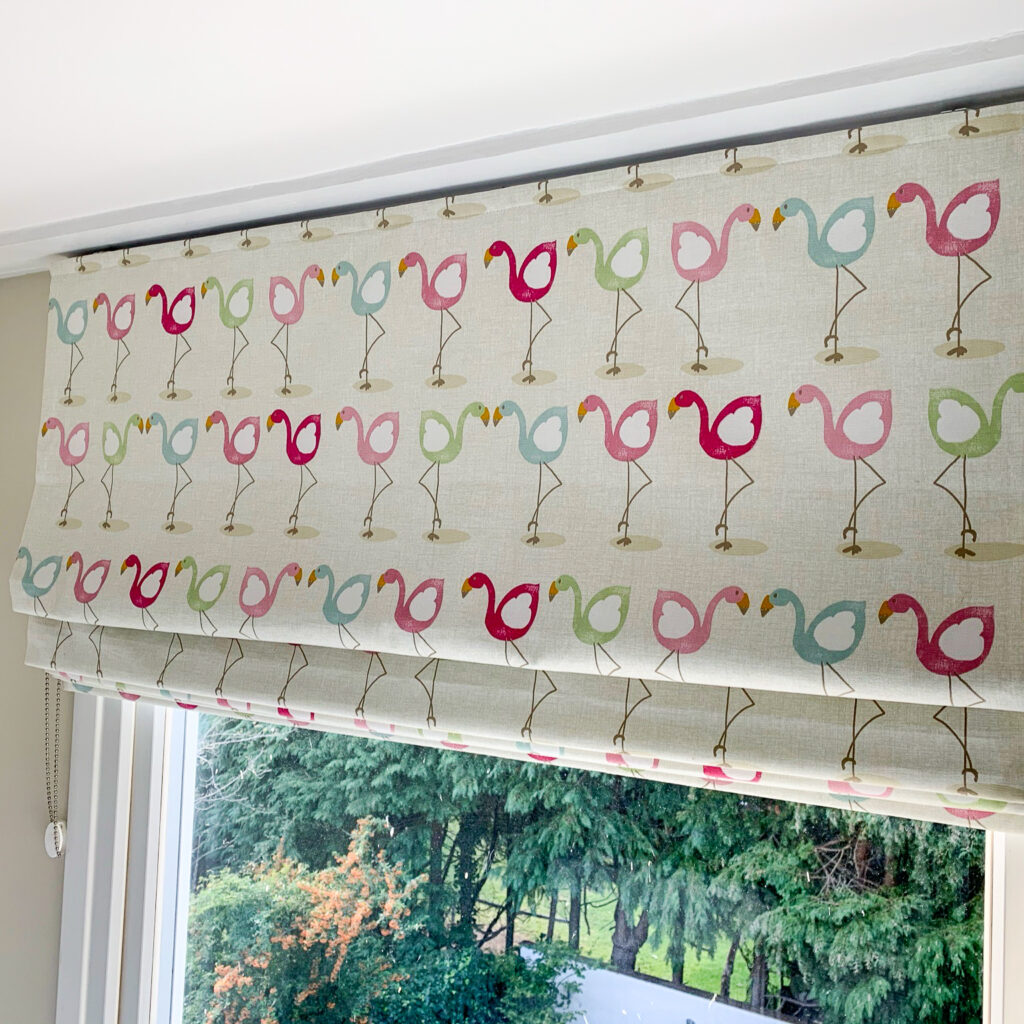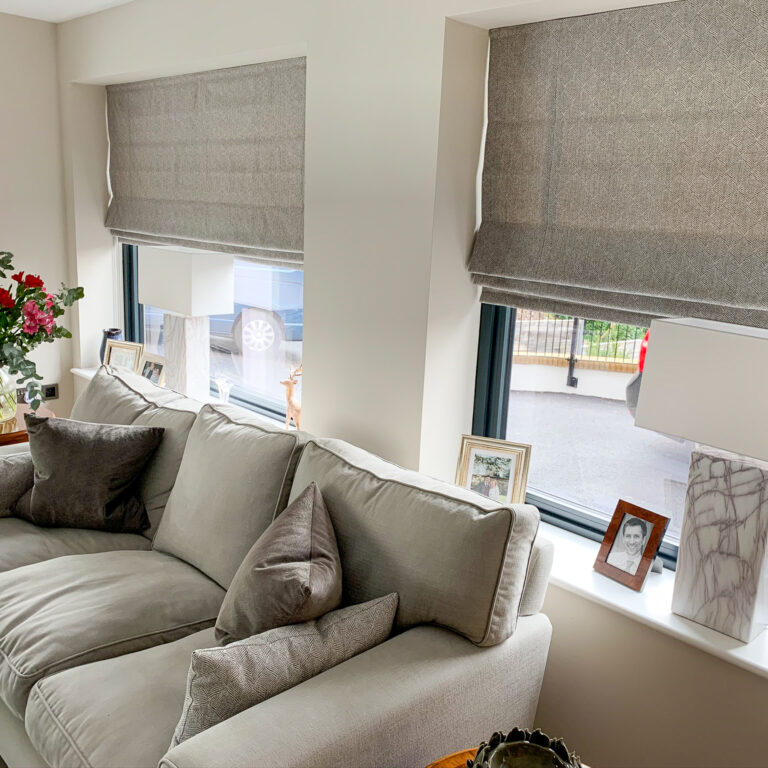 Roman Blinds for Different Rooms
Roman blinds are an excellent choice for various rooms in your home, providing both functionality and style Read more as we explore how they can be tailored to suit different spaces, including bedrooms, living rooms, bathrooms, and kitchens.
In the bedroom, you may want to prioritise privacy and light control. Our Roman blinds provide this in abundance. We can further customise your blinds with blackout lining to block out sunlight to ensure a restful night's sleep. Choose fabrics that complement your existing interior design to create a cohesive and serene atmosphere. Opt for calming colours and patterns that help you relax and unwind after a long day.
Your living room is often the hub of your home, requiring a balance of style and functionality. Roman blinds work well in this space, providing a clean yet elegant look. When raised they look neat and tidy, keeping your living area contemporary and uncluttered.
You can select from a wide range of fabrics, colours, and patterns to match the aesthetic of your living room. Also, consider motorised Roman blinds to make adjusting light levels even more convenient for you and your guests.
In bathrooms, moisture resistance and durability are essential. While Roman blinds may not always be the first choice for this space, they can work well if you choose a suitable fabric. Opt for moisture-resistant materials such as treated fabrics or synthetic blends to ensure your blinds withstand the damp bathroom environment.
With the right material choices, Roman blinds can add a touch of sophistication to your bathroom, giving it a spa-like feel. Select subtle patterns and colours that complement your bathroom's décor for a harmonious appearance.
Kitchens require a balance of practicality and style, making Roman blinds a great choice for this area as well. By selecting easy to clean fabrics and avoiding delicate materials that may absorb cooking odours or stains, our Roman blinds can be a great option for kitchens.
Roman blinds can provide a splash of colour and texture to brighten up your kitchen while still offering the right balance of light control for your cooking and dining needs.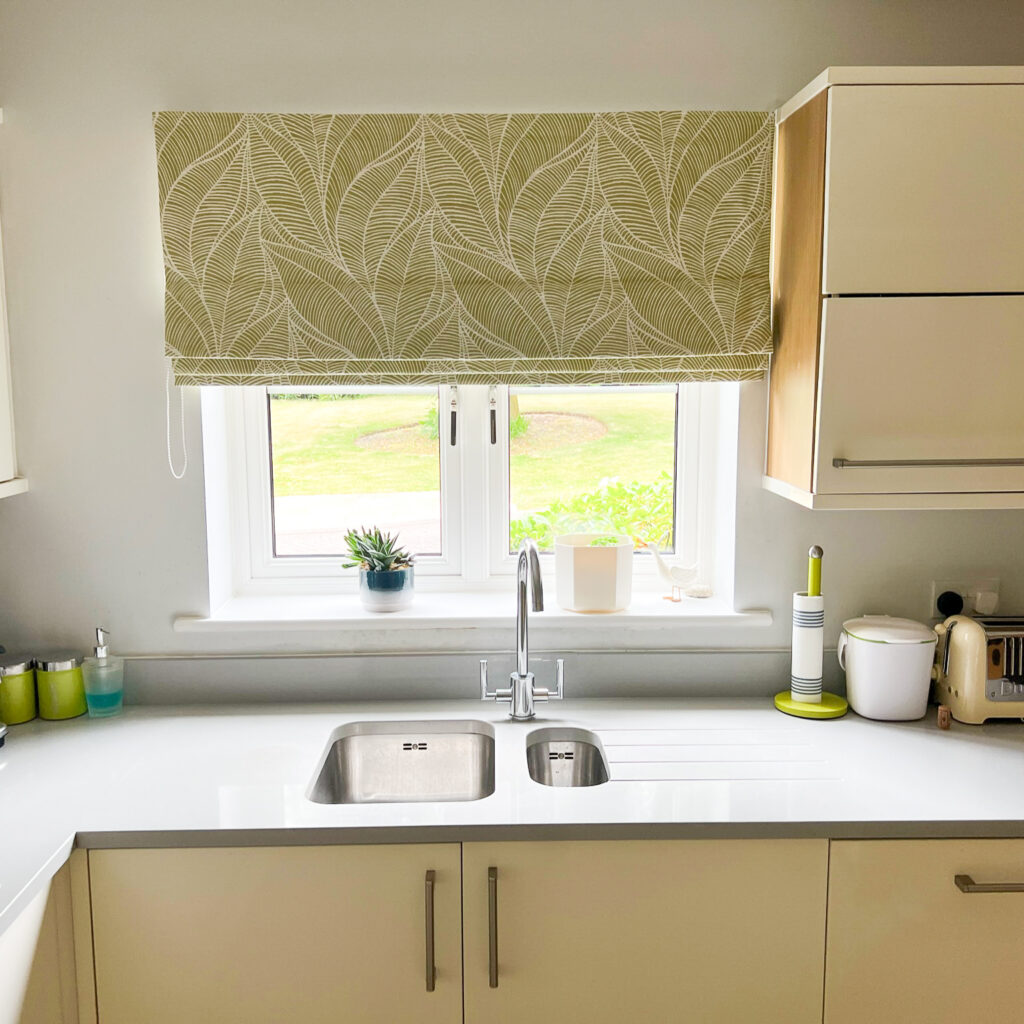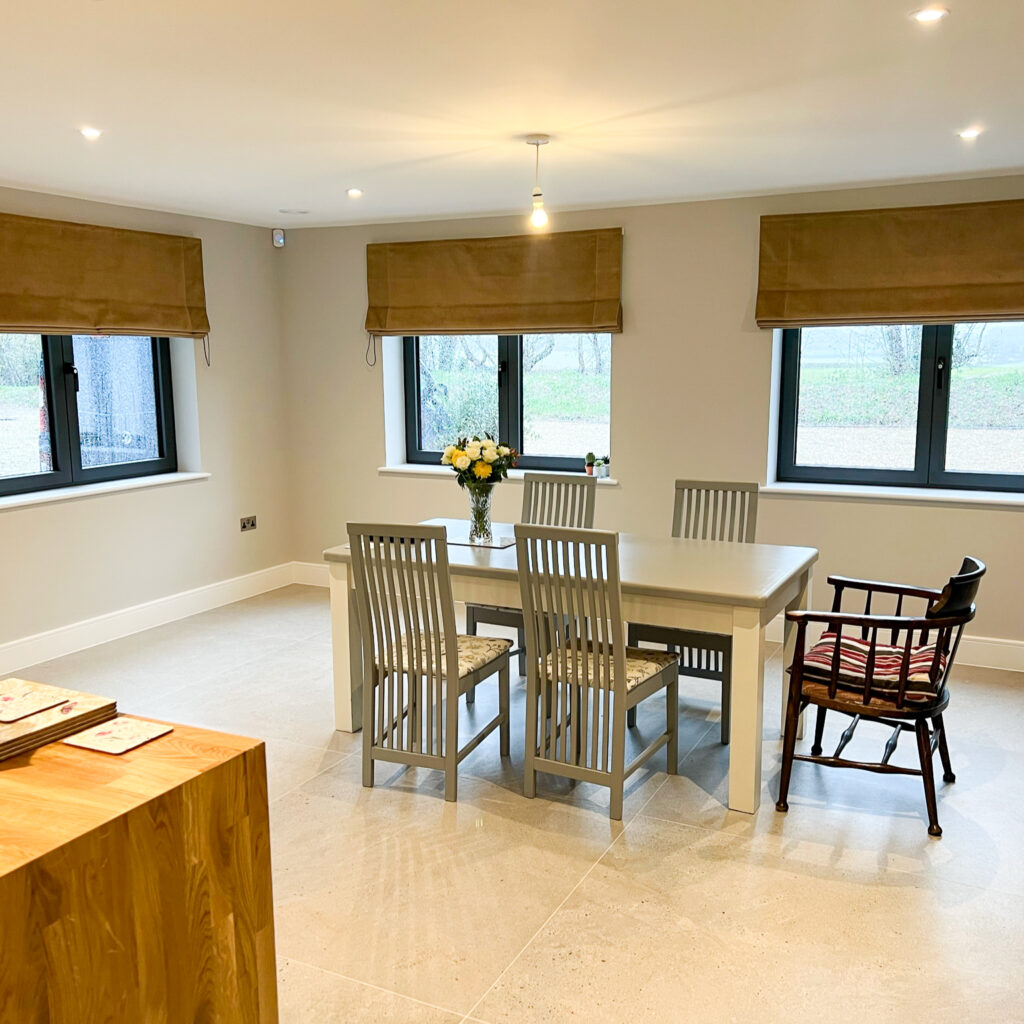 Easy Operation and Maintenance
Roman blinds offer exceptional practicality when it comes to operating them. Operated by a simple cord system that allows you to effortlessly raise and lower the blind to your desired height. This straightforward mechanism makes Roman blinds an attractive option for your home, as it eliminates the hassle of dealing with tangled cords or complicated mechanisms. Additionally, their easy to use design makes them suitable for a variety of window sizes and room layouts, providing you with a versatile window dressing solution.
Maintaining the appearance and functionality of your Roman blinds is surprisingly straightforward. The cleaning process typically involves gentle vacuuming or spot-cleaning with a damp cloth, which help preserve the fabric and maintain its pristine condition. To prevent dust build-up and keep your blinds looking their best, it's better to do this regularly.
Motorisation & Home Automation
Our Roman blinds can also be motorised. Giving you even more ease of use at a touch of a button. Powered by a Somfy motor you can easily raise and lower your Roman blinds effortlessly. Furthermore, when paired with a home hub, you can control your blinds from your smartphone or use voice activation to control your Roman blinds through Amazon Alexa or Google Home. This could further bring energy saving possibilities and home security by scheduling your Roman Blinds to open and close at set times each day. This is just another reason why Roman blinds can style seamlessly into your home.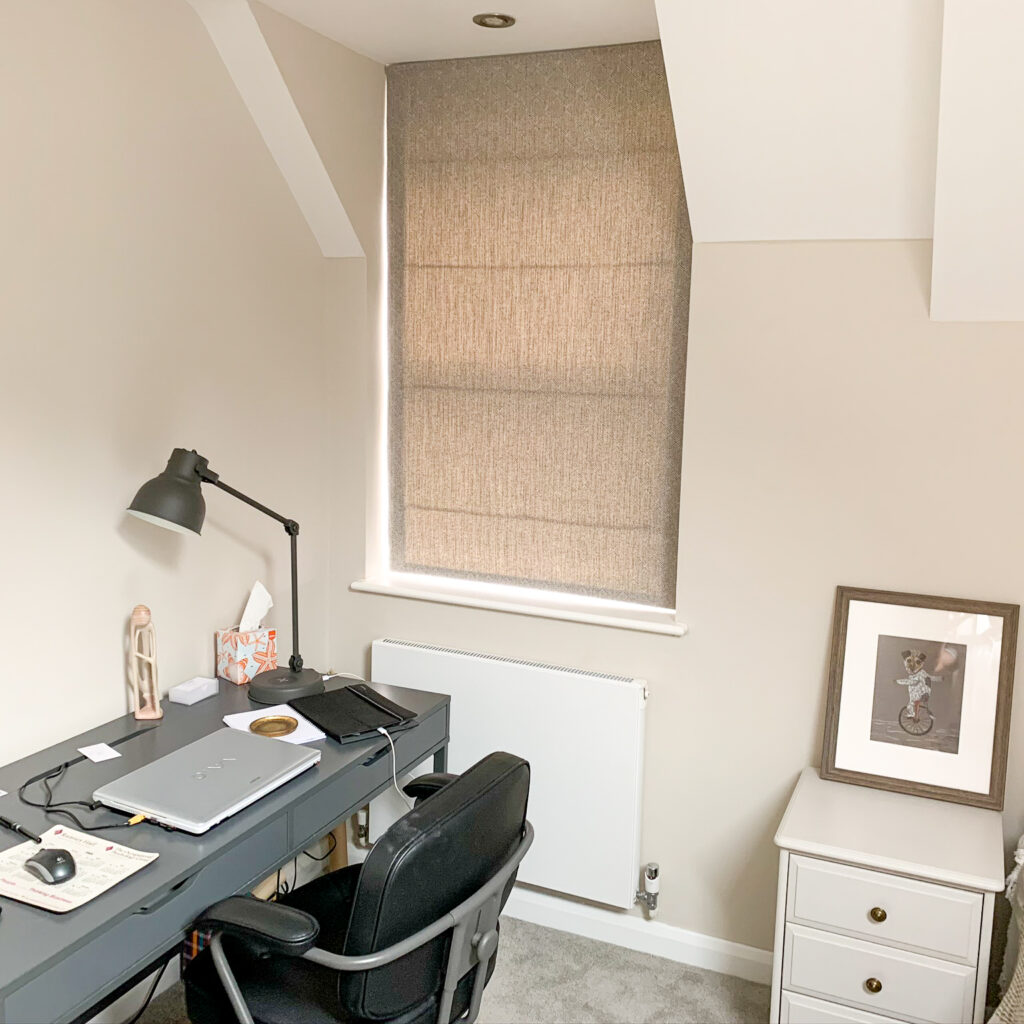 If roman blinds are not what you are looking for then take a look at our blinds page to see what other types of blinds we provide, such as wood Venetian blinds, perfect fit blinds, conservatory blinds and many more.
We supply many blinds, shutters and awnings to customers all over Hampshire and the home counties including towns and villages such as Alresford, Winchester, Romsey, Hook and Stockbridge.
We offer a fully comprehensive package for homes throughout Hampshire, Dorset, Surrey, Sussex, Kent and London.
Contact us here for a free no obligation quotation.
Discover all about our awnings and canopies by visiting our sister site winchesterawnings.com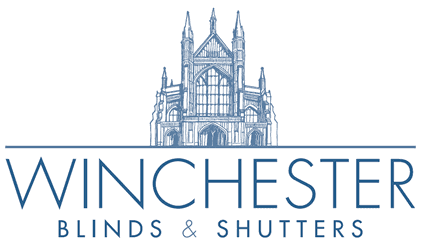 A family business, with a friendly, personal service
Ready to Transform Your Windows?
Request a Free Quote Today and Experience the Winchester Blinds and Shutters Difference!
Our team of experts is eager to provide you with personalised solutions tailored to your unique style and needs. Don't miss out on the opportunity to elevate your space with our top-quality blinds, shutters, and awnings.
Take the first step towards enhancing your home or business by requesting a callback.
Let us bring beauty and functionality to your windows with our unmatched craftsmanship and exceptional service!"