Unleash the Beauty of Your Home
Vertical blinds are a classic solution to many homes and offices. They offer a range of benefits that make them an attractive option for various spaces.
Often considered a versatile and cost-effective option for window treatments, vertical blinds provide an elegant and practical solution for controlling light, privacy, and airflow.
An overview of our vertical blinds
One of the primary reasons to opt for vertical blinds is the flexibility they offer in terms of adjusting light levels and privacy. The tilt and turn mechanism allows you to control the amount of visibility and natural light coming into a room to suit your needs. Additionally, vertical blinds are low maintenance and easy to clean. They can be wiped down using a damp cloth, making them an ideal choice for busy households.
Our vertical blinds come in a wide array of designs, prints, and colours, so you can easily find the perfect fit for your home's interior. Due to their construction and material choices, they can also be used in various spaces, including large recesses and patio doors, making them not only stylish but functional.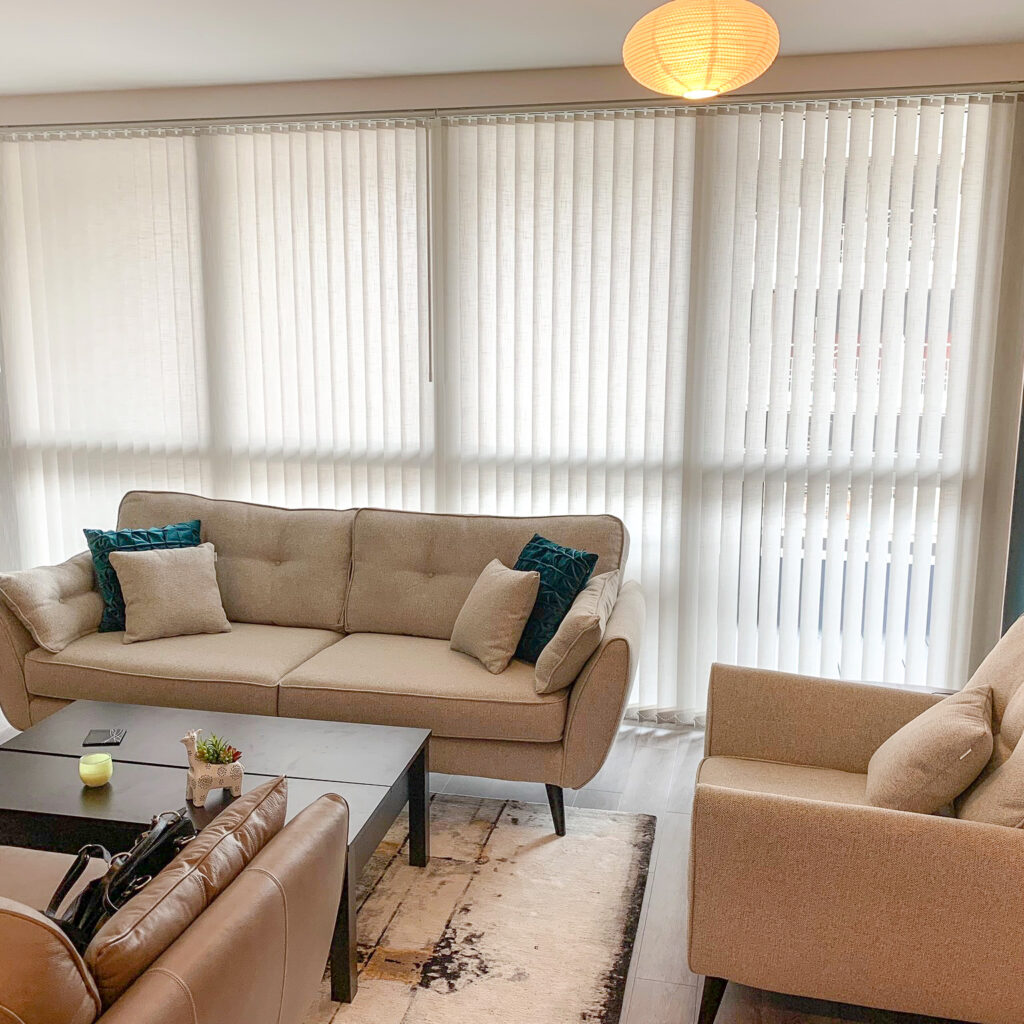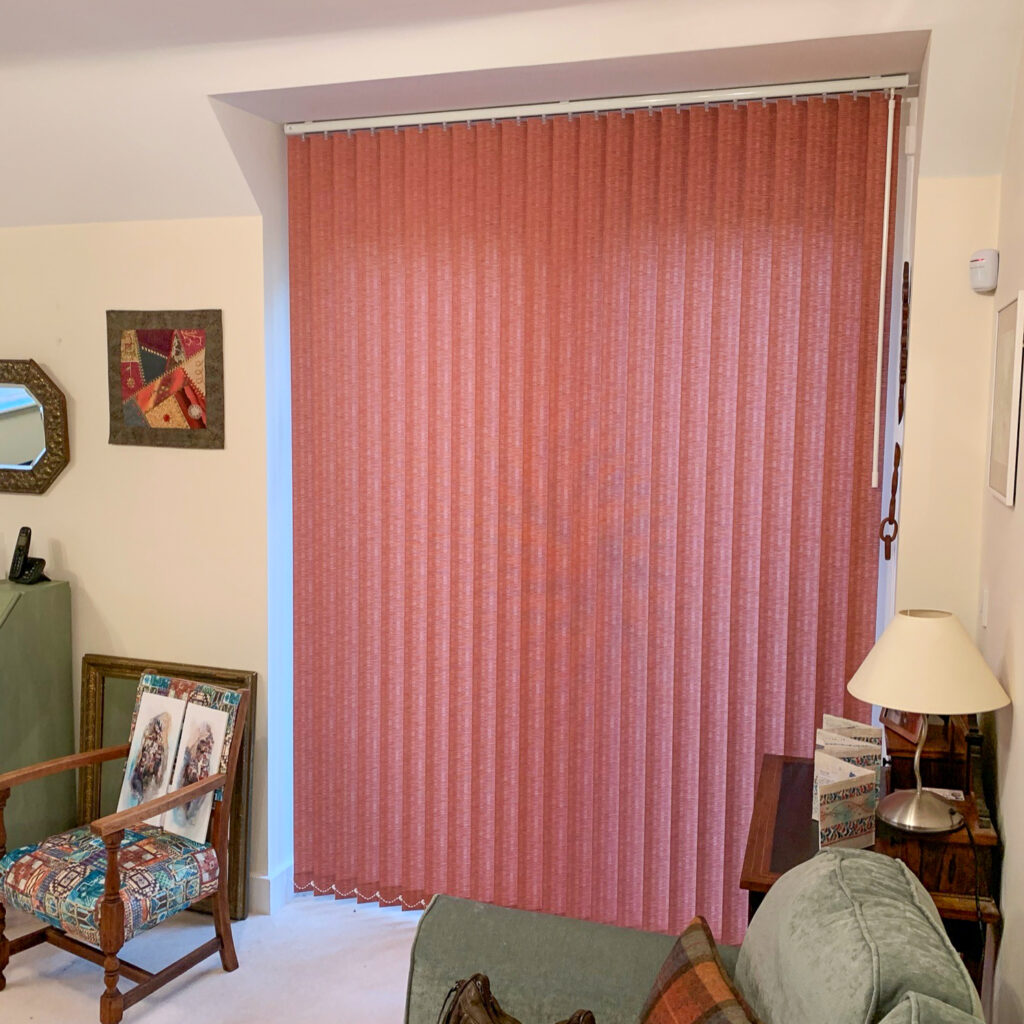 Available in a variety of colours and finishes
One of the main advantages of vertical blinds is their flexibility in design options. They are available in a variety of materials, including fabric, vinyl, aluminium, and PVC. Each material has its own unique advantages, which can be tailored to your specific design and preferences.
Our fabric vertical blinds come in a vast array of colours and patterns, allowing you to match them with your existing interior design. They also create a softer and more elegant look compared to other materials.
Vinyl and PVC blinds offer durability and are easy to clean, making them ideal for high-traffic areas such as offices or busy homes. These materials can be found in various designs and colours, giving you the opportunity to choose the perfect match for your home or office.
Aluminium blinds are lightweight yet sturdy, providing both style and function. They come in various colours and finishes, adding a sleek and modern touch to your interior.
The customisable design aspects of vertical blinds does not end with the material and colour choices. You can also choose from a wide range of prints and patterns, making it easy to create a unique and personal look for your home.
Benefits of Vertical Blinds Vertical blinds offer excellent light control for your home. The vertical orientation of the slats allows you to easily control the amount of light entering the room. You can also adjust the angle of the slats to maintain privacy while still allowing a soft, diffused light to filter through.
This makes them an ideal choice if you want to have control over the brightness of a room without entirely blocking out the sunlight. Additionally, vertical blinds can help to reduce glare and provide shade on hot days.
Insulation and Energy Efficiency Another great advantage of vertical blinds is their ability to provide privacy control. By adjusting the angle of the slats, you can regulate visibility into your home while still allowing light to filter through.
This is particularly useful for rooms that face onto busy streets or have neighbours in close proximity. Vertical blinds can also be made with blackout materials to offer complete privacy and light blockage when desired. Therefore, you can enjoy the benefits of natural light while maintaining your desired level of privacy. Our roller blinds also provide excellent blackout properties. Visit our roller Blinds page here.
Remember to choose a design that suits your needs, as the variety in slat widths and materials can impact both light and privacy control. By selecting the right vertical blinds for your home, you can achieve the perfect balance between natural light and privacy.
Affordability and Budget-Friendly
Our vertical blinds are the perfect solution if you are looking for bespoke blinds on a budget. The components and materials used to make vertical blinds are considerably cheaper than blinds made from wood, such as wood venetian blinds or plantation shutters.
In addition, we only use the highest quality materials and components for our blinds. So therefore, our vertical blinds are made to last and offer excellent durability, allowing you to enjoy your blinds for many years to come. We provide a full parts and labour 5 year guarantee on all our blinds, so you can trust in us that your blinds will last.
Bespoke and Made to Measure
All of our blinds, shutters and awnings are entirely bespoke and made to measure to your home. After your initial enquiry we will visit your home and take detailed measurements of your windows whilst you can sit down and browse our many fabric samples that your vertical blinds can be made in. You can trust in us that your vertical blinds will be made to precisely fit your windows and simply not off the shelf cut to size blinds.
A Huge Range of Colours and Fabrics
Our roller blinds are available in a wide range of styles, colours, and fabrics, ensuring you can find the perfect match for your home's interior design. 
Whether you prefer a minimalistic look, a bold pattern, or a subtle texture, there is a roller blind option available to suit your taste. Their versatility also means that they can complement any room in your home, from the kitchen to the bedroom.
Rosie Wyatt
28. September, 2023
Delighted with new blinds in bedrooms, bathrooms and kitchen. Dean has great attention to detail and is very knowledgeable. Very happy with the service, time keeping and budget. Happy to recommend.
Catherine Brill
22. September, 2023
Excellent service . Very knowledgeable and a very good choice of shutters . Very happy !
James Crook
19. September, 2023
Dean is great. From the first appointment he understood our needs, ordered and installed the products extremely fast. Looking forward to using him again next year
Excellent service from Dean very professional lots of samples and quick installation time plus very good pricing. We are so pleased with finished products the blind run smoothly and all the workings fixed safely with young children in mind.
Angela Matwasa
14. September, 2023
WoW thoroughly recommend Dean, really happy with the quality of his blinds and fittings. They look more expensive than we paid, thank you.
Rachael
13. September, 2023
Great experience getting shutters fitted - good price and great service
Kathreen Pyrke
12. September, 2023
Would highly recommend, good quality blinds with lots of variety and choices of style. Quick from quote to installation. Lovely friendly service.
Janie Horlock
5. September, 2023
Dean was a pleasure to deal with from the initial measuring up and quote. Through to communication about fitting the shutters. Steve was the fitter that came to us and did a great job, quietly, efficiently and tidily. The shutters are a great quality and I'm pleased with the result.
Emma Kinch
30. August, 2023
I thoroughly recommend Dean ! From the first telephone call through to fitted blinds was great. Dean was happy to advise me of my options. The fitting of all 8 blinds is perfect. Everything was done in a timely manner. I couldn't be happier!
Kuldeep Dhanda
29. August, 2023
Had the blinds fitted yesterday, great blinds and fitted perfectly. Dean came over and provided all the info and options available, Steve fitted. Both very very professional and I am so happy with everything. I would definitely recommend them.
Suitability for different rooms
Vertical blinds are a practical solution to many rooms around your home. Not only this but they are also a very popular option for offices too. Take a look at our commercial blinds page to see what we provide for businesses and offices.
Vertical blinds are a great option for living rooms and bedrooms. They provide excellent privacy and light control, whilst also allowing good ventilation and air flow into the room which is ideal during warmer months. We also have a huge variety of blackout fabrics to help block out as much light as possible to ensure a good nights sleep.
When made with a good waterproof or water resistant fabric, vertical blinds are a good option for bathrooms. They are easy to clean and maintain which is ideal for high humidity, moisture prone rooms.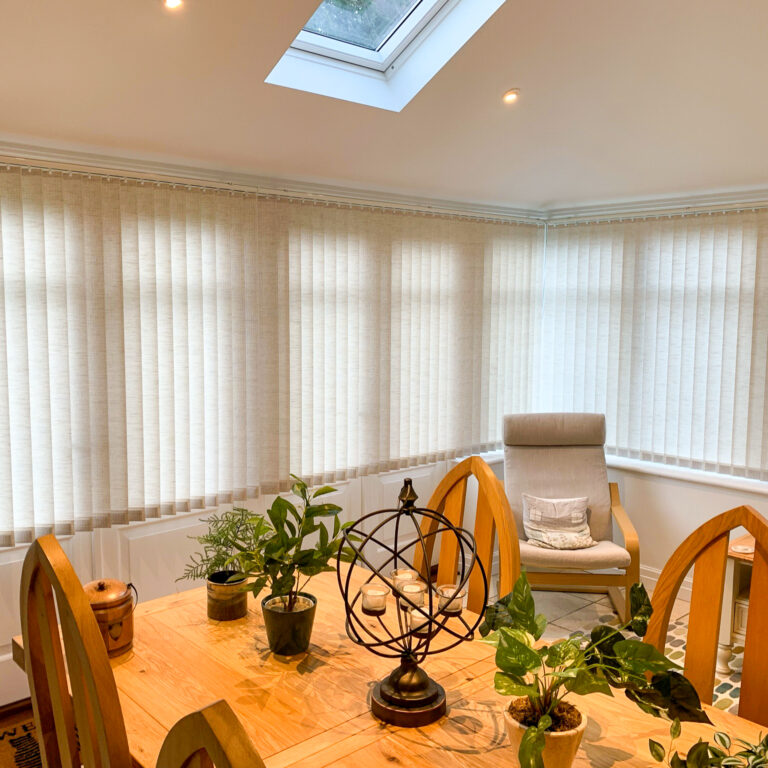 For a free no obligation quotation email or call us on…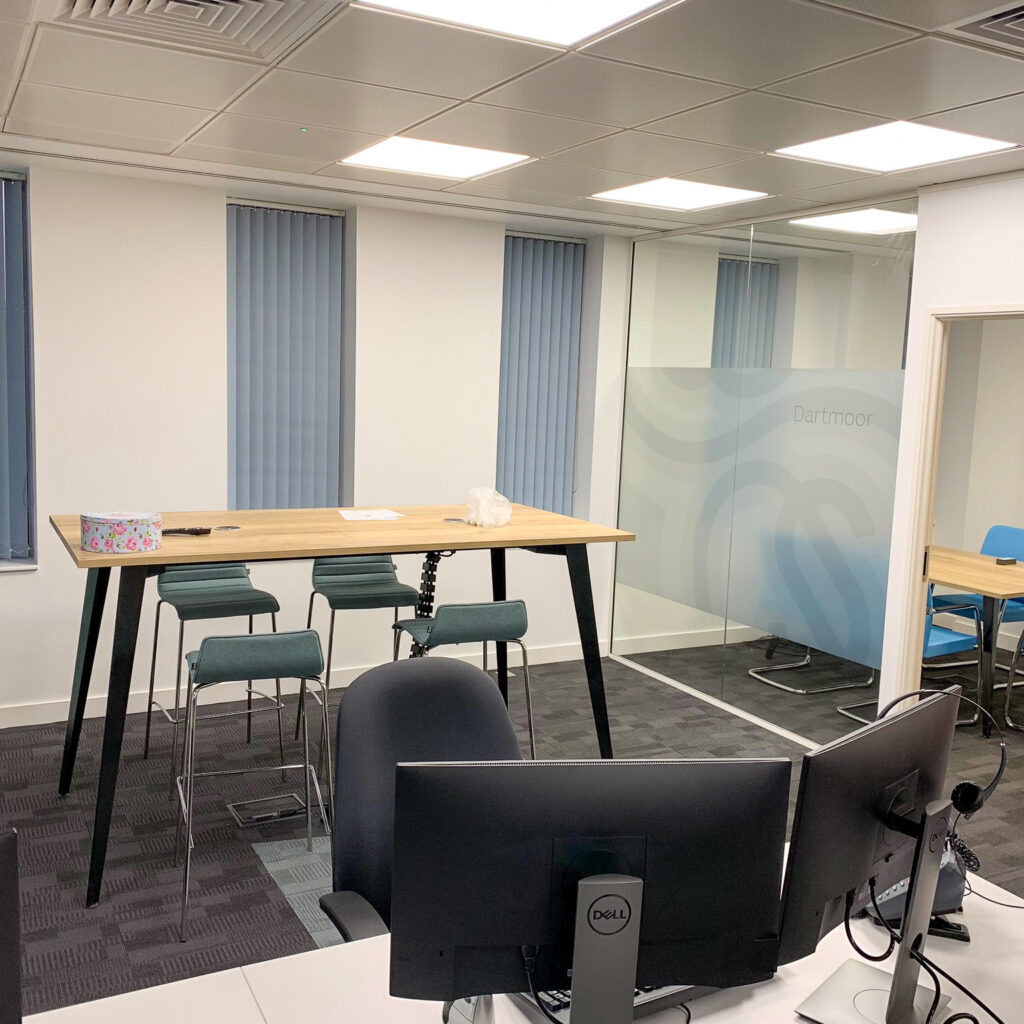 Patio, Bifold & Sliding Doors
Vertical blinds are a popular window covering for larger windows such as patio and bifold doors. Due to their practicality and durability they give you an abundance of privacy and light control whilst still looking aesthetically pleasing.
When you are working and need optimal concentration levels, vertical blinds provide you with excellent light, privacy and airflow control to help enhance your creativity and productivity. Not only this but they also make your office space look great with their stylish features.
Motorised Vertical Blinds
If you are looking for motorised options for your blinds, then our motorised vertical blinds might be for you. At the touch of a button, your vertical blinds can be opened, closed and tilted to your desired positions. They can also be integrated to your voice activated smart home system such as Alexa, Google home or Apple. Furthermore, our motorised vertical blinds can also be great for home security by setting timers to automatically open and close your blinds at set times when you are away.
If vertical blinds are not what you are looking for then take a look at our blinds page to see what other types of blinds we provide, such as wood Venetian blinds, perfect fit blinds, conservatory blinds and many more.
We supply many blinds, shutters and awnings to customers all over Hampshire and the home counties including towns and villages such as Alresford, Winchester, Romsey, Hook and Stockbridge.
We offer a fully comprehensive package for homes throughout Hampshire, Dorset, Surrey, Sussex, Kent and London.
Contact us here for a free no obligation quotation.
Discover all about our awnings and canopies by visiting our sister site winchesterawnings.com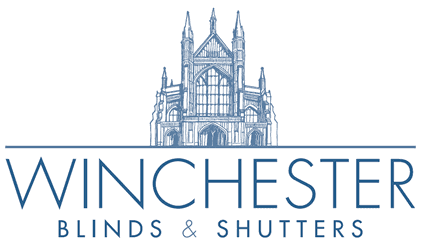 A family business, with a friendly, personal service
We are passionate about our business and pride ourselves on the upstanding reputation we have built. You can have complete trust in that from your initial enquiry through to fitting, we will provide you with a friendly, personalised and professional service.
We only use the highest quality materials and components to ensure that you receive the finest quality blinds and shutters in your home.
Ready to Transform Your Windows?
Request a Free Quote Today and Experience the Winchester Blinds and Shutters Difference!
Our team of experts is eager to provide you with personalised solutions tailored to your unique style and needs. Don't miss out on the opportunity to elevate your space with our top-quality blinds, shutters, and awnings.
Take the first step towards enhancing your home or business by requesting a callback.
Let us bring beauty and functionality to your windows with our unmatched craftsmanship and exceptional service!"