Unleash the Beauty of Your Home
Intu blinds have become increasingly popular in recent years, thanks to their innovative design and practical features.
These versatile window coverings are an ideal solution for homeowners who want a stylish yet fuss-free alternative to traditional blinds.
Available in various styles, such as pleated blinds, Venetian blinds, and roller blinds, they offer a wide range of options to suit any interior and provide an attractive, streamlined look for your windows.
One of the key selling points of Intu blinds is their easy installation process. With a unique no-drill, no-screw system, these blinds can be fitted seamlessly into the window frame without causing damage. This feature makes them particularly well-suited for uPVC frames, as they can be easily opened, closed, and even removed with minimal effort.
Additionally, Intu blinds are known for their versatility in any room of the home, making them an excellent choice for conservatories, kitchens, and bathrooms where moisture resistance is required.
Intu blinds not only offer an aesthetic appeal but also provide practical functionality, such as good light control and increased privacy. Due to their discreet side channels, they effortlessly help to eliminate light gaps and enhance energy efficiency in your home.
With their innovative design, ease of installation, and suitability for various rooms and window types, it's clear why more and more people are choosing Intu blinds in their homes.
Intu Blinds Explained: Enhancing Your Space with Innovation
Intu blinds are an innovative and popular choice for homeowners looking to enhance the style and functionality of their windows.
One of the main features that set them apart from traditional blinds is their seamless integration with the window frames. This creates a clean, streamlined look, and allows the blinds to be fitted without the need for drilling or screws, making them easier to install.
These blinds are perfect for various window types, including tilt and turn windows, glazed doors and bifold doors. They are designed to work alongside the mechanisms of the windows, allowing you to open and close them with the blinds in place. This versatility makes them suitable for any room in the house.
Safety is a key consideration when choosing blinds with children and pets in the home, and Intu blinds excel in this area. As they are 100% child safe, homeowners can have peace of mind knowing their little ones are protected from any potential hazards. The lack of external cords or chains also contributes to a sleek and modern appearance.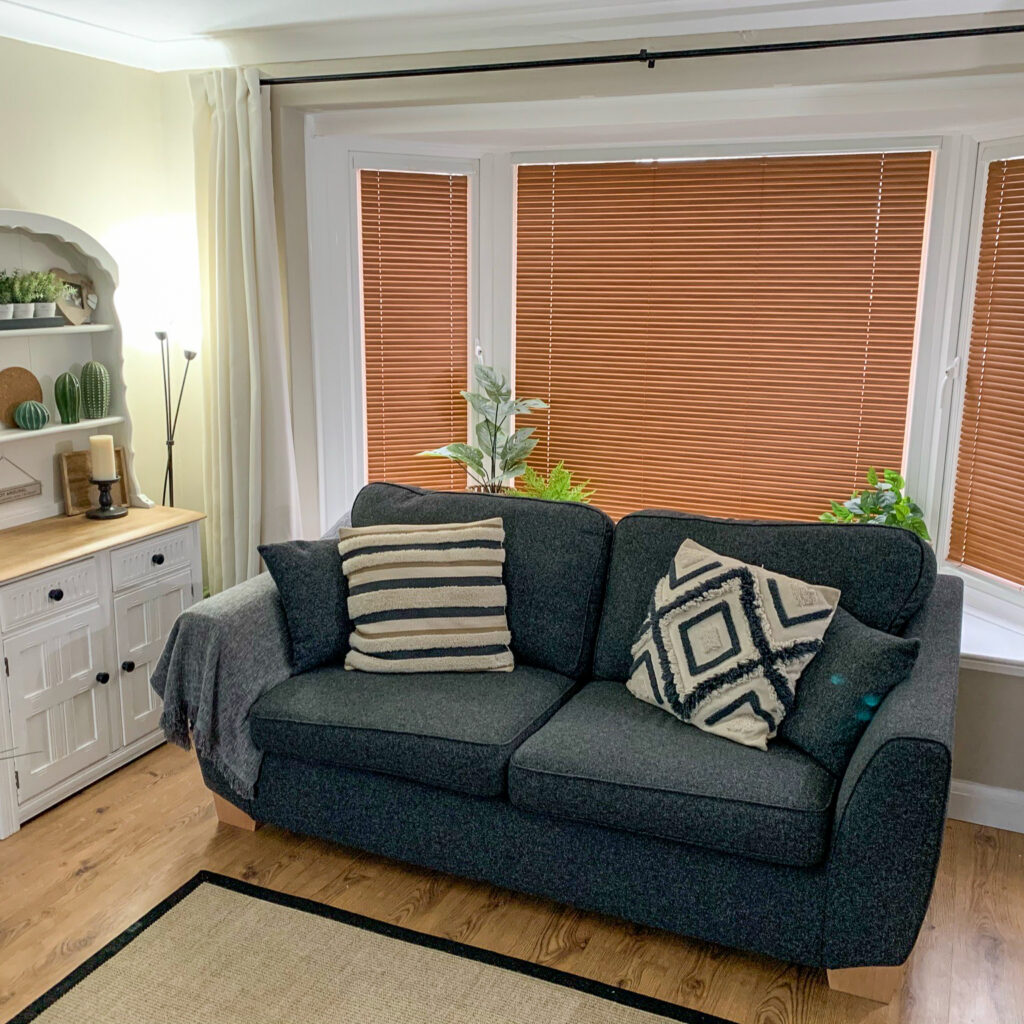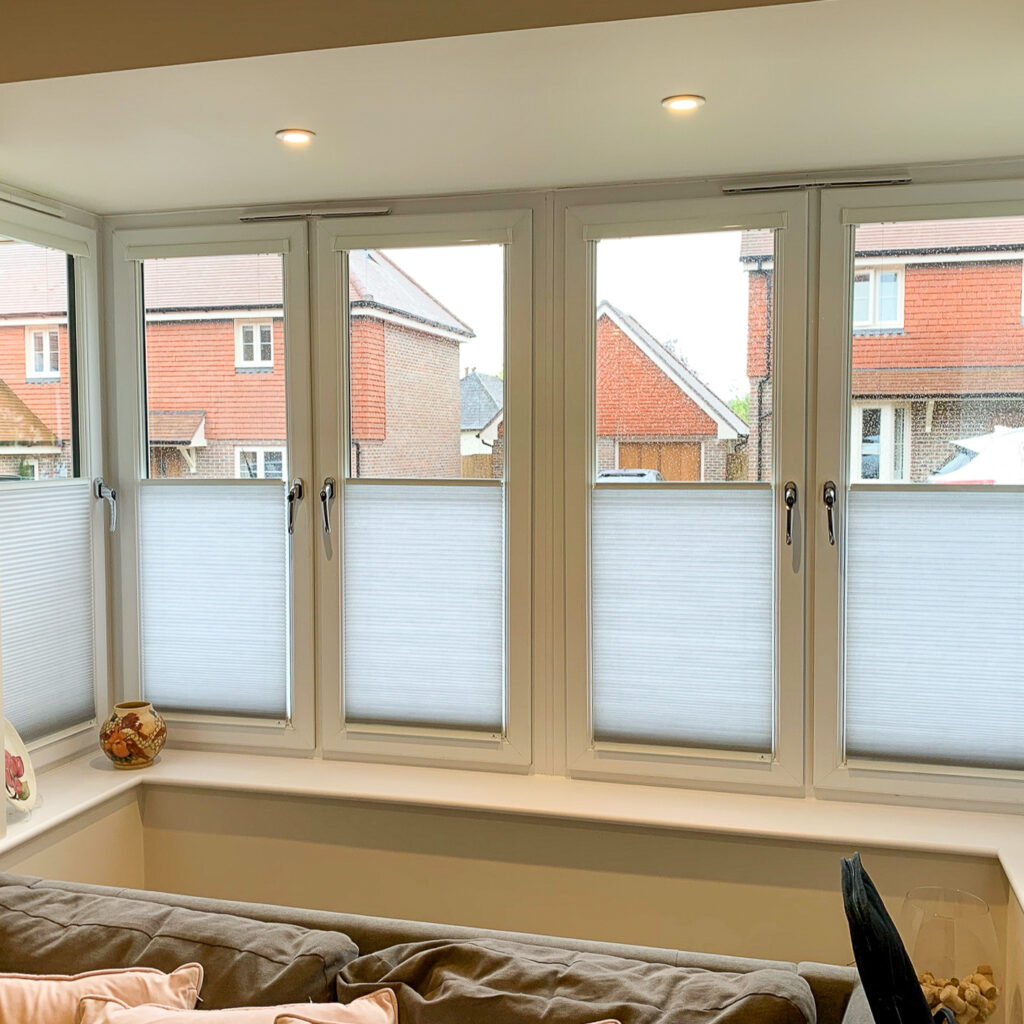 Intu blinds are available in a range of colours and materials, giving homeowners the flexibility to select options that match their existing interior décor. The head rail and components can come in different shades too, providing even more possibilities for creating a harmonious look within the home.
In addition to their aesthetic appeal, Intu blinds are highly functional and user-friendly. The blinds can be raised and lowered easily, and they hold into position well, ensuring a smooth operation and preventing any accidental damage. This is one of the key reasons why Intu blinds are becoming increasingly popular.
In summary, Intu blinds are an excellent choice for those seeking an attractive, functional, and safe option for their window treatments. Their seamless integration with window frames, easy installation, and child-safe design make them a popular and reliable choice for any home.
Rosie Wyatt
28. September, 2023
Delighted with new blinds in bedrooms, bathrooms and kitchen. Dean has great attention to detail and is very knowledgeable. Very happy with the service, time keeping and budget. Happy to recommend.
Catherine Brill
22. September, 2023
Excellent service . Very knowledgeable and a very good choice of shutters . Very happy !
James Crook
19. September, 2023
Dean is great. From the first appointment he understood our needs, ordered and installed the products extremely fast. Looking forward to using him again next year
Excellent service from Dean very professional lots of samples and quick installation time plus very good pricing. We are so pleased with finished products the blind run smoothly and all the workings fixed safely with young children in mind.
Angela Matwasa
14. September, 2023
WoW thoroughly recommend Dean, really happy with the quality of his blinds and fittings. They look more expensive than we paid, thank you.
Rachael
13. September, 2023
Great experience getting shutters fitted - good price and great service
Kathreen Pyrke
12. September, 2023
Would highly recommend, good quality blinds with lots of variety and choices of style. Quick from quote to installation. Lovely friendly service.
Janie Horlock
5. September, 2023
Dean was a pleasure to deal with from the initial measuring up and quote. Through to communication about fitting the shutters. Steve was the fitter that came to us and did a great job, quietly, efficiently and tidily. The shutters are a great quality and I'm pleased with the result.
Emma Kinch
30. August, 2023
I thoroughly recommend Dean ! From the first telephone call through to fitted blinds was great. Dean was happy to advise me of my options. The fitting of all 8 blinds is perfect. Everything was done in a timely manner. I couldn't be happier!
Kuldeep Dhanda
29. August, 2023
Had the blinds fitted yesterday, great blinds and fitted perfectly. Dean came over and provided all the info and options available, Steve fitted. Both very very professional and I am so happy with everything. I would definitely recommend them.
Intu blinds are an excellent choice for your home due to their numerous benefits, including privacy, light control, and ease of installation. These blinds have gained popularity because they offer a stylish, modern look while fulfilling their primary purpose of regulating light and privacy in your living spaces.
One of the main advantages of Intu blinds is their ability to provide increased privacy. They are designed to fit seamlessly onto your windows, making it difficult for anyone outside to see in. This allows you to enjoy your home with the confidence that you have complete privacy from prying eyes.
Insulation and Energy Efficiency
Control over light levels is another significant selling point for Intu blinds. They are easy to adjust, allowing you to determine the amount of light that enters your home. This flexibility comes in handy, especially on sunny days or in rooms where you require a darker environment. Our blackout Intu blind options are great for rooms like bedrooms or home theatres that require optimal light control and darkness.
The ease of installation is a key factor in why homeowners choose Intu blinds. These blinds require no drilling or screwing, making them ideal for homeowners looking to avoid damage to their window frames. Our Intu blinds are designed to simply snap into the beading of your windows, which ensures hassle-free mounting and dismounting when required. Not only this, but this ease of installation also means less mess and disruption to your home when fitting.
All our Intu blinds are also fully covered with our 5 year guarantee, providing homeowners with peace of mind. This guarantee covers any potential issues that may arise from the blinds' day-to-day usage, ensuring that you can be confident in their performance and durability.
Our Variety of Intu Blinds
Intu blinds offer a wide range of styles, colours, and designs to suit any home. By choosing from the various options available, it is possible to find the perfect window dressing to complement your interior décor.
One popular choice is our Intu Venetian blinds, they have horizontal slats that can be easily adjusted for privacy and light control. These blinds are available in a vast array of colours and finishes, allowing homeowners to create a customised look that matches their specific preferences. Due to the finish of Intu Venetian blinds, they are a great choice for high moisture rooms such as kitchens and bathrooms.
Another option to consider is our Intu Roller blinds. Roller blinds provide a clean, minimalist appearance and are ideal for those who prefer a simple yet stylish window covering. Our Intu roller blinds come in many fabrics and patterns, ensuring that there is something to suit every taste and are particularly ideal for bedrooms and living rooms.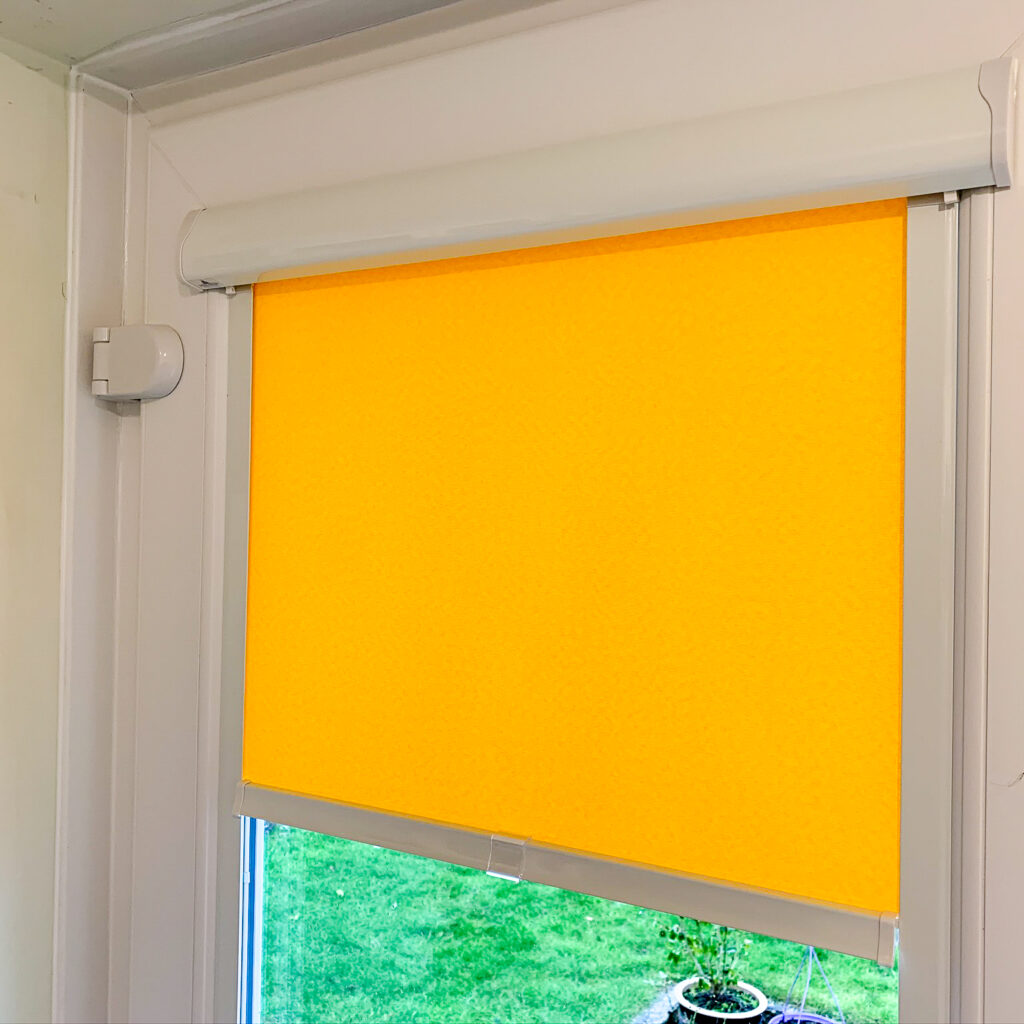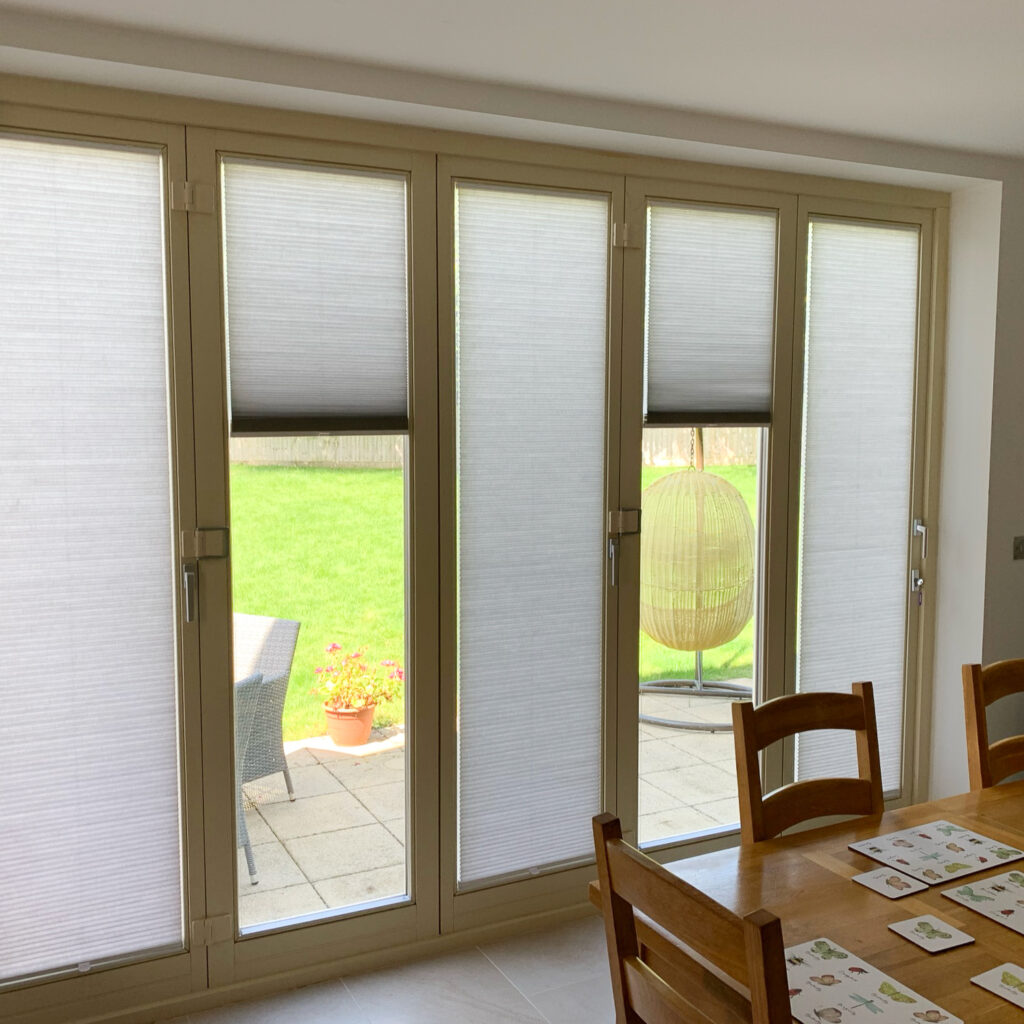 For a softer aesthetic, homeowners might opt for our Intu pleated blinds. These blinds have a unique, folded design that adds an element of texture and depth to any room.
Like the other Intu options, pleated blinds are available in a diverse range of colours and fabrics, giving clients ample opportunity to customise their window treatments to their liking.
Additionally, our Intu cellular honeycomb pleated blinds offer ultimate heat control. These blinds are one of our most energy efficient blinds we offer, due to the honeycomb reflective material repelling the hot sun during the summer and retaining the warmth in your home during the winter.
Additionally, it is important to note that Intu blinds are an excellent alternative to the more traditional perfect fit blinds. Both blinds have different advantages depending on the functionality you need.
With the lack of side frames and a flusher finish to your window, our Intu blinds are more suited to Bifold doors where the doors can still concertina together with the blinds on the windows. Whereas our Perfect Fit Blinds that have a slightly bulkier frame, are not as practical for Bifold doors.
Perfect Fit blinds may be better suited to bedrooms and rooms that require a total blackout effect, as they offer better light control due to blinds being encased within a whole frame. Both are very similar blinds and our blog post Intu vs Perfect Fit Blinds can provide you with more information on the differences.
For a free no obligation quotation email or call us on…
Intu blinds are a versatile and stylish choice for your home, offering a variety of features that make them stand out from other types of window coverings. These blinds are designed to fit seamlessly with your windows, providing a clean and modern look without the need for drilling or screwing during installation.
Easy to Clean and Maintain
One notable feature of Intu blinds is their anti-mildew properties, which ensure that the blinds stay looking fresh and clean, even in damp or humid conditions. These blinds are also easy to clean, with a simple wipe-down being sufficient to maintain their appearance. This makes them an excellent option for households with children or pets, where messes might be more likely to occur.
Light Control & Energy Efficiency
In addition to their attractive appearance, Intu blinds offer practical benefits such as blocking out light and heat. Many Intu blinds come with blackout shading options, helping to create a dark and comfortable environment for a good night's sleep or to keep your home cool on hot days and warm during the winter months.
The blinds fit closely to the window frame, reducing light gaps and providing improved privacy compared to some other traditional blinds. An excellent solution for Conservatories, see our Conservatory Blinds page for more information.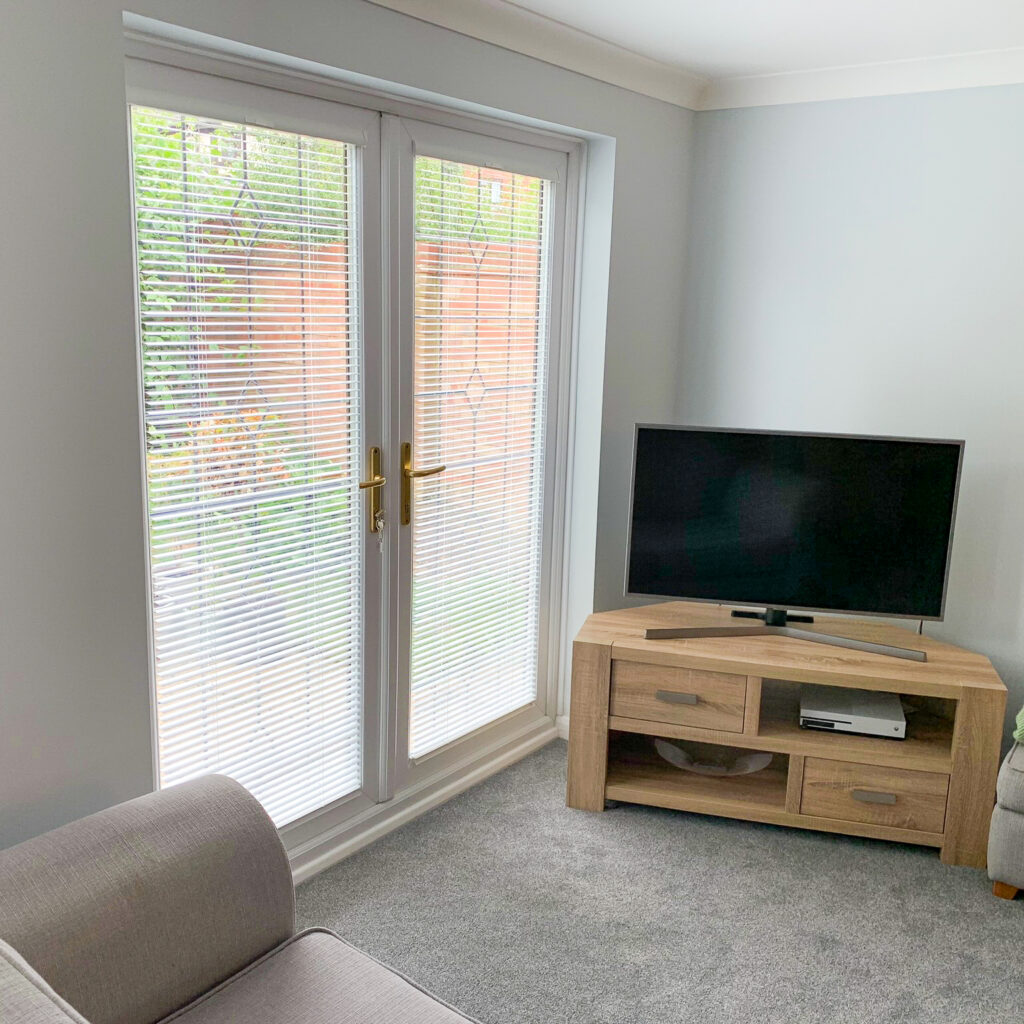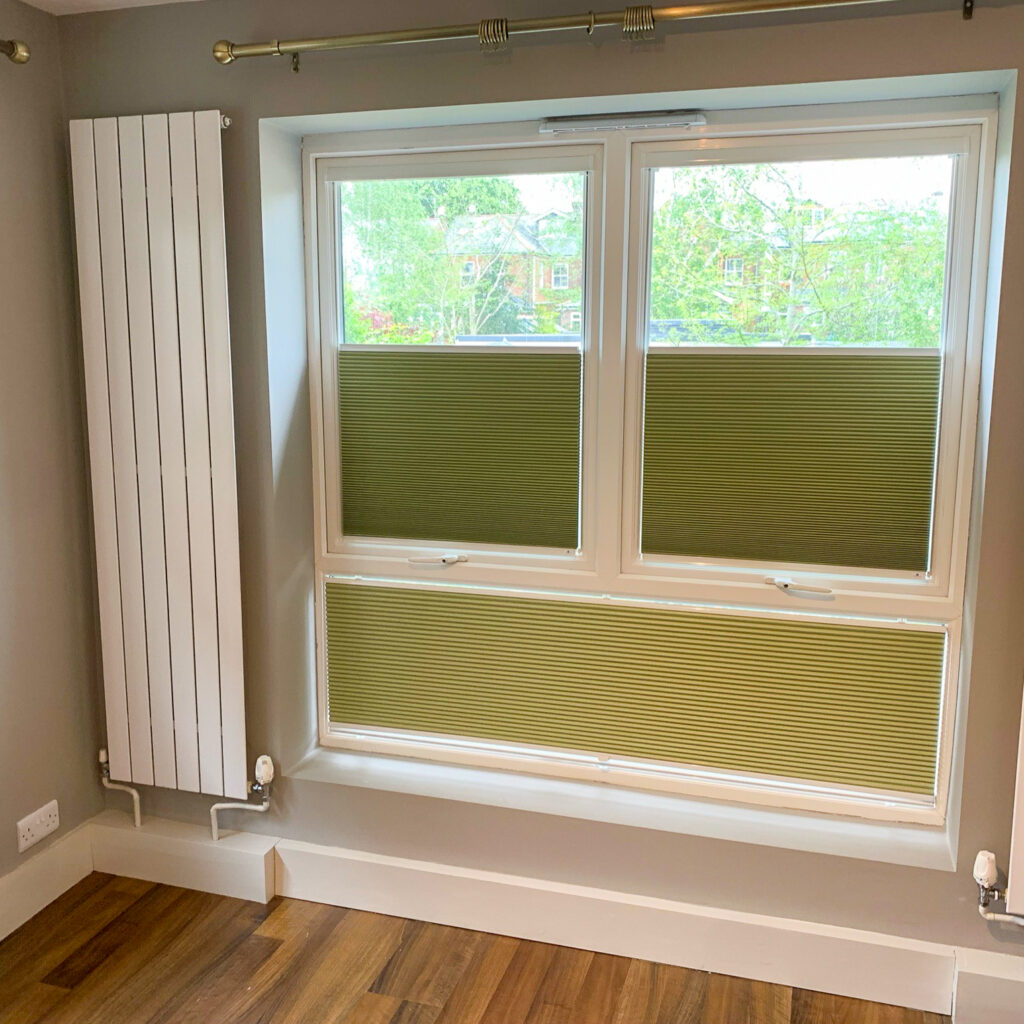 Child Safety and Easy to Use
Intu blinds are also designed for easy operation, with a simple mechanism that allows them to be raised, lowered, and locked into position without difficulty. This child-safe design eliminates the need for loose cords or chains, ensuring that your home remains a safe environment for little ones.
Versatility for Many Windows and Rooms
Furthermore, Intu blinds can be integrated with a range of window types, including bi-fold doors and tilt-and-turn windows. This versatility makes them suitable for any room in the house, whether a bedroom, living room, or kitchen. The blinds can also be opened and closed in conjunction with the window, making them easy to use and further enhancing their visual appeal.
With their combination of style, practicality, and ease of use, Intu blinds are a confident and knowledgeable choice for any homeowner looking to update their window coverings. These blinds provide a neutral and clear solution that is both attractive and functional, making them an excellent addition to any home.
Intu blinds are known for their elegance and practicality in any home. One of the key aspects that homeowners appreciate is their ease of maintenance and cleaning. These blinds are designed with modern living in mind, ensuring that they remain in top condition with minimal effort.
Cleaning Intu blinds is a simple process. Regularly gentle dusting or vacuuming the blinds using a soft brush or upholstery attachment is recommended to keep them looking fresh and well-kept. This straightforward method helps to prevent dust build-up, maintaining the blinds' shimmer and matte finishes without causing damage or requiring excessive effort.
In addition to dusting, Intu blinds can be spot cleaned when needed. This can be achieved using a damp cloth and mild soapy water, ensuring that any stains or spills are addressed promptly to prevent them from settling. This easy cleaning process helps you maintain the blinds' visual appeal over time.
A key feature of Intu blinds is their tension system, which helps to keep the blinds aligned and in place while being used. This design aspect not only adds to their functionality but also contributes to their cleanliness. The tension system minimises the need for constant repositioning of the blinds, ensuring that potential dirt or smudges from frequent adjustments are minimised.
Intu blinds are low-maintenance and durable, making them a convenient and long-lasting choice for your home. 
They are easy to clean, requiring only a simple wipe with a dry or moist cloth to remove dust. Moreover, we pride ourselves on the excellent quality of our blinds. 
We offer a full 5 year guarantee on all of our Intu blinds. They are designed to last and their robust design ensures they can withstand regular usage, ensuring you get the most out of your investment.
For a free no obligation quotation email or call us on…
Intu Blinds for Special Windows
Intu blinds are an innovative and stylish choice for special windows in your home. These fantastic blinds can be easily integrated with various types of windows, including conservatories, Bifold and glazed doors, and tilt and turn windows. Due to their unique design, they are a popular option for enhancing the functionality and appearance of windows, without compromising on style.
One of the primary benefits of Intu blinds is their compatibility with UPVC windows. They do not require drilling or screwing, making them a perfect addition to your home without causing any damage to your existing window frames. The ingenious bead-fit mechanism allows for a seamless integration with the window beading, offering a hassle-free installation process.
In addition to this, Intu blinds are an ideal choice for conservatories, where the ability to control light and heat is crucial. With a range of options available, including Venetian, pleated, and Duette blinds, you can achieve the perfect balance of light, privacy, and insulation, ensuring a comfortable environment in your conservatory throughout the year.
Furthermore, Intu blinds are well-suited to large glazed doors, allowing you to maintain the use of your doors while the blinds are in place. This offers a versatile solution for controlling natural light and privacy levels in your home, ensuring a comfortable and inviting atmosphere.
Finally, Intu blinds excel when it comes to tilt and turn windows. Their clever design ensures that the blinds don't obstruct the full function of these windows, providing a sleek look while maintaining convenience for the user. They are also tailored to fit neatly between the beading and the window, ensuring a flawless finish.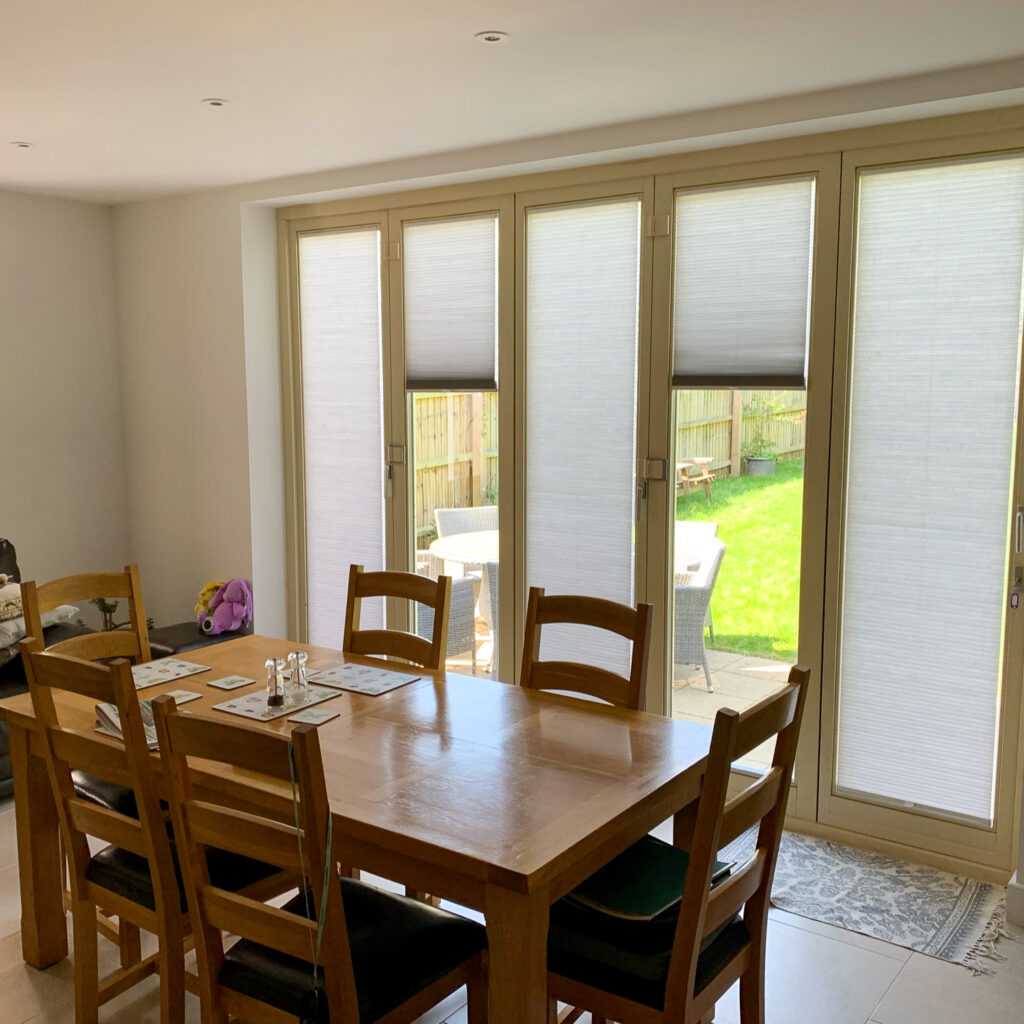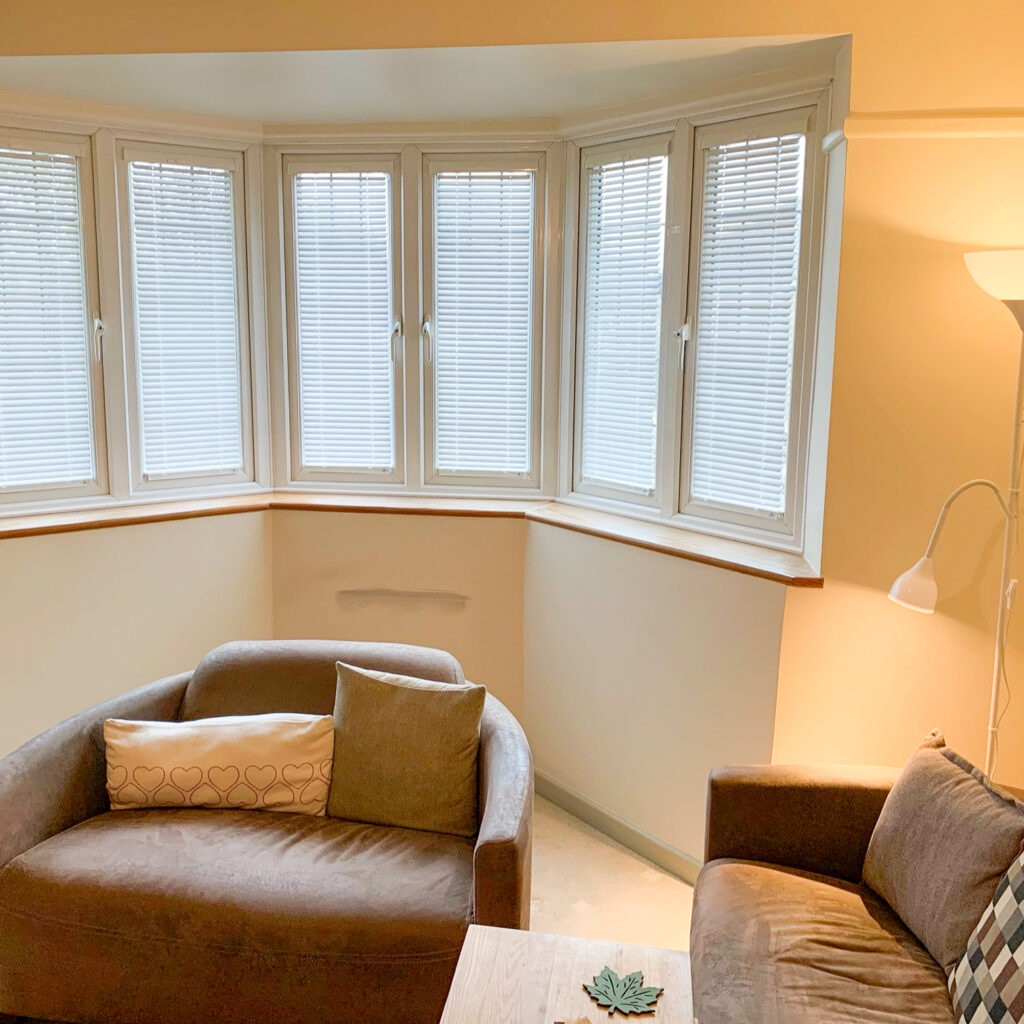 Intu blinds are renowned for their inherent safety features, making them an ideal choice for homes with children, pets, and the elderly. One of the key aspects that sets them apart from other blinds is their child-safe design. There are no free-hanging cord loops, which means there is a significantly reduced risk of accidental entanglement, a crucial consideration when it comes to window coverings with children or pets.
In addition to being child safe, Intu blinds are also designed without cords or chains, further minimising potential hazards. This feature not only makes them safer for all members of the household, but it also creates a sleeker and more streamlined appearance, ultimately enhancing the overall aesthetic of your interiors.
The innovative head rail system contributes to the safety of Intu blinds as well. By seamlessly integrating the head rail into the design, there is no need for external brackets or screws, resulting in a more stable and secure installation. This benefits both the appearance and the functionality of the blinds, combining modern styling and safety.
Economic Benefits & Energy Efficiency
Intu blinds offer several economic benefits that make them an attractive choice for homeowners. First and foremost, they are competitively priced compared to other types of blinds, providing an affordable yet stylish solution for window treatments. We pride ourselves on always providing honest, competitive prices all year round. Our installation process is also included within your final quotation, so you can be safe in knowing that we won't surprise you with any hidden additional costs.
In addition to their reasonable price, Intu blinds can help you save on energy bills by improving the insulation of windows. They are often used in conservatories, where fluctuations in temperature can lead to increased heating and cooling expenses. By effectively sealing the windows and reducing drafts, Intu blinds, especially our cellular honeycomb Intu blinds help to maintain the internal temperature of the room, thus lowering energy costs. Moreover, these blinds also provide control over sunlight exposure, allowing residents to enjoy natural light and heat during colder months and block sunlight to keep rooms cooler during warmer periods.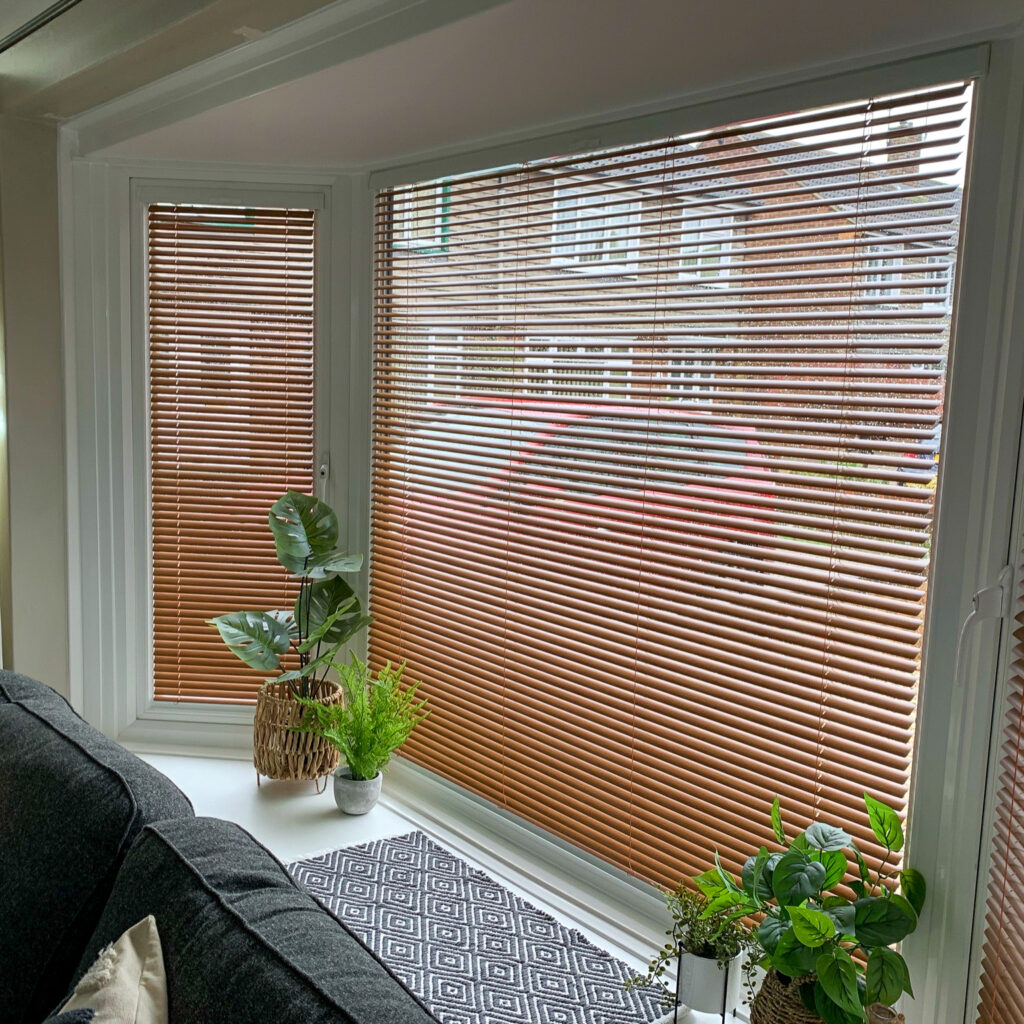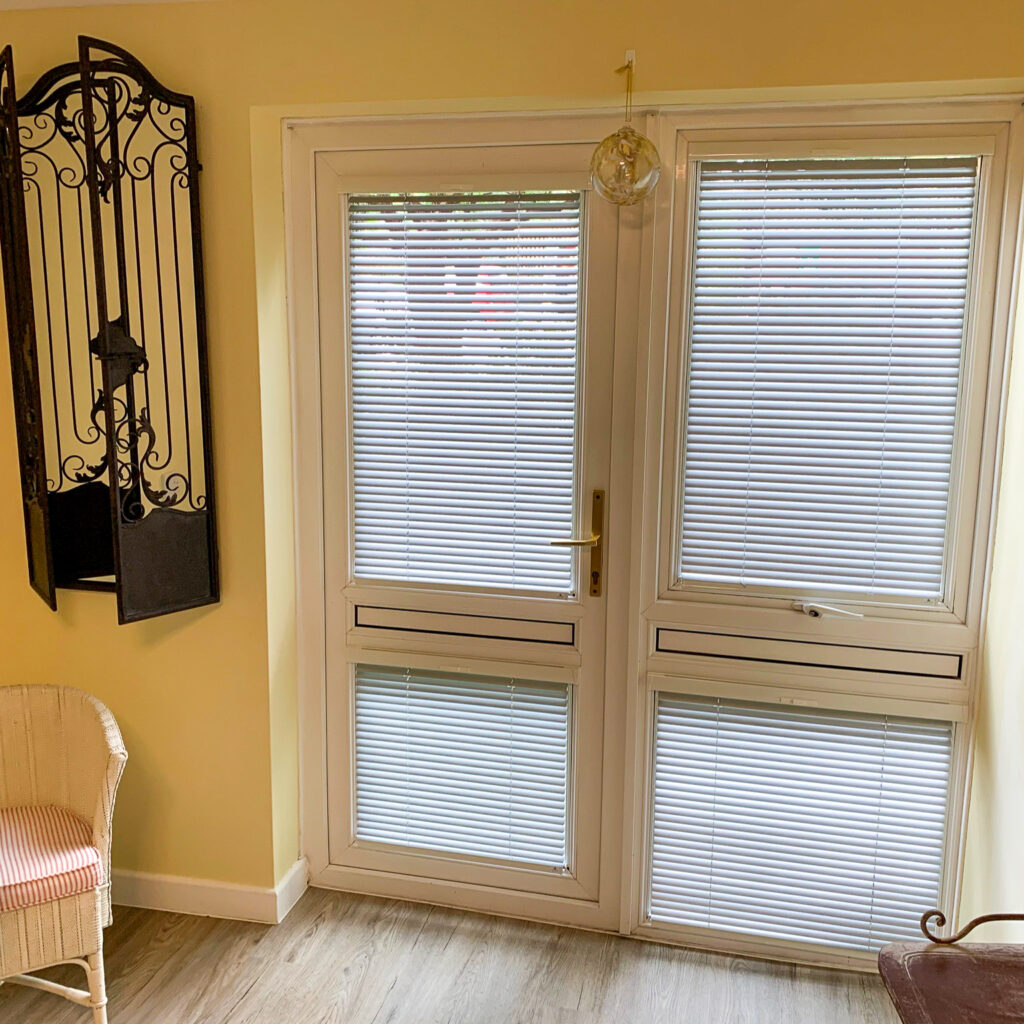 Fabric Technologies and Materials
Intu blinds are a versatile and stylish choice for window treatments in any home, and a significant factor contributing to their popularity is the variety of fabric technologies and materials available. With an array of options to choose from, homeowners can find the perfect balance between style, functionality, and durability.
One of the primary materials used in Intu blinds is the head-rail, which is available in white, brown or silver. This colour choice allows you to help match to your interior décor and window frames seamlessly. The head-rail also provides a clean and polished look, contributing to the overall aesthetic appeal of the blinds.
There are various fabrics used in the construction of Intu blinds, from sheer to more opaque materials. Sheer blinds, for example, have a translucent quality, allowing a greater amount of sunlight into the room while filtering out harsher light and minimizing glare. This creates a comfortable, ambient atmosphere for homeowners to enjoy.
Intu blinds also offer fabric technologies that cater to specific needs, such as energy efficiency, light control, and insulation. For instance, our cellular honeycomb pleated Intu blinds have a specific coating that helps reflect sunlight, keeping the room cooler during the hot summer months. This can lead to lower energy bills and create a more comfortable living space.
For those seeking greater control over the amount of light entering their space, blinds with a blackout or dim-out fabric may be a suitable choice. These blinds help to block sunlight, providing privacy and an optimal environment for those who require darkness for sleeping or watching movies.
In terms of durability and maintenance, fabrics used in Intu blinds are typically easy to care for. To ensure the longevity and optimal performance of the blinds, homeowners are advised to regularly dust or vacuum them using a soft brush or upholstery attachment.
Professional Help and Advice
When it comes to selecting the perfect blinds for your home, seeking professional help and advice is highly recommended. As industry experts, we at Winchester Blinds and Shutters possess a wealth of knowledge and experience that ensures the right choice for your specific needs. With our guidance, you can be rest assured that your chosen Intu blinds will not only be of high quality but also accurately measure to fit your windows.
One of the key benefits of seeking advice from us is our ability to provide tailored guidance on the best Intu blinds that suit your home's décor and specific requirements. We will help you navigate you through various styles and materials, ensuring the blinds you choose not only complement your interiors, but also provide the desired functionality. In addition, we are well-versed in the various features of Intu blinds, including their tension system, easy installation, and safe design.
Another advantage of engaging our professional help is the assurance of quality. With our expert opinion and leading suppliers, you can be confident that the Intu blinds you select will be made from high-grade materials and built to last. We can also provide advice on how to maintain and care for your Intu blinds, ensuring they remain in top condition for years to come.
If you are uncertain about making a commitment, we offer no-obligation consultations to help you in your decision-making process. This allows you to discuss your specific needs, gather more information on Intu blinds, and even obtain accurate measurements for your windows without feeling pressured to make an immediate purchase.
As Intu blinds are an investment for your home, it is important to make an informed choice. Utilising the knowledge and expertise from us, can help you make the best decision, not only for your home's appearance but also for its overall functionality and safety.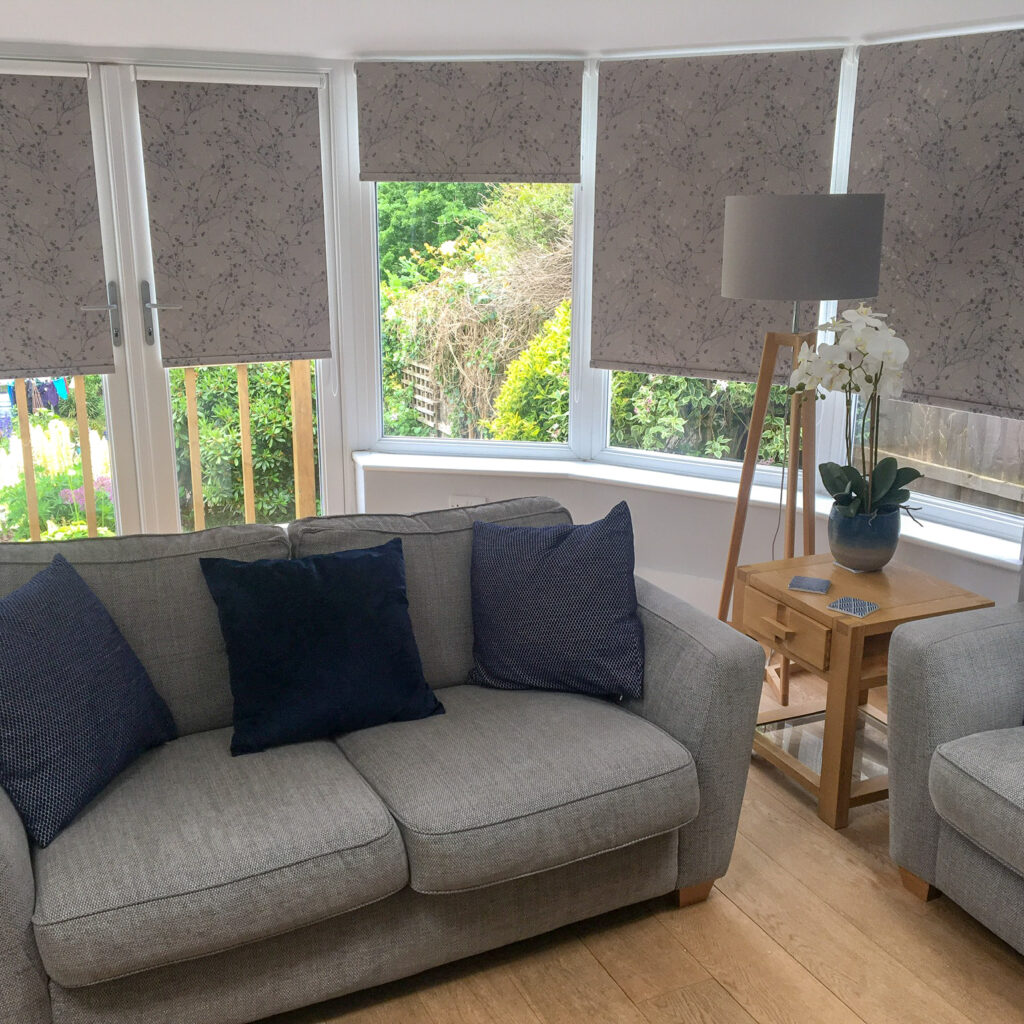 If intu blinds are not what you are looking for then take a look at our blinds page to see what other types of blinds we provide, such as wood Venetian blinds, perfect fit blinds, conservatory blinds and many more.
We supply many blinds, shutters and awnings to customers all over Hampshire and the home counties including towns and villages such as Alresford, Winchester, Romsey, Hook and Stockbridge.
We offer a fully comprehensive package for homes throughout Hampshire, Dorset, Surrey, Sussex, Kent and London.
Contact us here for a free no obligation quotation.
Discover all about our awnings and canopies by visiting our sister site winchesterawnings.com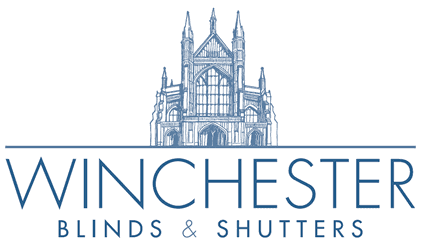 A family business, with a friendly, personal service
We are passionate about our business and pride ourselves on the upstanding reputation we have built. You can have complete trust in that from your initial enquiry through to fitting, we will provide you with a friendly, personalised and professional service.
We only use the highest quality materials and components to ensure that you receive the finest quality blinds and shutters in your home.
Ready to Transform Your Windows?
Request a Free Quote Today and Experience the Winchester Blinds and Shutters Difference!
Our team of experts is eager to provide you with personalised solutions tailored to your unique style and needs. Don't miss out on the opportunity to elevate your space with our top-quality blinds, shutters, and awnings.
Take the first step towards enhancing your home or business by requesting a callback.
Let us bring beauty and functionality to your windows with our unmatched craftsmanship and exceptional service!"