Unleash the Beauty of Your Home
In the realm of contemporary interior design, roller blinds have emerged as the favored choice for homeowners seeking a seamless union of smart practicality and captivating style. 
The journey from conventional window coverings to roller blinds is a transformative one, marked by their sleek, unobtrusive design that effortlessly manages light and privacy. The allure of roller blinds lies not only in their simplicity but also in their versatility, complementing a diverse range of interior aesthetics.
Why Choose Roller Blinds for Your Home: Top Reasons for a Smart and Stylish Choice
Roller blinds have become an increasingly popular choice for homeowners seeking a versatile and stylish window covering. 
These blinds offer a sleek design that provides privacy and light control without taking up much space. With their simple yet elegant appearance, they suit a huge variety of interior styles and designs.
One of the primary benefits of roller blinds is their ability to seamlessly blend into any room or environment, be it your living area, kitchen, or even your office space. 
They fit closely to windows, ensuring that your view is unobstructed when rolled up, while providing privacy and managing sunlight when rolled down.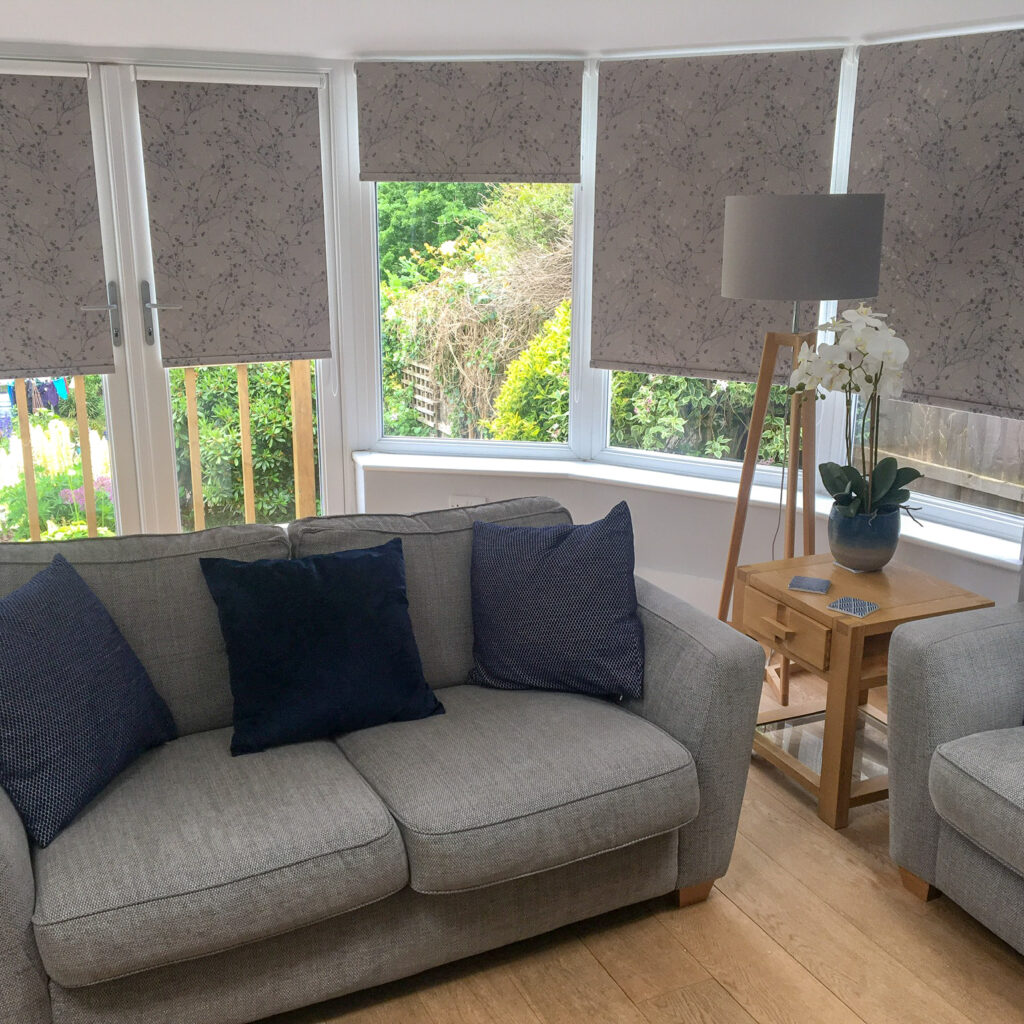 Benefits of Roller Blinds
Light Control and Privacy Roller blinds offer excellent light control and privacy for your home. You can easily control the amount of sunlight entering your room and maintain a comfortable level of daylight. 
At night, our roller blinds are perfect for blocking out the light, creating the perfect conditions for a good nights sleep. Additionally, roller blinds are great for privacy. By covering the entire window ensures the no one can see into your home from the outside.
Insulation and Energy Efficiency Another considerable advantage of roller blinds is their insulation and energy efficiency properties. 
These window coverings can effectively trap heat within your home during the winter and block out excess sunlight during the summer, helping to regulate your home's temperature. As a result, you can save on energy bills and reduce your carbon footprint.
Low Maintenance and Durability
Roller blinds are low-maintenance and durable, making them a convenient and long-lasting choice for your home. 
They are easy to clean, requiring only a simple wipe with a dry or moist cloth to remove dust. Moreover, we pride ourselves on the excellent quality of our blinds. 
We offer a full 5 year guarantee on all of our roller blinds. They are designed to last and their robust design ensures they can withstand regular usage, ensuring you get the most out of your investment.
Affordability and Budget-Friendly
One of the primary reasons people choose roller blinds is their affordability. These window coverings can fit a variety of budgets, making them an accessible option for many homeowners. 
Despite their budget-friendly price tag, roller blinds still provide excellent functionality and style, ensuring you get value for your money.
A Huge Range of Colours and Fabrics
Our roller blinds are available in a wide range of styles, colours, and fabrics, ensuring you can find the perfect match for your home's interior design. 
Whether you prefer a minimalistic look, a bold pattern, or a subtle texture, there is a roller blind option available to suit your taste. Their versatility also means that they can complement any room in your home, from the kitchen to the bedroom.
Rosie Wyatt
28. September, 2023
Delighted with new blinds in bedrooms, bathrooms and kitchen. Dean has great attention to detail and is very knowledgeable. Very happy with the service, time keeping and budget. Happy to recommend.
Catherine Brill
22. September, 2023
Excellent service . Very knowledgeable and a very good choice of shutters . Very happy !
James Crook
19. September, 2023
Dean is great. From the first appointment he understood our needs, ordered and installed the products extremely fast. Looking forward to using him again next year
Excellent service from Dean very professional lots of samples and quick installation time plus very good pricing. We are so pleased with finished products the blind run smoothly and all the workings fixed safely with young children in mind.
Angela Matwasa
14. September, 2023
WoW thoroughly recommend Dean, really happy with the quality of his blinds and fittings. They look more expensive than we paid, thank you.
Rachael
13. September, 2023
Great experience getting shutters fitted - good price and great service
Kathreen Pyrke
12. September, 2023
Would highly recommend, good quality blinds with lots of variety and choices of style. Quick from quote to installation. Lovely friendly service.
Janie Horlock
5. September, 2023
Dean was a pleasure to deal with from the initial measuring up and quote. Through to communication about fitting the shutters. Steve was the fitter that came to us and did a great job, quietly, efficiently and tidily. The shutters are a great quality and I'm pleased with the result.
Emma Kinch
30. August, 2023
I thoroughly recommend Dean ! From the first telephone call through to fitted blinds was great. Dean was happy to advise me of my options. The fitting of all 8 blinds is perfect. Everything was done in a timely manner. I couldn't be happier!
Kuldeep Dhanda
29. August, 2023
Had the blinds fitted yesterday, great blinds and fitted perfectly. Dean came over and provided all the info and options available, Steve fitted. Both very very professional and I am so happy with everything. I would definitely recommend them.
For a free no obligation quotation email or call us on…
"I would highly recommend this company for blinds. I am so happy with the whole service from beginning to end. They look great and the team are great to deal with. Dean and the team were 10/10 for professionalism and they left my home immaculate."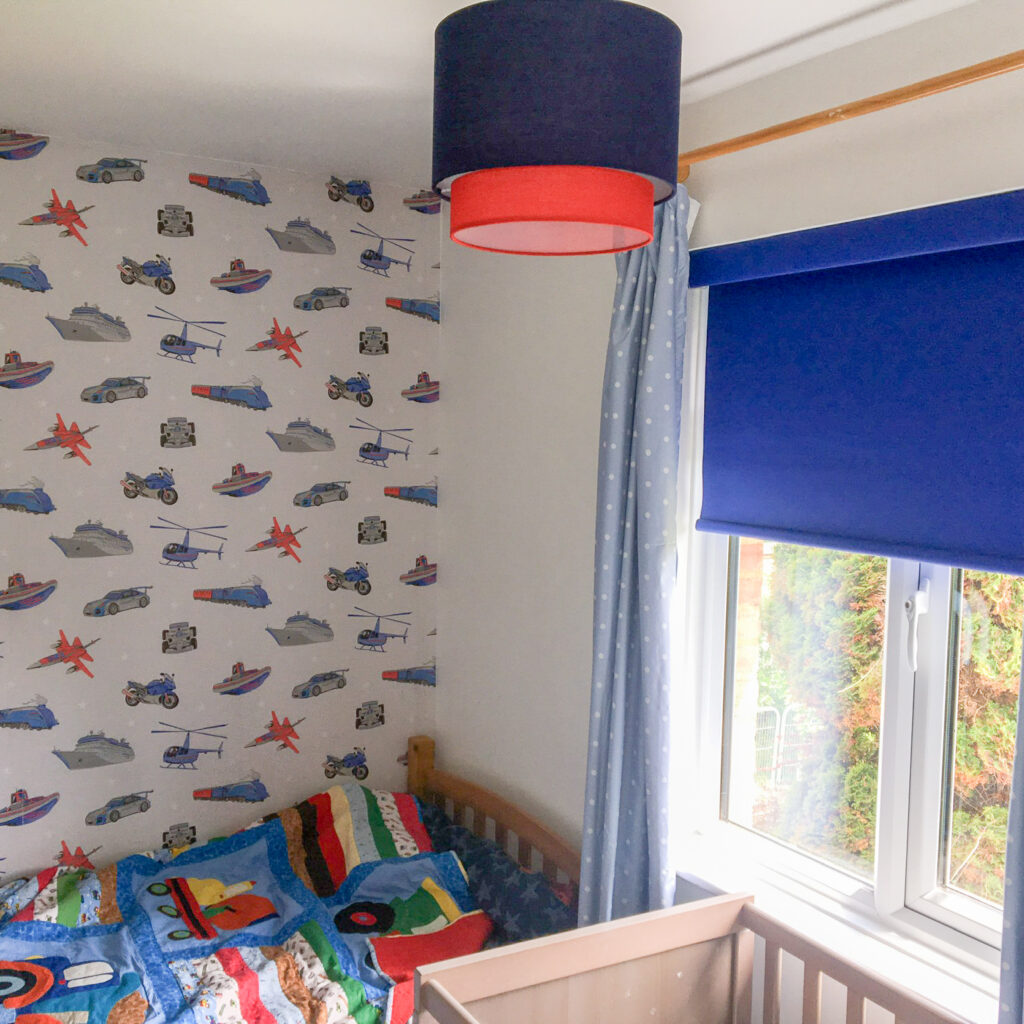 Roller blinds are a popular choice for window coverings due to their versatility and ease of use. 
There are several different types to consider, each with its own unique features and benefits.
If you're looking for a roller blind that can completely block out light from entering your room, blackout roller blinds are the perfect choice.
These blinds are made from thick materials that prevent light from passing through, making them ideal for bedrooms, children's bedrooms or nurseries or any room where you want to block out light completely.
They are also useful in rooms where you want to reduce glare on TV or computer screens. Our blackout roller blinds also add extra insulation to further reduce heat in your home during the summer and retain heat loss during the winter.
For those seeking convenience and a modern touch, motorised blinds are an excellent option. These roller blinds are equipped with a motor that allows you to open and close them using a remote control or even a smartphone app, making it easy to adjust the light in your room without getting up from your seat.
Motorised blinds are especially useful for hard-to-reach windows or for people with mobility constraints. For more information on our motorised roller blinds see our motorised blinds page.
Duorol roller blinds, sometimes also known as day and night blinds or zebra blinds are a unique type of window covering that combines the features of both blackout and translucent roller blinds. 
They are made with alternating layers of light-filtering and opaque fabric, creating a striped pattern that enables you to adjust the level of light and privacy in your room by positioning the stripes. 
Duorol roller blinds can be a stylish and functional addition to your home, offering both flexibility and visual interest. Additionally, these can also be fully motorised making them even easier to use.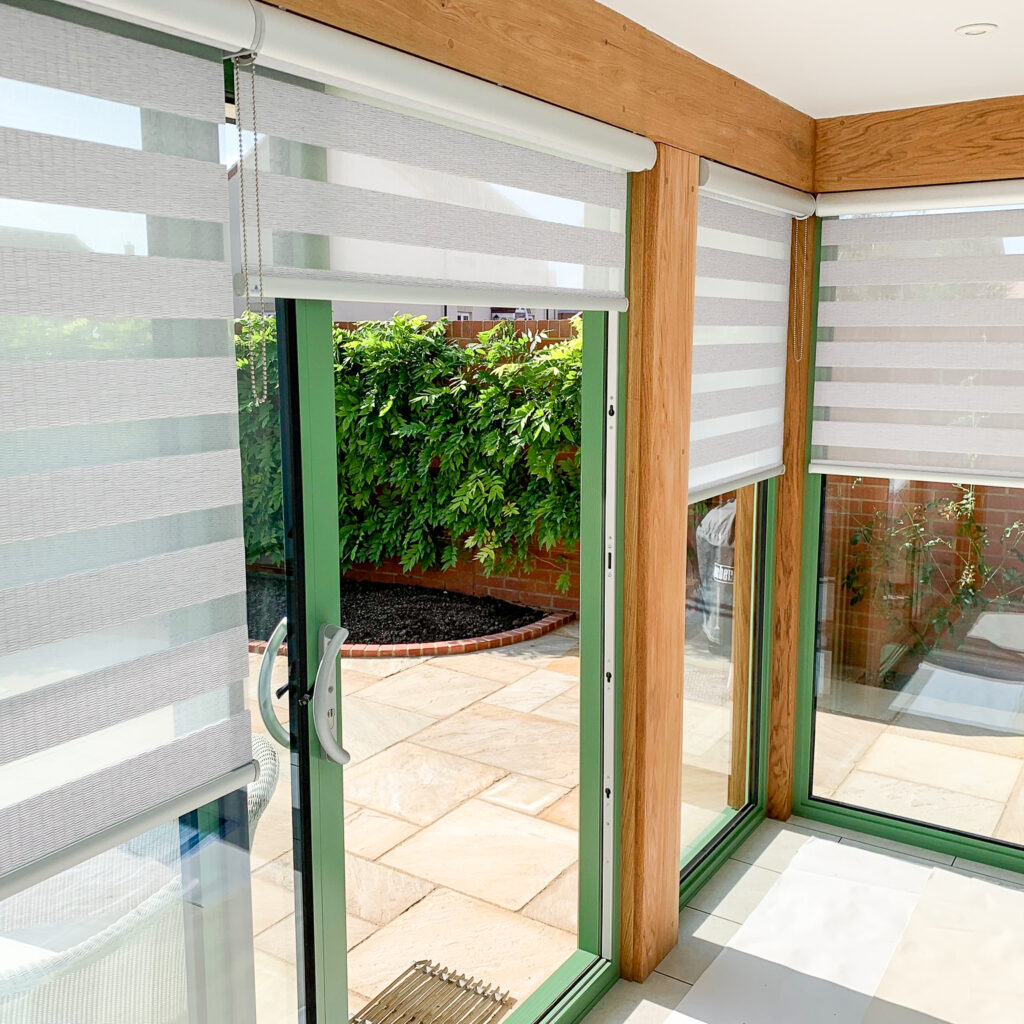 For a free no obligation quotation email or call us on…
Suitability for Different Rooms
Roller blinds are great for bedrooms, as they offer a simple and versatile window covering that complements various interior styles. You can select from a wide range of colours, patterns, and materials to suit your taste. 
Furthermore, due to their excellent light control, roller blinds gives you the option to darken your room as needed or let the sunlight filter in, creating a soothing and comfortable atmosphere.
Living Room Roller Blinds
In your living room, roller blinds bring a sense of elegance with their streamlined and modern design. They can look great in both smaller and larger spaces due to the blinds being fitted closely to windows which look neat and tidy when rolled up or down. 
Furthermore, being low maintenance, roller blinds can handle the day-to-day activities of a busy living space while still maintaining their visual appeal.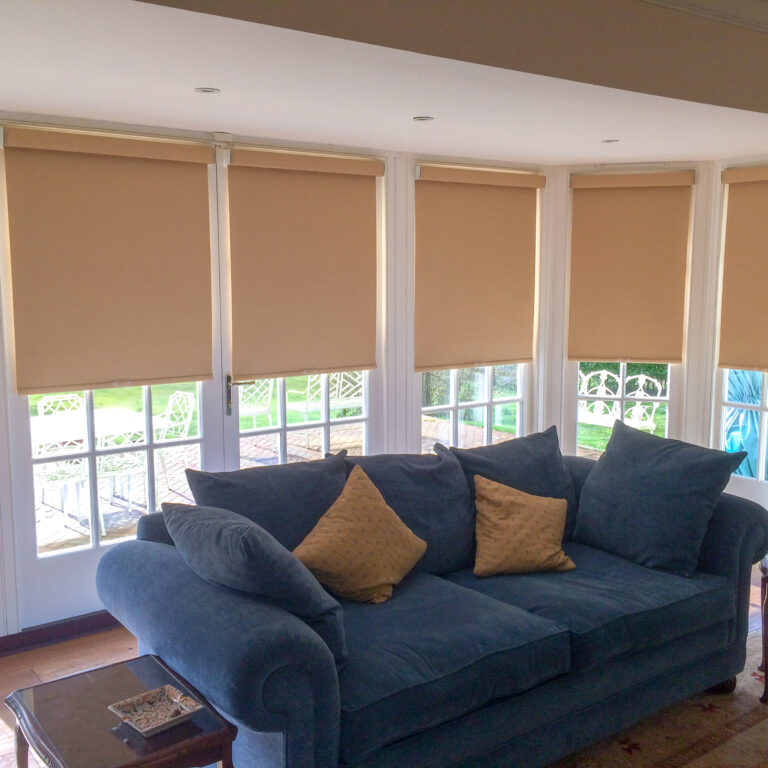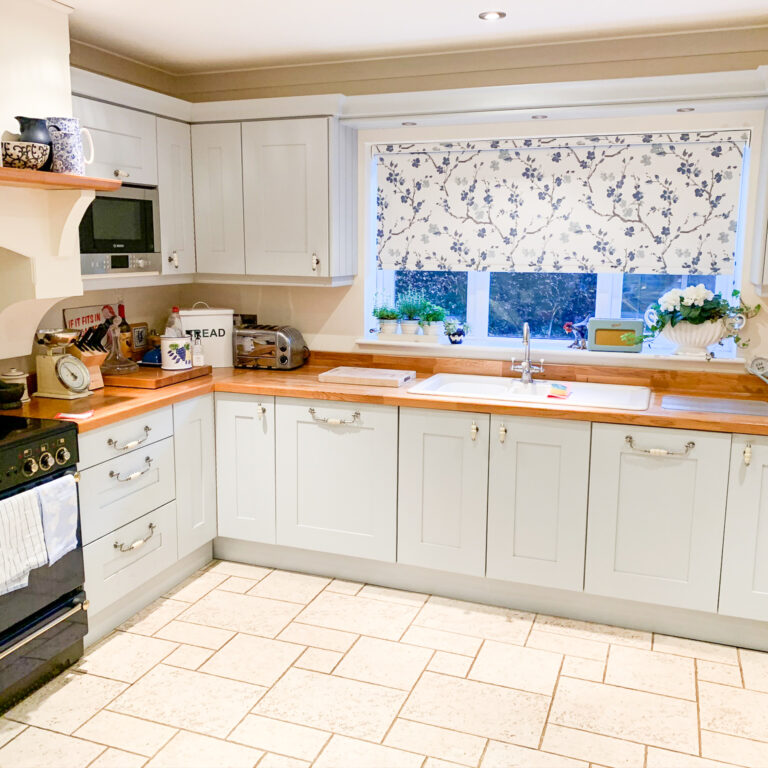 Roller blinds are highly practical for kitchens as they offer easy-to-clean options, such as moisture-resistant and stain-resistant materials. 
It's important to choose the right fabric for your kitchen roller blinds, as some fabrics can better withstand the humidity and heat typically found in this environment. Additionally, roller blinds in the kitchen create a cohesive look and can neatly integrate into your interior design.
In the bathroom, you should consider roller blinds made from moisture-resistant materials to prevent mould and mildew growth. 
Roller blinds are an ideal choice for privacy, ensuring that your personal space remains undisturbed. It's essential to select fabrics that withstand humidity and are easy to clean in the damp environment of a bathroom. With their sleek design, roller blinds contribute to a clutter-free and well-organised bathroom.
Bifold Door or Patio Door Roller Blinds
Our roller blinds are perfect for larger window coverings such as patio or bifold doors. Using high quality materials and components, they are strong enough to be made to fit lengths of up to 3 metres wide. 
You don't need to compromise on style for larger roller blinds either because all of our roller blinds can be made in all the fabrics we provide. Furthermore, larger roller blinds for bifold or patio door work seamlessly when motorised. 
Larger window expanses will often require 2 or more roller blinds to cover the whole area. When synced together they will all automatically open and close in perfect sync at a touch or a button.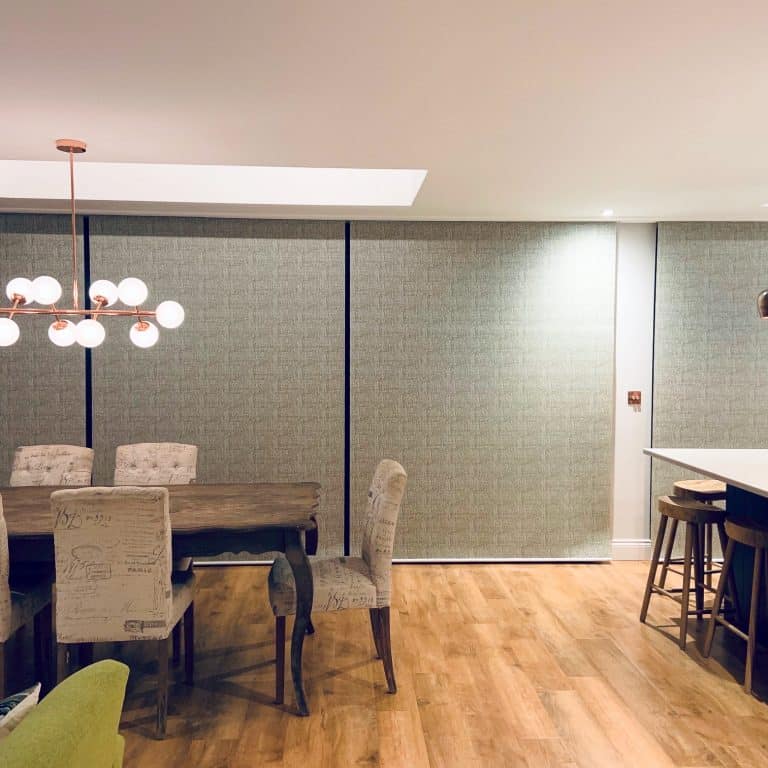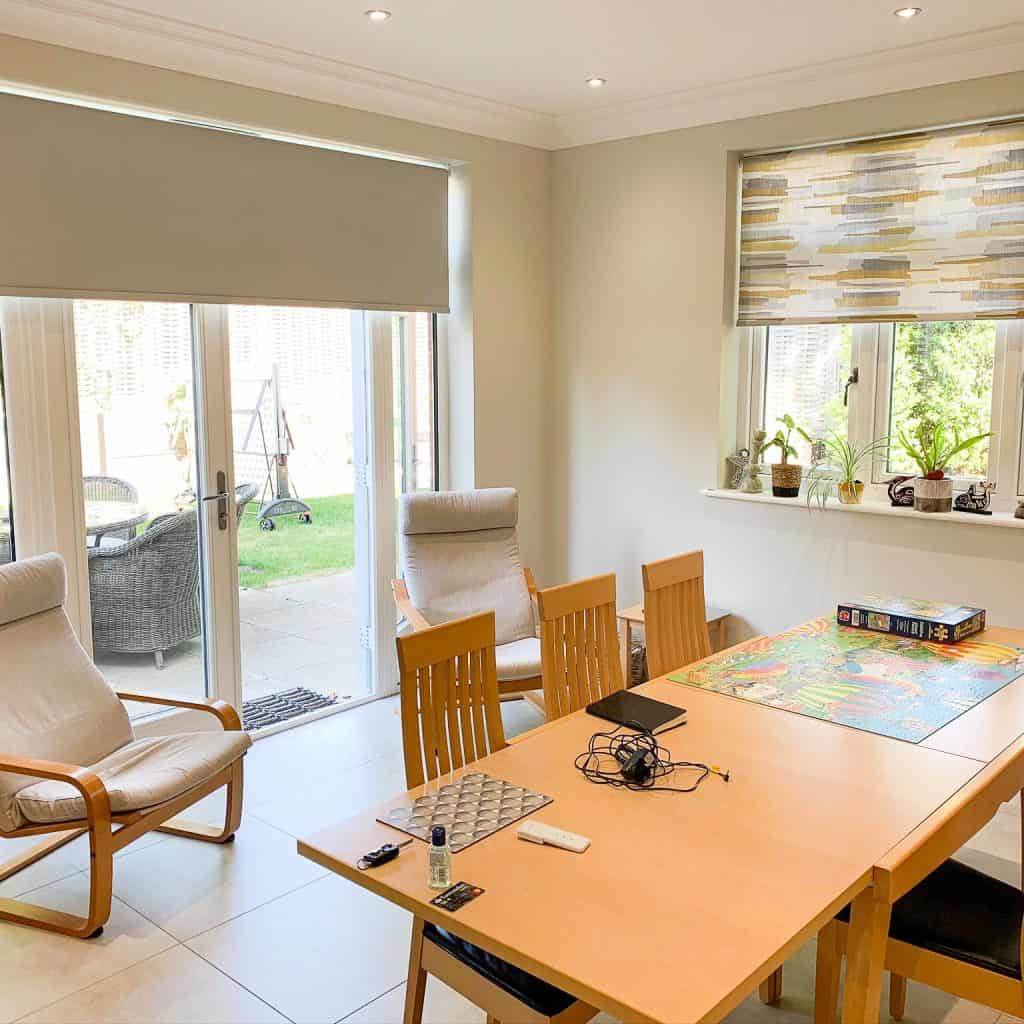 Motorised and Remote-Controlled Options
Roller blinds offer a variety of customisation features, one of which is motorisation. With motorised roller blinds, you can effortlessly raise and lower your blinds using a remote control for the utmost convenience. 
These easy-to-use options allow you to control the light and privacy levels in your home with just the click of a button. Powered by Somfy or a Tahoma hub, Our motorised blinds really offer the most convenient, stylish and practical solution to your roller blinds.
With advancements in smart home technology, you can now integrate your roller blinds into your home automation system. By connecting your blinds to an app, you can control them from your smartphone, giving you the freedom to adjust your blinds from anywhere in the world. 
Additionally, voice control features enable you to use voice assistants, such as Amazon Alexa or Google Home, to operate your roller blinds hands-free. Smart home integration not only enhances your living experience but also offers an energy-saving solution by scheduling your blinds to open and close during specific times of the day.
For a free no obligation quotation email or call us on…
How to Choose the Right Roller Blinds
Here at Winchester Blinds and Shutters we have 30 years experience in the industry and are highly regarded experts in this field. We are here to provide you with the best advice and service from start to finish. 
We will guide you with what blinds will work best for your chosen windows or area. Plus provide you with many samples for you to chose from and to suit any budget.
Measuring and Installation
Choosing the right roller blinds for your home starts with accurate measurements. We begin by measuring the width and height of your window or door frame. We will then guide you on whether to opt for an inside or outside mount, taking into consideration the space you have around the window and how you wish to incorporate the roller blinds into your room.
Your roller blinds are typically ready for installation 3-4 weeks from the time of placing your order with us. Our expert fitters will then install your roller blinds whilst always taking the utmost care of your home. We will always leave your home as tidy as it was when we arrived.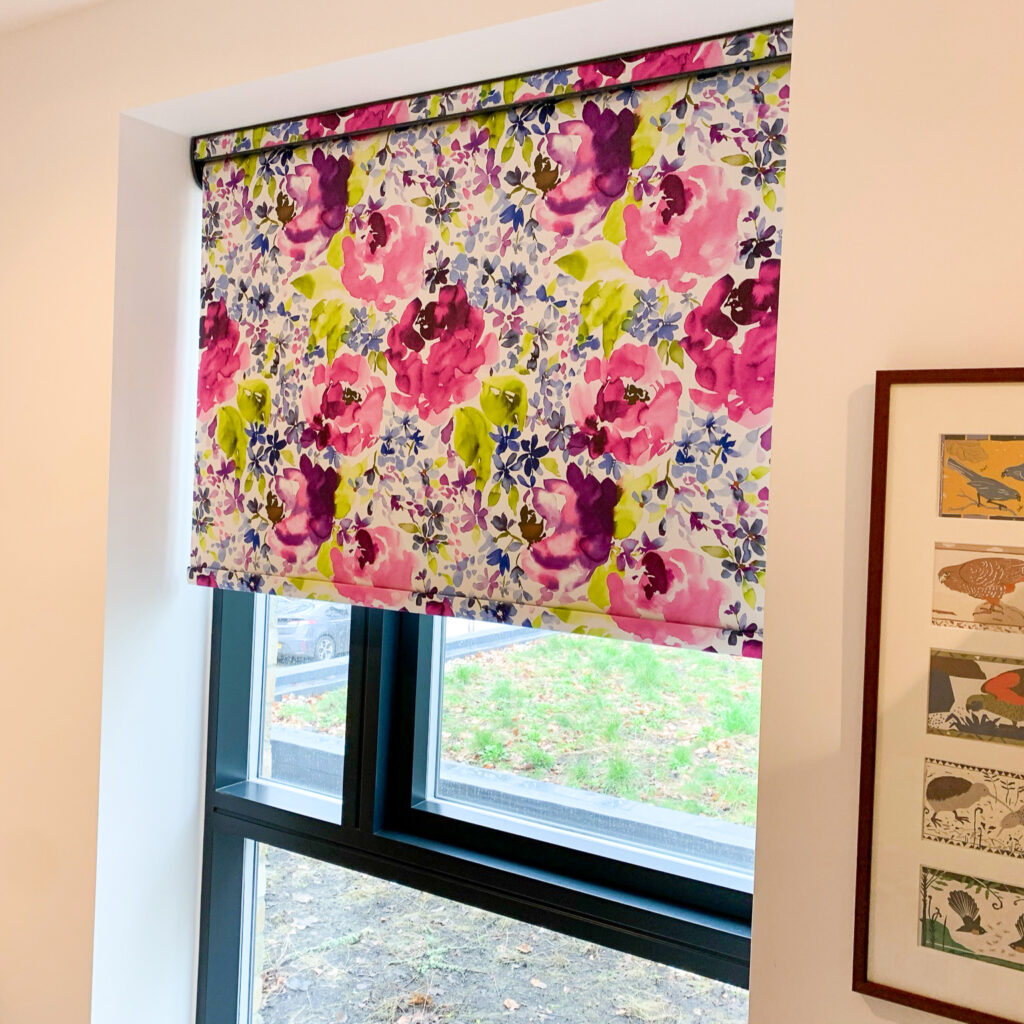 If roller blinds are not what you are looking for then take a look at our blinds page to see what other types of blinds we provide, such as wood Venetian blinds, perfect fit blinds, conservatory blinds and many more.
We supply many blinds, shutters and awnings to customers all over Hampshire and the home counties including towns and villages such as Alresford, Winchester, Romsey, Hook and Stockbridge.
We offer a fully comprehensive package for homes throughout Hampshire, Dorset, Surrey, Sussex, Kent and London.
Contact us here for a free no obligation quotation.
Discover all about our awnings and canopies by visiting our sister site winchesterawnings.com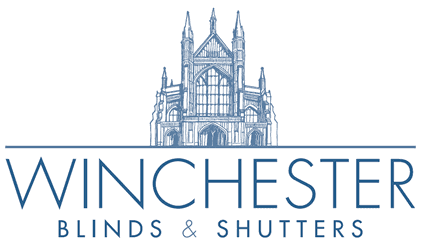 A family business, with a friendly, personal service
We are passionate about our business and pride ourselves on the upstanding reputation we have built. You can have complete trust in that from your initial enquiry through to fitting, we will provide you with a friendly, personalised and professional service.
We only use the highest quality materials and components to ensure that you receive the finest quality blinds and shutters in your home.
Ready to Transform Your Windows?
Request a Free Quote Today and Experience the Winchester Blinds and Shutters Difference!
Our team of experts is eager to provide you with personalised solutions tailored to your unique style and needs. Don't miss out on the opportunity to elevate your space with our top-quality blinds, shutters, and awnings.
Take the first step towards enhancing your home or business by requesting a callback.
Let us bring beauty and functionality to your windows with our unmatched craftsmanship and exceptional service!"